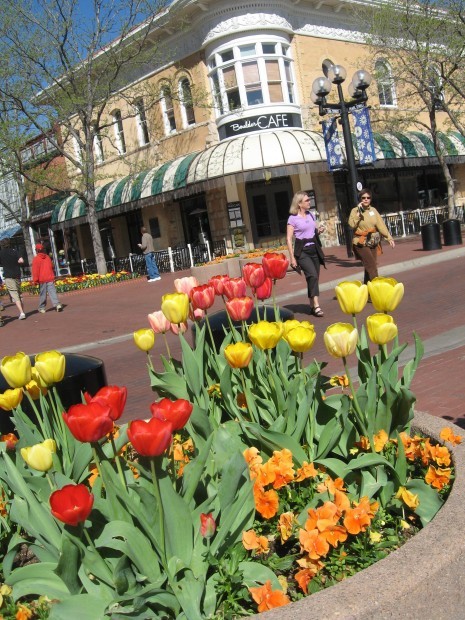 This season marks the last time Husker football fans will visit Big 12 destinations or get visitors from those cities. With Colorado fans making their way east to Friday's game here, it's our last chance to discuss what we'll miss about Big 12 towns in this football season.
So we wrap up our series with:
What We'll Miss About Boulder:
The Rocky Mountains. Colorado is an outlier in the Big 12, about 500 miles west of Lincoln and Manhattan, Kan., the two closest conference cities to Boulder. That's made for long travels. But when you get there, you're in the foothills of the Rockies and just a short drive into the mountains. For plains dwellers, heading for the mountains is always a treat.
Pearl Street Mall. Constructed in the late '70s, the Pearl Street Mall is a pedestrian mall that runs four blocks through downtown Boulder and is home to a wide array of primarily locally owned businesses, restaurants and bars. Unique in the Big 12, Pearl Street is packed on weekends with street performers entertaining the crowds that fill the eateries and drinking spots. There's a great independent bookseller on the mall, a huge kitchenware store, lots of specialized clothing retailers and -- this being Boulder -- a giant headshop with thousands of glass pipes.
Denver. Boulder's about a half-hour north of Denver, and with a four-lane highway linking the two, it's a quick shot to the city's center. That means it's easy to hit all the popular Denver attractions -- the art museums, football and baseball stadiums and basketball/concert arena -- and get back to Boulder, which is a much more pleasant place to stay.
What we won't miss about Boulder:
Harassment of Husker Fans at NU/CU Games. It's unfair and inaccurate to tag all Colorado fans as obnoxious. But that's often the sense that comes across when Nebraska's red swarm rolls into Boulder. Over the years, there have been reports of slashed tires on cars with Nebraska plates; snowballs, some loaded with rocks, thrown at Husker fans; and verbal abuse of all varieties. That's been happening in Boulder since the '60s, often ruining the experience for Nebraska fans.