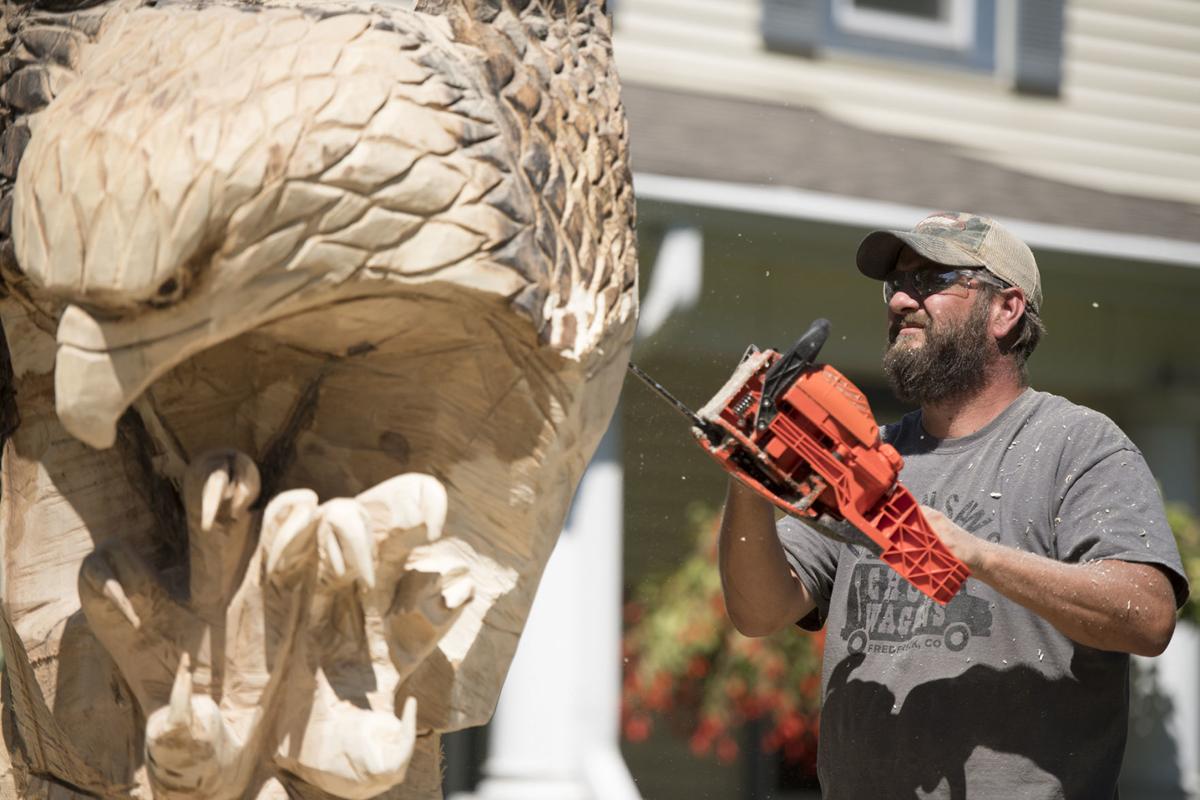 Every artist has a medium they're passionate about. For some, its ceramics, for others it's painting on a canvas.
For Nate Hall, it's all about the meeting of chainsaw and wood.
And anyone who happens to mosey by the northeast corner of 68th Street and Havelock Avenue can get a glimpse of Hall's most recent project: a bald eagle in full raptor mode with its broad wings outstretched and sharp talons bared.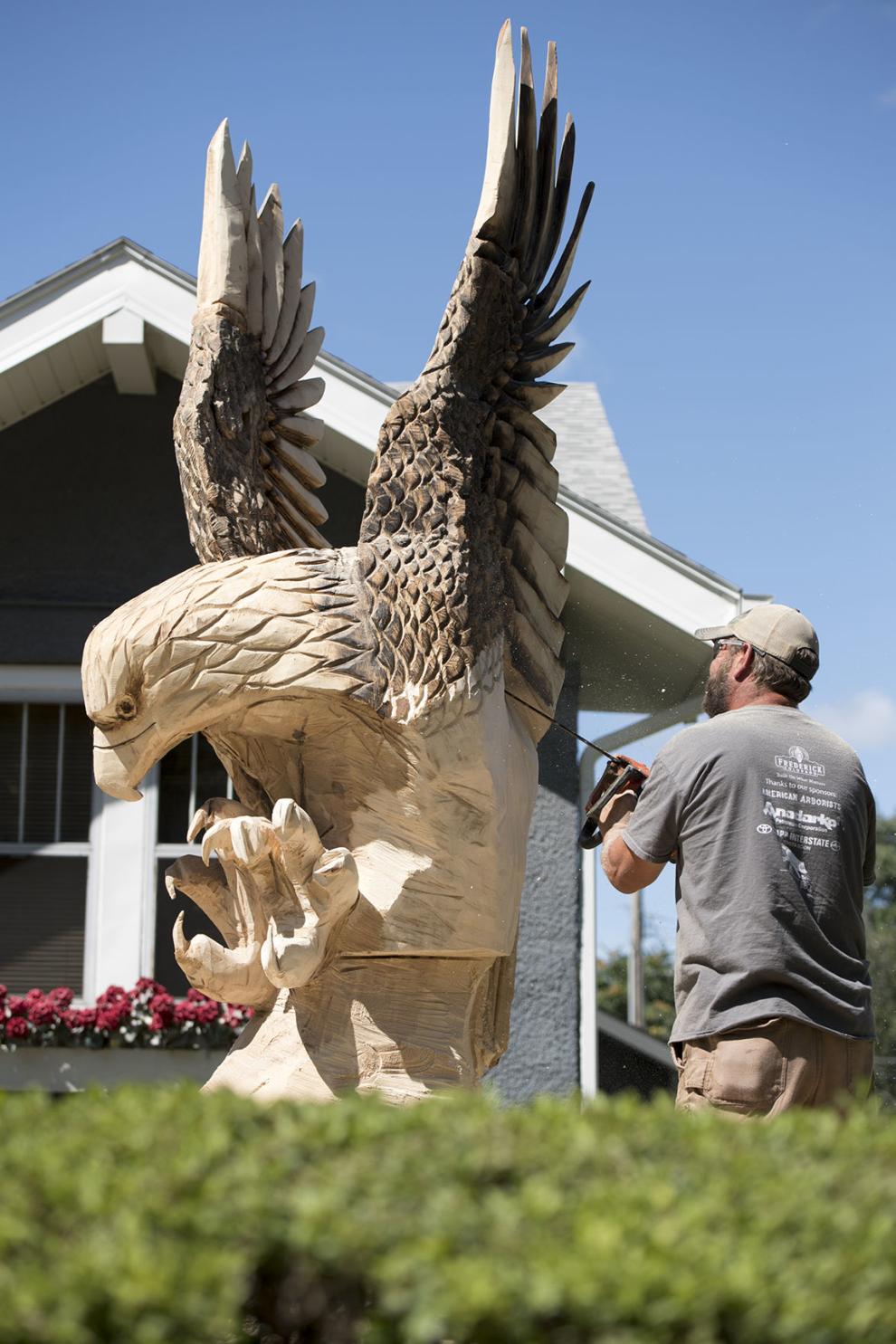 "The arborist and I took a look at it, and you just see the shape of the bird in it before I even started carving," Hall said.
The project was a weeklong labor of love, with Hall working with his chainsaw and a few specialized tools to try and create a detailed replica of an actual eagle.
"I like making nature scenes, and I get a lot of satisfaction working with wood," he said. "It's really all about embracing the quality of the medium. With certain types of work, you have to use paint or you might use all these different tools. With wood, you're shaping what's already there. You end up with something that's not necessarily perfect realism, and the beauty of the grain ties it together."
Hall hasn't always been slinging sawdust. Before starting his company, 3 Timber Studio, five years ago, he spent 20 years doing design work in the advertising industry. He's since been doing projects for 3 Timber Studio for a little over a year.
"The creativity part is a lot of the same with what I do now, but being able to work on my own and take care of everything myself is nice," he said.
Pursuing his passion full time wasn't free of stress or worry, though.
"Going from a career where I had a desk job that I reported to every single day with regular hours to something like this, where the amount of what I get done is the key to everything, that's the scariest thing," Hall said. "But what I've learned is that if it's something you love, you can dig in and go after it."
But just how does one pick up the art of chainsaw sculpting? For Hall, it meant more than a few visits to YouTube.
"It was a lot of watching other carvers online, watching videos of what they do, meeting with people and learning the tips and tricks," he said.
And he didn't go into it completely blind. Originally from Carroll, Iowa, Hall came to Lincoln to study art at the University of Nebraska-Lincoln, where he said he learned the technical foundations that help him create his sculptures today.
"They don't have chainsaw carving in the art department or anything, but you learn a lot about form and how to address things from a sense of scale and so forth," Hall said. "It's just a natural extension from the basic stuff you learn as an artist."
That said, the idea of sculpting wood wasn't in the running for any of Hall's potential career paths while he was an art student.
"What's funny is when I was in school at the university, sculpture was one of the areas of art I was least interested," he said. "This, though, is just a different type of sculpture. It's just different. Maybe its that I get to run a chainsaw all day long, cut wood and get dirty with wood shavings, but I love it."
Much of Hall's artistic inspiration comes from spending summers as a kid at his family's cabin in the forested area of northern Minnesota.
"There's all kinds of wildlife around. Not much urban life up there whatsoever," he said. "It's definitely a different lifestyle and much more conducive to this type of work."
It shows in his previous creations. Other than the fireman carving near 66th Street and Cotner Boulevard, much of Hall's work consists of animals and elements of nature. This summer, a quick-carve sculpture of another eagle he made in under an hour at a competition in Colorado netted him $425 at an auction, as well as a small audience.
"I think it's sort of a performance art," he said. "You're not dancing or anything like that, but you're shaping something that people are familiar with. They can watch in real time; see something take the shape of something new."
He said his favorite part about his current work-in-progress is when people stop and watch or ask questions.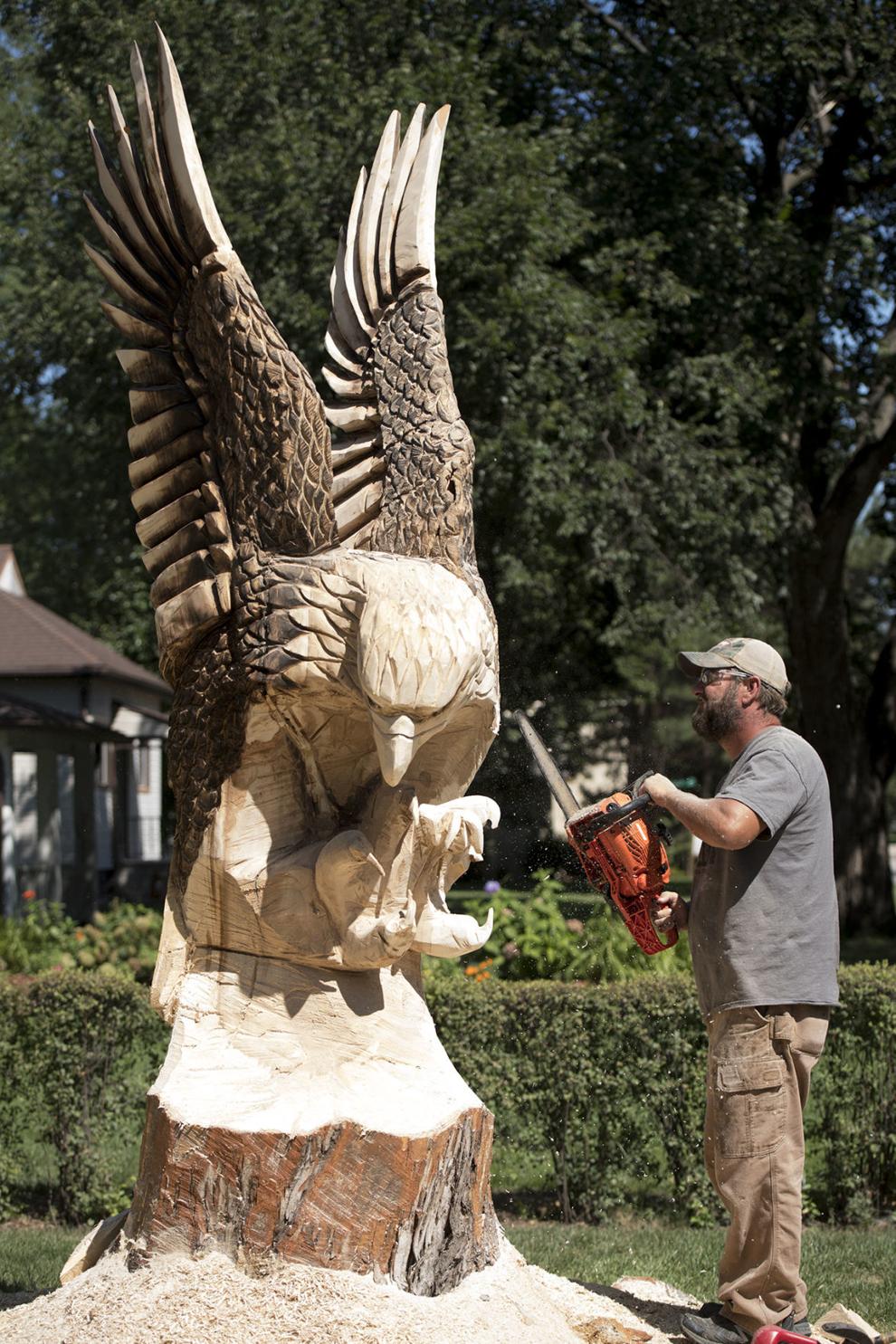 "Technically it makes the project take longer if I stop all the time and talk to people, but I love it," Hall said. "I can't resist it."
And he has several other projects lined up, including other private commissions and a deal with the Lincoln Parks Foundation to carve condemned ash trees into the shape of Emerald Ash Borers — the same insect that is causing the need to bring them down in the first place.
"If you love it, work hard at it and a do a good job, a lot of the business side of it takes care of itself," Hall said.