Jim McKee: West Lincoln almost an industrial success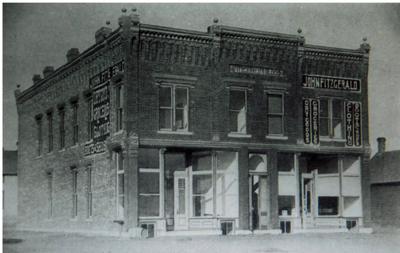 Today most everyone thinks of West Lincoln as simply a spot on the way to the airport.
Sharp eyes, however, might look north from Zoetis, the rambling drug manufacturing plant, and see they are crossing Main Street. Those of a "certain age" will recall it as the site of the Lincoln landfill, the old original Royal Grove and the place to go for the fireworks illegal in Lincoln.
Virtually no one remembers the rapidly growing industrial city on the old channel of Salt Creek which supported a score of major businesses only to disappear almost overnight.
In 1862, John Gregory arrived "on Middle Creek … where West Lincoln (later) stands, where there was a camp of about 100 Pawnee wigwams," their inhabitants there to gather salt. Gregory built a dugout on the creek bank near today's First and Charleston, which became Gregory's Basin Post Office in 1864. In 1868, Gregory built a frame house which stood just west of Dr. White's Animal Hospital at Third and Charleston. With Lincoln's first plat in 1867, it was felt that east of 17th Street a new city, tentatively called East Lincoln, would someday develop.
There was no mention of a West Lincoln.
Perhaps the first non salt-related business in the area was a brickyard, which opened in 1867-68 south of today's drug plant. By 1880 two railroads had arrived, the Union Pacific's branch from Valparaiso, and the Burlington & Missouri River Railroad from Columbus. The proximity of the railroads brought a hog butcher with a 10,000-head capacity in 1881 and the Nebraska Stockyards Company in 1884. The stockyards and West Lincoln Brick & Tile Co. were owned by John Fitzgerald, who would become president of the First National Bank of Lincoln and is often called the city's first millionaire.
In 1885, the village of West Lincoln was platted on nearly two sections of land. A prospectus said the developers anticipated $500,000 worth of improvements including a church, fire department, post office, hotel, school, a canning plant and water department as well as more packing plants.
On Aug. 24, 1887, West Lincoln was officially incorporated with a population of 450. The first mayor was W.C. Austin. A village water tower was erected on the south side of Grand, now Cornhusker Highway, and the new Fitzgerald Block was completed on the northeast corner of today's Sixth and Cornhusker.
The $2,000 Asbury Methodist Church was dedicated in November 1887 "under guardianship of St. Paul M.E. Church in Lincoln," with Clay Cox appointed its first pastor. By 1889 there were 41 members, but the church dwindled with the community, closing early in the 20th century with 14 members. Asbury was reinstated in 1906 and church records exist through 1978.
The first West Lincoln post office opened in February 1888 with Thos. McNeill as postmaster. A directory issued in 1889 showed West Lincoln had about a dozen retail businesses and creamery in addition to the cannery, brickyard, packing plants and stockyards.
Sadly events were conspiring against West Lincoln's continued success. A national depression began in the early 1890s, the supply of fresh water necessary for making ice as well as the packing and canning operations ran out and freight rates began favoring Omaha. Businesses closed and as Havelock blossomed to the east around the Burlington Railroad, around 200 houses were moved from West Lincoln and neighboring Belmont to Havelock. Property was abandoned and one report showed even the wooden sidewalks were torn up for firewood. As census figures are calculated only every 10 years, West Lincoln's population in 1900 of 443 supposedly reached nearly 1,000 before plummeting to 220 in 1900. In 1901, even the post office closed.
As West Lincoln continued to wither, the stockyards closed and moved to Burnham, just east of Yankee Hill Brickyards in 1914. In 1933 Henry Brown opened the original Royal Grove at 315 Second St. and although voters approved liquor by the drink in 1935, the village council refused to follow through and allow it. Still, by 1959, it was said that most village expenses were paid by "its drink-and-dance emporiums."
With water and fire protection supplied by the city of Lincoln, there was an attempt to force annexation by cutting off all support. West Lincoln voters however continued to vote against annexation until 1965 when the legislature passed a bill allowing annexation by adjacent metropolitan class cities without a vote. West Lincoln thus became part of Lincoln on Jan. 4, 1966.
A new Royal Grove was built on Cornhusker in 1967 but is now closed and the building for sale. Remnants of the village, whose official population peaked at 507 in 1960, may be found in a few foundation remnants west of Zoetis/Pfizer, bits of railroad grades, the hotel now converted to apartments, the church and brickworks spoils, but mainly only memories remain.
Historian Jim McKee, who still writes with a fountain pen, invites comments or questions. Write to him in care of the Journal Star or at jim@leebooksellers.com.