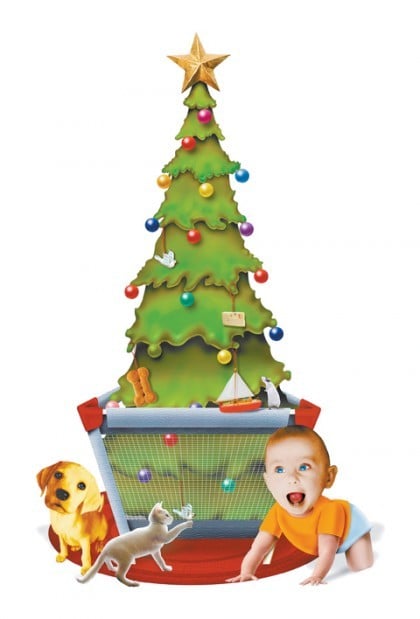 This is the weekend to decorate the Christmas tree. Families are gathered around, sorting through their favorite ornaments -- from handmade clothespin angels to pricey blown-glass balls.
Lights are being strung, then restrung, burning out and twinkling, all around town.
And somewhere, a just-decorated tree is crashing to the floor, breaking newly hung ornaments.
We asked families to share their "disasters" and got stories that ended up being family legends.
The Christmas of 1959, my sister-in-law from Maine and her 13-month-old were here for the holidays. I had a 16-month old, and both toddlers were curious about a decorated Christmas tree.
We tried putting both kids in a square wooden playpen, but they didn't like being confined.
Since they were faster than we were, no one was surprised when we heard a big crash.
Our solution was to put the decorated Christmas tree inside the playpen, where little hands couldn't reach.
The Christmas of 1939, I was 6 years old in Zanesville, Ohio. My family lived next door to my cousins.
The Monday after Christmas, my mom went over there and my aunt plugged in the tree to show my mother. A bulb popped and started a fire that rapidly spread through the tree and caught the lace curtains over the window.
They had no phone, so my mom came home and called the fire department and went back to help carry pans of water to the fire.
By the time the firemen arrived, the fire was contained. The damage was limited to the living room, and of course, the Christmas tree was gone.
When I was a teen in the early '50s, Mother loved decorating our home for the holidays and often found ideas in her favorite magazines.
She found a recipe for homemade candy canes to be hung on the Christmas tree. She carefully followed the directions, making a red dough and a white dough, twisting the two strands together to make the canes, letting them dry and then hanging them over the branches of our tree.
However, the next morning when we came downstairs, there were sticky strings of taffy-like substance hanging all the way to lower branches and even to the tree skirt on the floor. It took hours to pick the all that candy off the tree.
In December 1990, I was a Navy lieutenant serving on board the USS Peoria, which was transiting the Pacific with a full load of Marines.
The ship was rocking and rolling because of the stormy seas, so when we set up the Christmas tree, someone tied a rope from it to the ceiling hoping to keep the tree from falling over. When we got up on Christmas morning, we were surprised to find that our tree had "hung itself" overnight.
- Mike Carlin, Commander, U.S. Navy, retired
I grew up with artificial trees and even remember having one of the silver ones with blue bulbs. After I got married the idea of a real tree seemed charming, and we always had real trees.
In 1993, we moved into a newly built home and bought a real Christmas tree. It was a beautiful tree, but we did not notice that it had a crooked trunk. We got it up, but a few weeks later I was about to head to bed when I heard a swoosh and saw a bulb roll by the kitchen doorway.
I went in the living room to find the tree toppled. There weren't many broken bulbs, but sappy brown water was all over our new carpet. I was up until 2 a.m. cleaning up the mess and still had to have a carpet cleaner come the next day (which cost $60).
While vacuuming up the mess, I clogged the vacuum and had to take it to be repaired (which cost $40).
On the way home from the vacuum repair place, it got really icy and I slid into someone (which cost my insurance deductible).
We bought a super-industrial-strength Christmas tree stand, which could hold up to a 20-foot tree (which cost $30).
Now we have an artificial tree.
About 25 years ago, my sister and her husband picked out the "perfect" tree at a tree farm. They took it home and decorated it.
Later in the evening, they couldn't understand what the very unpleasant odor in the house was. They finally realized the tree had been visited by a skunk. Obviously, a new tree was bought.
The "reading of the poem" about our tree disaster has become a tradition at my family Christmas each year. My grandchildren always ask, "Did this really happen?"
Even though this seemed like a disaster at the time, we have had many laughs each time my sister's poem is read.
Carol Reitz -- my sister, you see
Was having much fun decorating her tree.
The tree was a beauty -- so big and so tall,
Only thing wrong -- it was too far from the wall.
Down she went to move it a squirt,
But the stand got caught on the tree skirt.
The beautiful tree -- so big and so tall,
Fell on poor Carol, decorations and all.
She crawled out from under the tree on its side,
To the middle of the room where she sat up and cried.
Now Rick heard the commotion and ran to her aide,
"Are you alright, Hon?" is just what he said.
As Carol sat sobbing quite out of control,
He added, "You better stop crying -- you'll get a migraine, you know."
After much work, the tree stands again,
In exactly the same spot it first would have been.
Tho' this story is sad it is oh so true,
And it has caused many to have a good laugh or two.
And I have to admit in spite of the fall,
The tree is still a beauty, so big and so tall!
Traditionally we bought our live tree from a tree farm.
One year, about a week after the tree was up and decorated, I began noticing very teeny-tiny dead bugs on the window sills, then all over the tree skirt, then noticed sap dripping from every branch and all over the ornaments and lights. I called the tree farmer and apparently our tree "missed" the normal bug-spray treatment.
They sent me a coupon for a free tree, which I saved until the next year. I was not about to decorate a second tree, so we lived with it that season and have enjoyed telling the story.
When I was in physical therapy school, my two housemates and I decided to buy our first real tree. We, of course, picked out the biggest tree, thinking the bigger the better. We soon found that not to be so. First, getting it home in my housemate's little car was difficult. Then, trying to set it up with a very small base was a disaster. It kept falling over, and finally we had to tie it with a rope to our window to keep it up. I had crawled under it several times to work on the base and had scratches all over me and then found out that I was allergic to it as well. I never want a real tree again!
The first time we moved to Lincoln, it was two days before Christmas and it had to be the coldest day of the year! I was worried that our two children wouldn't have Christmas or a Christmas tree. Our real estate agent had left the biggest Christmas tree he could find on our front porch. Only trouble was, he left it in a bucket of water and it froze.
So my dear husband dragged the tree into our garage and began hammering and picking away at the ice. We were finally able to get it up on Christmas Eve and even found the decorations. We were exhausted by the time we got the tree up, but our kids were all smiles when they awoke on Christmas morning and saw that Santa, indeed, found their new home.
Our family returned from the local tree farm with a perfect tree - perfect until we tried putting it into our tree stand. The trunk was not quite as vertical as we imagined when it stood proudly in the fields.
We anchored it into the tree stand and decorated it anyway. One evening during December, the tree tipped over. There were only a few losses, which amazed us, since it grazed the coffee table as it fell.
We put it upright, and it looked innocently undisturbed in its rightful position when we headed for bed exhausted from this holiday fiasco.
During the night I heard a tinkling sound followed by a muffled thud. Yes, our tree was lying on the floor again.
My husband had a brilliant idea. He raided the medicine cabinet and returned with dental floss. By hammering a small nail in a nearby oak door frame, he lassoed the top of the tree to keep it upright. The floss was virtually invisible during the evenings when the room was lit by the twinkling lights on the tree, and no one noticed it during the daytime. That bit of hygienic accessory lasted the entire holiday season.