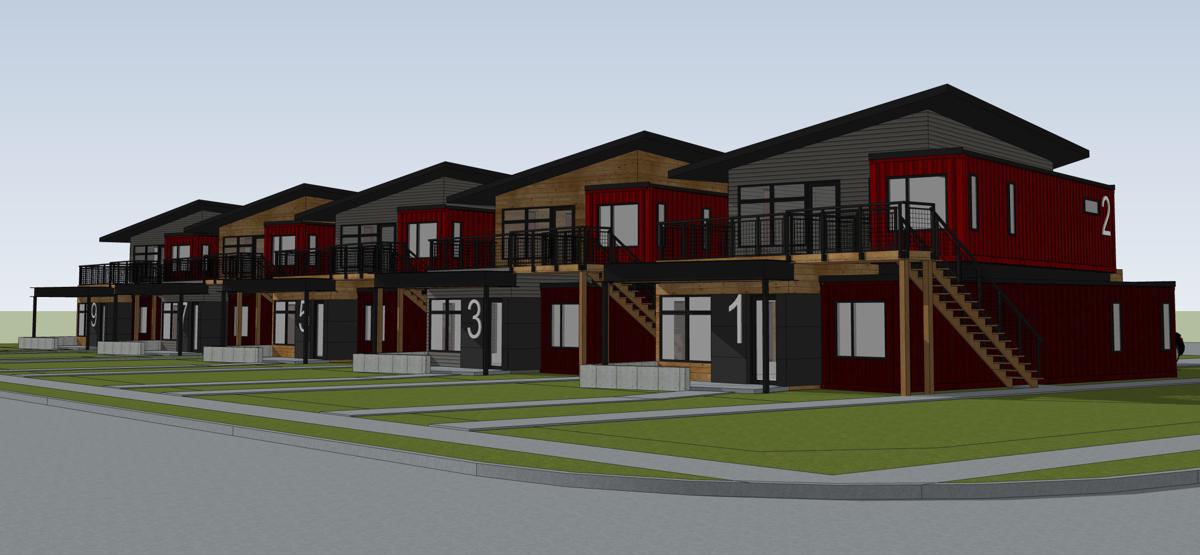 The steel shipping container showed up at Cycle Works a few months ago, but it's not serving as storage.
Instead, engineers and architects have been studying it to finalize their designs for what could be Lincoln's first container-constructed housing, an apartment complex proposed for 28th and Vine, across the alley from the bike shop.
If the plan clears a final zoning hurdle Tuesday, owners Kris and Julie Sonderup hope to break ground later this year on four or five duplexes, each built around two containers.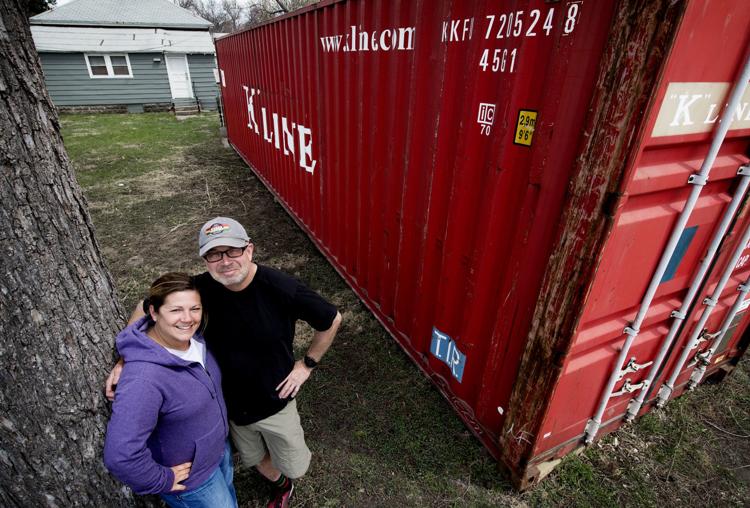 "It's definitely more and newer housing that's needed in the area," Kris Sonderup said. "A lot of people want to live downtown but don't want to pay the price. Here it's close to downtown, close to Antelope Valley, close to both campuses."
They'd originally planned seven buildings, 14 units, but scaled the project to better fit the land they own next to Cycle Works and Moose's Tooth, their adjacent outdoor gear store.
The first floor of each building will have a two-bedroom apartment and garage, the second-floor units will have a one-bedroom unit with a large deck. The buildings will face 28th Street, and require the couple to demolish three homes they already own on that part of the block.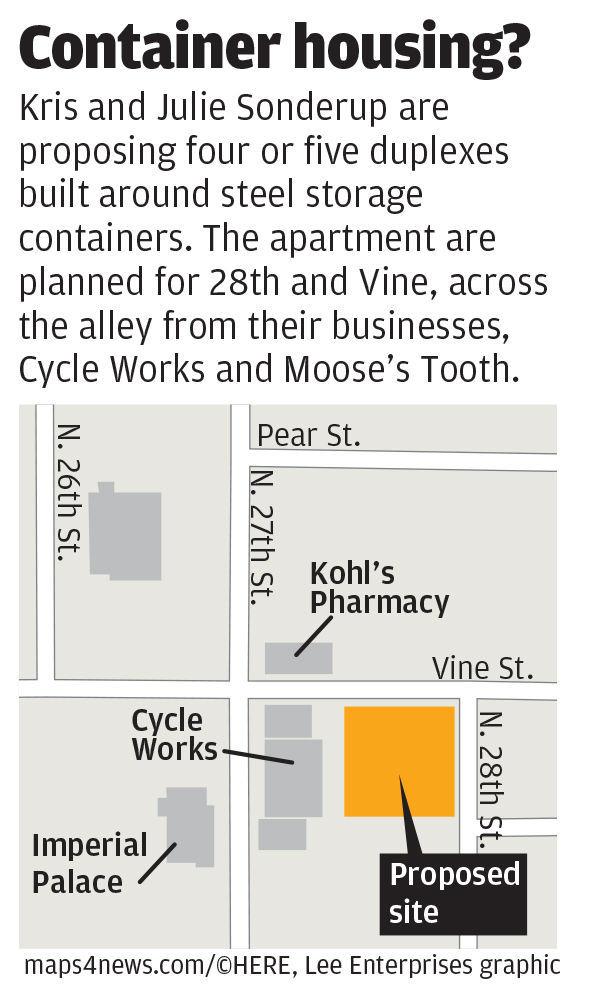 As sketched, the buildings are a mix of steel, wood and glass, with bold colors — the upper containers are bright red — and strong horizontal lines. Overall, they contain more traditional home-building materials than steel container walls. They should match the mix of stores and shops along North 27th Street, a half-block away, Sonderup said.
"This isn't conventional-looking housing. I understand that. It's more contemporary, more industrial, which will fit in here. You couldn't pop this piece in south Lincoln; here, it will blend in."
But it's still surrounded by one of Lincoln's oldest neighborhoods, and its modern contrast against homes built 11 decades ago has wrapped at least one strip of red tape around the project.
There is nothing in city code prohibiting homes built around storage containers, said David Cary, director of the city's planning department. And generally, if a proposed project clearly meets design standards, Cary has the authority to approve it.
But that's the problem with the apartment complex: It's so unlike neighboring homes that the planner assigned to the proposal had to recommend its denial.
You have free articles remaining.
"The design standards basically look at the houses on the same block or the opposite block face," said Stacey Groshong-Hageman. "It compares it to everything in the immediate neighborhood."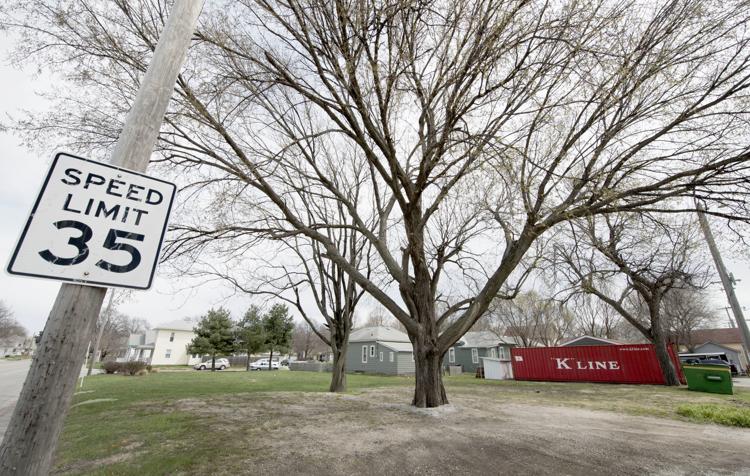 In this case, the nearby Hartley Neighborhood homes have traditional steep, pitched roofs, and the container apartments don't. She had no choice but to recommend the proposal be denied, which then sends it to the Urban Design Committee this week to decide whether the project can move forward.
"If it doesn't strictly meet design standards, I'm forced to deny," she said.
Still, she recommended the design committee approve the plan: The apartments would be on the fringe of a residential area and close enough to the commercial corridor of North 27th Street that they should fit in, she said.
It's typical for the design committee to address new and unique projects — and Lincoln's doesn't have experience with container housing — so the review is healthy, Cary said.
"That action isn't meant to say we are against the project. It's meant to say it should have more discussion before approval is given."
The Sonderups have been here before. A few years ago, they received tax-increment financing to build Hartley Flats, a modern, 13-unit apartment building on three lots a few blocks south of their bike shop, at 27th and S streets.
Kris Sonderup opened the bike shop 37 years ago, and he'd come to appreciate the restaurants, markets, diversity and vibrancy of 27th, and how it's one of the only streets to connect the far north and south stretches of the city.
"This is one of the easiest corridors to live on in town," he said. "It's the older part of town, but it doesn't have to look that way."
Before they built Hartley Flats, he asked himself: Where would I want to live? He asked the same question before they proposed the container apartments.
The Sonderups had been interested in container-based housing for years. They'd visited the Boxyard in Tulsa, Oklahoma, a commercial district built from steel storage boxes.
They liked what they saw there. And they'd like to have something like it next to their businesses.
"I'm based here. I've been here," he said. "It's not like we're trying to shovel something into another neighborhood. I think it's cool and I want it behind my stores."