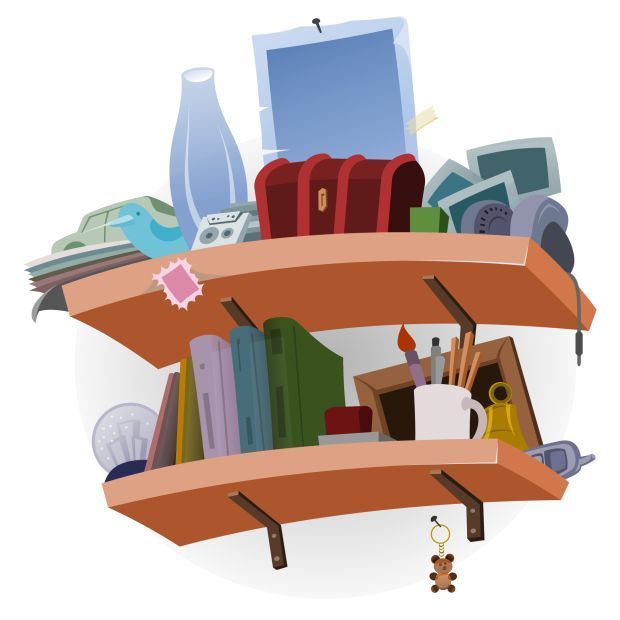 Joanie Rich was starting a new phase of her life, and she wanted to do it in an uncluttered space. Last May she retired from four decades of teaching elementary school and  finally would have the time to tackle some organizational issues at home.
"I had been talking to my friends about this project, and I decided I better just do it," Rich said.
But where to start? And how?
First stop was Rich's upstairs closets. She and a friend went through her wardrobe and she donated, or threw away items she didn't need or wasn't wearing anymore.
That was relatively painless, Rich said. She knew the first floor would be more difficult and decided to call in a professional.
She realized, mostly due to her bad knees and mobility issues, she had been coming home from work and just settling in without really putting things completely away. She used plastic totes to store needed items and just slid them under a table or cabinet, or stacked them in a corner out of the way.
Rich met with Laura Coufal, of Clean and Clutter Free, and the two came up with a plan. For Rich, the goal was to clear out her first floor, getting rid of some of the accumulation of her school items and make the space more usable for her post-teaching lifestyle. She wanted a place to do crafts, like her stamping and cardmaking -- and a desk that was cleared and organized.
And the bins -- her adult son, Steven, calls her the "queen of bins" -- that had been storing random items needed to be emptied or, at the very least, reorganized.
Coufal agreed; she showed Rich some areas that she thought could be reworked and offered a plan. Over a couple of months, the two would meet once a week and work on specific areas for a few hours.
"It takes time to get rid of years of accumulation," said Coufal, a professional organizer. She said people shouldn't feel guilty about getting rid of things or consolidating them.
In Rich's case, for example, they started with three piles: Keep, throw and donate.
The hardest for Rich were the ones that were sentimental or had memories attached, she said. Coufal suggested taking a photo of the item to evoke that good memory.
"I could release it myself then," said Rich.
Focusing on small areas at a time is another tried-and-true organizational strategy, Coufal said.
For instance, near the front door, they set up a small cabinet with some cubbies. Instead of stacking things randomly, there is now an area to put bills that need to be paid right after she opens the mail, another for scarves and gloves, and another for her clogs and tennis shoes. The recycle bin is right outside the door, easy for Rich to reach.
The small table near her recliner, which was overrun with "necessities," has been cleared. One small sectioned box holds television remotes, paper and pen, and reading material.
"I've reclaimed my coffee table, too," Rich said.
Getting rid of some big pieces of furniture in the dining room cleared out even more space. Rich wanted a table, but Coufal suggested her large dining room table with six chairs was really more than she needed.
A large entertainment center in that room was also cleared out. Rich happily donated that furniture and purchased a smaller, drop leaf table with two chairs that fits nicely in the corner. She can make it larger for dinner guests and it doubles as her craft desk.
The biggest challenge, according to Rich, and also the biggest accomplishment of the project was her desk area in the dining room. "It was horrible," she said.
They went through it, creating a filing system for the papers she wanted to keep and getting rid of those she didn't need. Her laptop has a space on the desk now, and she easily can access what she needs in that area.
As Rich looks around the rooms she is happy with the change, declaring it "a load off of my shoulders" to have it done.
Her new mantra, courtesy of Coufal: "If it just takes two minutes to put it away, take the time and do it."