The Fort was toasty Saturday night.
The People of the Village — the village people? — sat on padded gliders and comfy patio chairs under a tarp canopy strung with lights. They had open air to the north and a row of evergreens to the east and a trio of glowing propane heaters.
The dogs, Honey the cute corgi, and Monte, the black and white collie, were there, too, briefly though since a close encounter with one of the heaters had left Monte with a spot of singed fur. (Human guests have also learned to take care after village regular Kerry Augustine's coat started smoking while warming her backside.)
"We had a big learning curve," said Tauni Waddington, who lives in this sprawling north Lincoln ranch with her wife, Sheryl Teslow.
The couple met more than 30 years ago, when they both worked at the Independence Center. Tauni is a therapist in private practice, working remotely since last spring. Sheryl is the co-owner of a freelance court reporting firm.
They got married on a riverboat on the Missouri in 2014, the ceremony on the Iowa side and the party in the boundary waters.
The group — a few longtime friends from the Independence Center and others they've picked up along the way — had a tradition before the pandemic. Cards and a potluck in what had once been the third stall of the garage turned into a heated shop by the house's former owners.
"And even before we started playing cards, we would see each other at least once a week," Sheryl said.
They'd meet for dinner. Gather to watch football. Head to Broadway musicals when they came to town and drive to Nebraska City each autumn.
They went through a lengthy bowling phase.
"We even got our own balls and bags," Tauni said. "None of us were known to be very good."
But they were known to have good fun.
"Most of us do not have families here," Tauni said. "So this is our family."
When March 2020 arrived, the family of friends got scared. Some members of the village are in high-risk groups, and, for a few months, they didn't see each other at all.
Then they got sick of not seeing each other. "And we were all in card detox; it was horrible," Tauni said.
In the middle of the pandemic, village member Mickey Seefeld lost her longtime partner.
"This past year, I could have been here in my house by myself week after week after week, but they were always checking on me," she said. "It is so comforting to know that these people are available if I need something."
In May, the village had its first driveway party at her house to celebrate her birthday.
As the weather warmed, they began meeting at Dave and Cindy Miesbach's place in Waverly, where the couple had a long flat driveway and a triple garage.
When case numbers went down, they returned to the card room to eat in socially distanced fashion and watch movies wearing masks.
"Then the numbers went up, and so we said, 'We're not doing that,'" Tauni said.
One day, Tauni and Sheryl were walking through Menards and they spotted a kit for a free-standing shelter made with a 10-by-20-foot waterproof tarp and PVC pipe.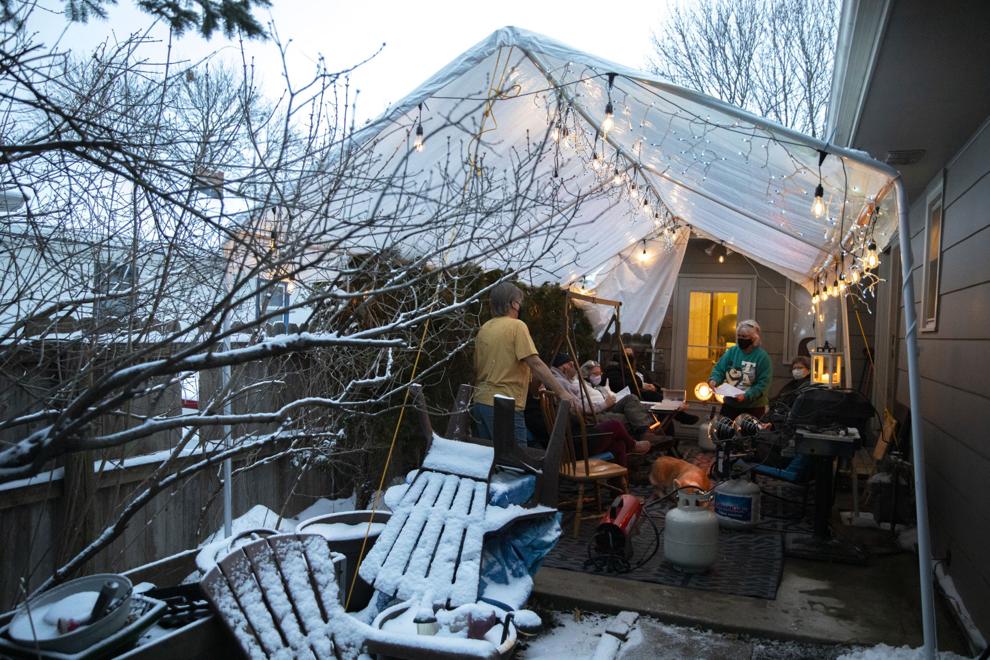 They could set it up over the patio and create a safe space for their get-togethers.
They bought it. They invited Mickey over to lend a hand.
They watched a YouTube video.
"One woman putting it together by herself," Sheryl said. "We tried and it was just a disaster."
But the couple knew who to call: Dave.
"We just adore him," Tauni said. "He knows what he's doing."
Dave and Cindy arrived, and, as a team, they secured the tarp to the poles, adding extra rope to batten it down.
Tauni and Sheryl added an outdoor rug to cozy things up and a projector and Bose sound system for outdoor entertainment.
They've been meeting every Saturday since early November.
Everyone brings a hot dish.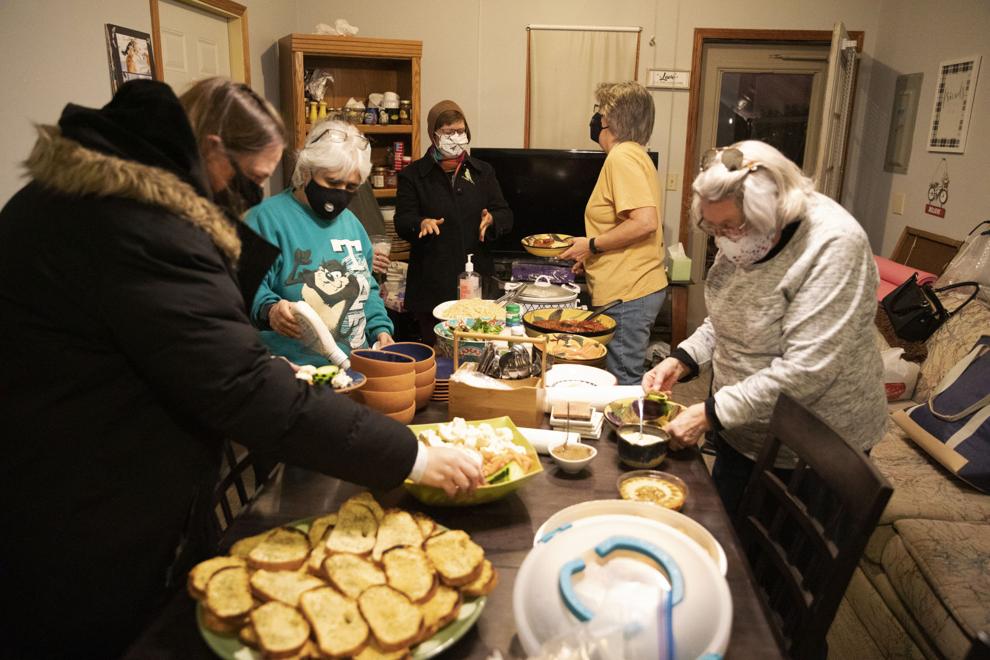 Last Saturday, Mickey made cinnamon rolls from a Lincoln General Hospital recipe, famous in the old days; Dave made deer liver pate, Robin Schlegelmilch arrived with a veggie tray and dip; Kerri came empty-handed this time, although she is known for her pumpkin torte.
In the kitchen, a big pot of Tauni's homemade spaghetti sauce simmered.
"I told her I'd marry her just for that," Sheryl said.
The Village is happy to be back together. They celebrated a new president with blue lights, aviator glasses and strings of pearls.
Mostly, they celebrated being together — 6 feet apart and in masks with fresh air circulating through the canopy and a pair of fire extinguishers close at hand.
A warm and wonderful village of friends.