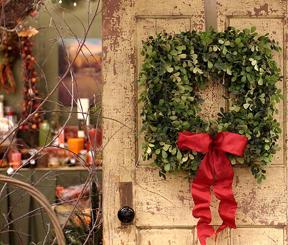 Silver and gold. Copper. Red. Sage. Purple and hot pink. Anything goes this holiday season — especially when it's on a wreath, said Ann Campbell, gift buyer for Campbell's Nursery.
'Tis the season of decorating.
And this year: Big, bold, different or any way you want — mixing colors that were once thought taboo, using plaids, polka dots and stripes all together; or adorning winter wreaths with spring/summer flowers like tulips, hydrangeas and Gerber daisies — it's all OK, Campbell said.
"The rule of thumb is if you like it, it's fine," she said. "There are no rules any more."
Traditionalists may shiver at the notion of mixing poinsettias with tulips, using holiday reds with burgundies, sages and bright oranges, or even going square with what has always been round — the wreath.
But these are different times. Big is beautiful. Bold is eye catching. Perfect balance is passe. And decorating style is as unique as our DNA.
Translation: This is going to be fun.
First a bit of history. The wreath dates back to the ancient cultures of the Persian Empire. Originally called a diadem, the wreath was a fabric headband adorned with jewels. In 776 B.C. wreaths were made of laurel leaves and placed upon the heads of victors in the early Greek Olympics. When the games moved to other cities, each host city would award head garlands made of branches from local trees.
Just when the wreath moved from heads to walls is not clear according to various Web sites documenting the wreath's history. Some theorize that a few proud Olympic victors saved their headbands and hung them on walls as souvenirs.
Although the wreath has traditionally been a Christmas decoration — clearly it has evolved to year round ornamentation that varies by season, holiday or trends.
It also has shifted from just doors and outdoor walls, to the great indoors, be it hung in little nooks, the lone object on a wall, looped over a doorknob, hung horizontal as a chandelier-like focal point, used as centerpieces to offset holiday candles or placed as a subtle decorative touch to surround potted plants.
Donna Michael doesn't remember exactly when she started making wreaths — perhaps it was when her daughter tried to get her into Tole painting with her.
"I've always been into crafty things," she said.
But wreaths have become her signature. She gives them as gifts. Makes them for fund-raisers. Places them at her family's tombstones on Memorial Day. She makes them for fall, winter, Christmas, Valentine's Day, Easter, Fourth of July and just because.
A bedroom in her north Lincoln home is filled with boxes and bags of colorful bunches of silk flowers, ribbon and garlands. Her wreath canvas ranges from Styrofoam to grapevine to wire to artificial pine boughs.
Thursday, seven ladies from her weekly Bible study group cleared her festive fall table of its harvest orange plates and coffee mugs and her candy corn salt and pepper shakers to make wreaths of their own.
Many, like Janice Terry were first-time wreath-makers. Terry made a purple and yellow floral wreath for her granddaughter.
It was fun, she admitted. But challenging — really challenging.
"I think I'd rather do Bible study," she said only half joking.
Michael's neighbor, Theresa Meier, popped over to catch a glimpse of the action. She sympathized with the women as they eyed their wreaths and pondered what was missing to make it perfect.
"When I get done making something I always bring it to Donna and she always adds something to it to make it look just right," Meier said. "She has a knack for putting things together. She has the gift."
You don't need a "gift" to make the right wreath. But you may need some help, admits Campbell.
She suggests people look in magazines, tour stores and gift shops to see what's available and what's being done. They also can seek advice from florists and crafters.
Then don't be afraid to step out of your comfort zone and try something new — not necessarily wholesale outrageous, but just a bit different from tradition.
Campbell would approve of the huge gold and white bow Michael and Barbara Ross created for the Christmas wreath Ross made for a friend.
"Big scale is a big look right now," said Campbell. "It's a striking look."
 Bright red and big is also huge, she said.
"It's good to use bright red on a wreath that is to be seen from far away," Campbell said.
Although red is traditional, many of this season's other colors are not. Sage has replaced Christmas green, Campbell said. One reason being sage not only adds a bit of elegance or whimsy, but that it stands out — the old Christmas green color got lost in the branches of evergreen wreaths, boughs and trees.
And sage is a neutral color, Campbell said — which means it mixes well with this season's less traditional colors of burgundy, orange, silver, copper and gold.
"Gold, copper, silver and sage — they're very strong right now," Campbell said.
In fact, for people wary of trying something new on their wreaths, Campbell suggests starting with touches of sage.
People searching for a more contemporary holiday look are incorporating the bright oranges, fuchsias, purples and hot pinks with touches of silver.
You have free articles remaining.
Also new for the season is the use of summer time flowers from roses to tulips, hydrangeas, dahlias and poppies. Instead of the springy colors, they are frosted with glitter in deeper and darker tones to match the colors of the winter seasons.
And the flocking — now called "frosted" comes factory applied, meaning it won't flake off. Which may in part be a reason for its resurgence.
Although these are the trends, Campbell cautions there is no set pattern making the "right" holiday wreath this year.
"It's all a matter of personal taste," Campbell said. "If its pleasing to the eye it's fine."
*Figure out what size wreath you want. Oversized on a smaller space is perfectly fine.
*Decide on a color scheme.
*Choose your ribbon or ribbons. If you're using a bow make it and put it on first. That will determine your decorating scheme.
*Then decorate around it. Play around. Attach decorations with hot glue, floral wire or craft glue.
*Don't be afraid to search clearance racks, second hand shops and thrift stores for old holiday decor items that can be recycled in unusual ways.
Sources: Ann Campbell and Donna Michael
*Permanent wreaths — the less offensive term for artificial — are not only socially acceptable, but highly recommended if you want a longer life out of your wreath.
*When choosing an artificial evergreen wreath, look for realistic coloring and fullness.
*Decide whether you want a pre-lit wreath or unlit.
*If you buy a pre-lit wreath, there is nothing to prevent you from adding more decorative lights of your own for accents.
*Think outside the circle. Square (faux) box wood wreaths are the newest thing. Because "permanent" box wood is now available, you can enjoy the look much longer than if you used the real stuff.
*Buy ribbon with wire on its edges, it is much easier to use and get the look you want. It's also quite reasonably priced.
*Think big and bold. Big bows. Bold colors. Ribbons with glittery patterns especially polka dots.
*Mix more than match. Go ahead and put stripes with those polka dots.
*Big — big balls, big bows, big flowers, long flowing grasses.
*Berries, beads and anything sparkly.
*Jingle bells as a wreath or adorning a wreath.
*Feathers — whether they add some accent or make the whole wreath.
*Instead of a bow, loop ribbon along the wreath.
*Mix your colors — Hot color trends: silver, gold and copper; hot pink, purple and lime green; red, sage and burgundy.
*Go with glitter — Glittered ribbon, glittered ornaments, glittered flowers and beads.
*Flocking is in again. As is that iced look on berries and branches.
*Put a small vase in the bottom center of your wreath. Before company arrives, put live flowers in the vase. Replace flowers as necessary.
Source: Ann Campbell, gift buyer for Campbell's Nursery