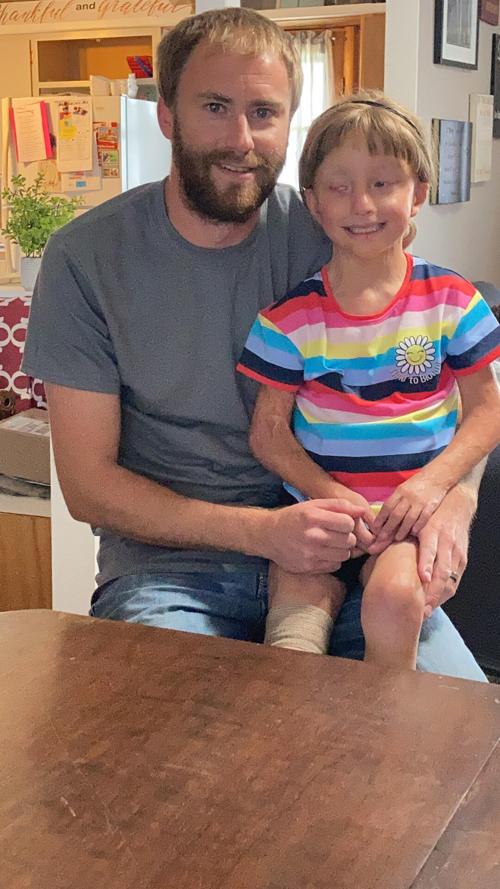 ELWOOD — Aliyah Jauken says a quiet, sincere hello and holds out her hand to a visitor. She's 7 years old. She plays dolls with her stepsisters and romps with two dogs. She likes school and T-ball.
But her life is far from ordinary.
She has a rare skin disorder. She was born with skin lesions that healed within a few months, but they left behind scar tissue that covers her body as if it were burned.
She has no eyebrows. Her eyelids are so fragile doctors sewed her right eye shut. She has a single fingernail. Her condition is so rare that she's the only person in America, and one of only 32 people in the world, diagnosed with it.
The disease is called congenital erosive vesicular dermatology with reticulated supple scarring. The Journal of the American Academy of Dermatology describes this as "a condition usually observed in premature babies and presents at birth with vesicles and erosions."
"There are no answers," Aliyah's father, Sean Jauken, said. "Nobody knows what causes it or why — any of that. There aren't enough people who have it to do a study."
Bright red
Aliyah, the first child of Sean and his then-wife, Kristy, was born premature at a Lincoln hospital after just 27 weeks of gestation. "She came out bright red. They didn't know what it (her condition) was at first. They didn't know what to do," he said.
Doctors sent her to Children's Hospital at Omaha, where she spent three months in the ICU. For two of those months, she underwent extensive tests. "They tried to diagnose nine different things, but the tests came back negative. Doctors were puzzled. Children's Hospital didn't even know what it was," Sean said.
Finally, a dermatologist diagnosed it "even though she had never heard of it," Sean said. The dermatologist gave Sean and Kristy a two-page paper about the disease. Aliyah was then only the 29th case in the world.
When Aliyah was ready to go home to Holdrege, the couple was given special lotion to use on her skin. "Three or four times a day, we'd oil her up," he said.
Multiple surgeries
Aliyah's condition affects roughly 75% of her skin. Only the soles of her feet and the palms of her hands are smooth.
As she grew, she had multiple surgeries. She has had three surgeries on her legs since August 2019. Two of those came in the last seven months. She has had multiple surgeries on her arms.
She also has had five eye surgeries, including three since October. Doctors sewed her right eye shut because her eyelids have not developed, and without eyelids, she is unable to keep tears on her pupils, and her eyes dry out. Only a tiny, thin layer protected the cornea.
Two months after that surgery, doctors opened the right eye about four percent. "It's getting better. It will be this way for two years. Then they might open it a little more. They will do it in stages," Sean said.
"I'm guessing we'll have surgeries fairly regularly to release her skin, but there aren't a whole lot of doctors who have dealt with this. We have to take her to a dermatologist in Omaha," he added.
Sean and his wife Tina said Aliyah's condition is "harder on us than it is on her." She lives with them during the week and attends school in Elwood, then spends weekends with her mother. Sean and Kristy have joint custody.
Sept. 14 benefit
A virtual benefit for the family is set for 7 p.m. Sept. 14, thanks, in part to Joe Wilken, whose wife is a cousin of Sean's. He is a financial representative with Thrivent, a Christian nonprofit financial planning group. Instead of paying taxes, Thrivent gives that money to the community.
Wilken has wanted to assist the Jauken family, but as COVID-19's delta variant spreads, "we realized we can't gather a whole bunch of people," so Thrivent will sponsor a virtual event the evening of Sept. 14.
The event will include an 8-minute interview with Aliyah, after which viewers will be invited to donate. KRVN already has done the interview. Every dollar donated will go to the family, and beyond. "Thrivent will match every $2 raised with $1," Wilken said. If $4,000 is raised, Thrivent will match it with $2,000.
Also set is a watch party 5:30-7:30 p.m. that night, during which Aliyah's parents will answer questions. "They get lots of questions. They wish there was more awareness of the disease for friends and family to have an understanding of it," Wilken said.
A drawing is included, too, with prizes such as Husker tickets to the Iowa game on Nov. 26. That drawing will be done live Oct. 22 on Facebook. Tickets are $5 each or five for $20.
Ongoing struggle
Just caring for Aliyah and keeping her treatment is a financial and emotional strain. Both Sean and Tina work for BD Medical in Holdrege, and while he has insurance, it only goes so far. Sean must take time off work to travel to Lincoln or Omaha for medical appointments with overnight stays, meals and other expenses.
Insurance won't cover plastic surgery at all, even though it's necessary for Aliyah's condition.
"Insurance is a struggle because they're never heard of the disease," Wilken said. "We've seen how this disease has progressed, and the struggles. Thrivent wants to encourage generosity. Let's get other people involved and get them to understand how they can help."
Wilken's father had polio, so he understands what the Jaukens face. "At first sight, people were cautious around him. People seemed scared to engage with my father and ask questions," he said.
Tina has three children of her own: Harmony, 7, Symphony, 5, and Lyric, 3. Like her stepsisters, Aliyah cleans her room, picks up her toys, helps put away laundry and does dishes. She's learning to clean up after their dogs Daisy and Trey.
For fun, she rides her bike. She learned to swim this summer. She played T-ball, too. "But she can't sweat, and she gets overheated being out in the sun," Sean said.
He and Tina and Kristy continue to seek answers. They have contacted doctors and dermatologists all over the country. "It's all trial-and-error right now. Nobody knows anything. I look up dermatologists. I see a letter or a book or an article and think maybe I can get a recommendation," Sean said.
Meanwhile, he's proud of his daughter as she spends her days playing and going to school. "When she falls, she gets up. She has more pain tolerance than I do," he said. "She does very well. She is always smiling."
PhotosFiles: How Lincoln and Nebraska responded to the 1918 flu pandemic
1918 flu pandemic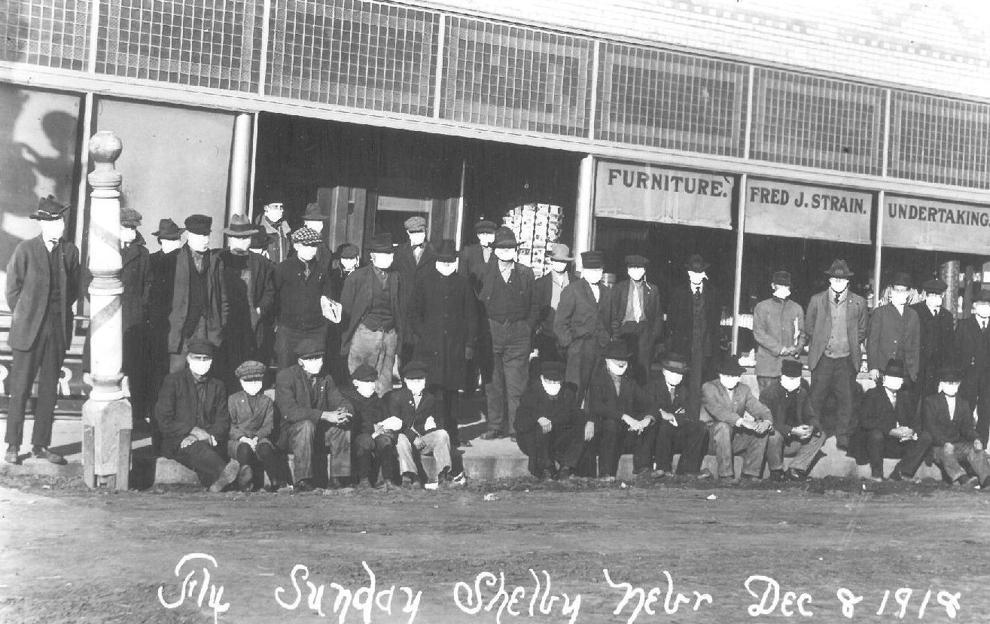 Lincoln Journal-Star, Dec. 19, 1993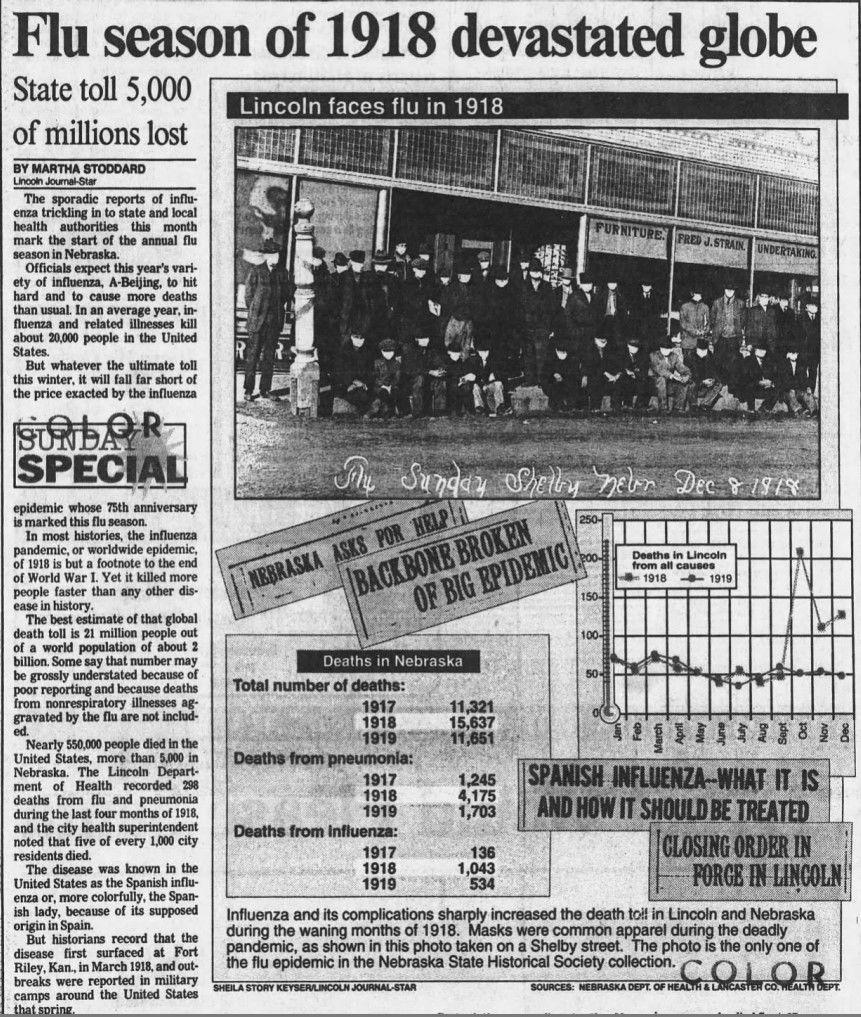 Nebraska State Journal, Oct. 12, 1918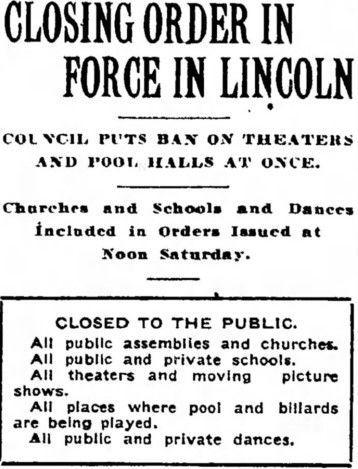 Nebraska State Journal, Oct. 14, 1918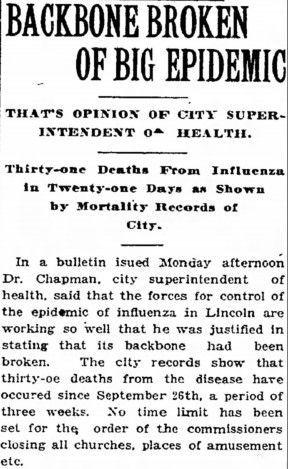 Nebraska State Journal, Oct. 15, 1918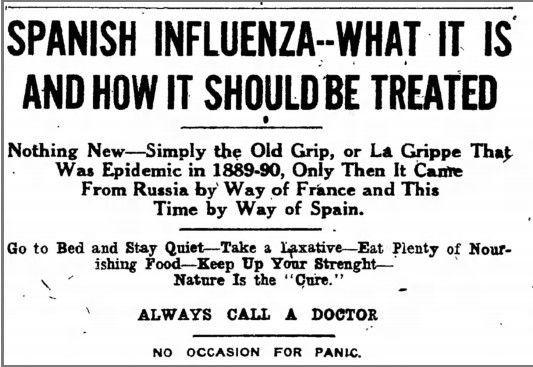 Nebraska State Journal, Oct. 24, 1918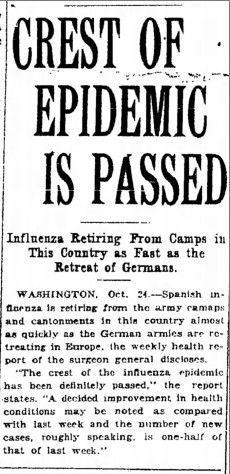 Lincoln Star, Oct. 25, 1918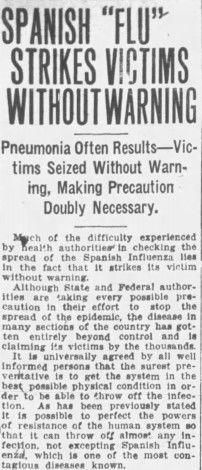 Lincoln Star, Oct. 25, 1918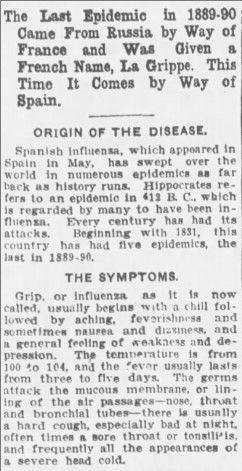 Lincoln Star, Oct. 25, 1918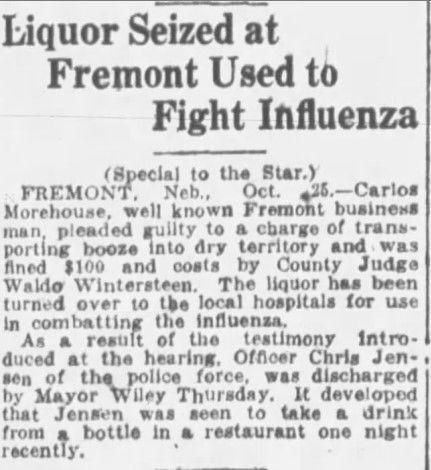 Nebraska State Journal, Dec. 5, 1918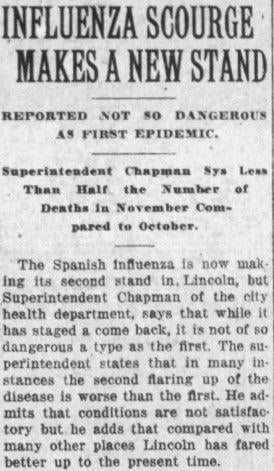 Nebraska State Journal, Dec. 8, 1918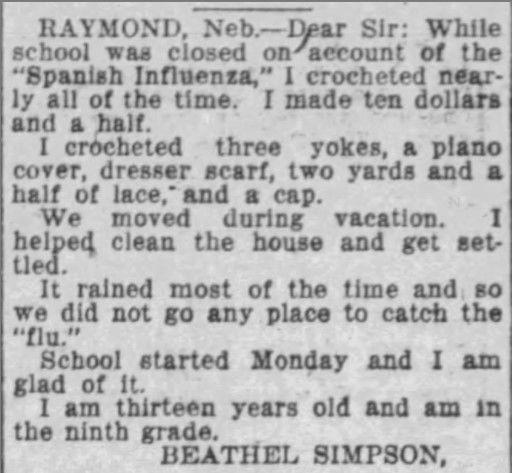 Nebraska State Journal, Dec. 8, 1918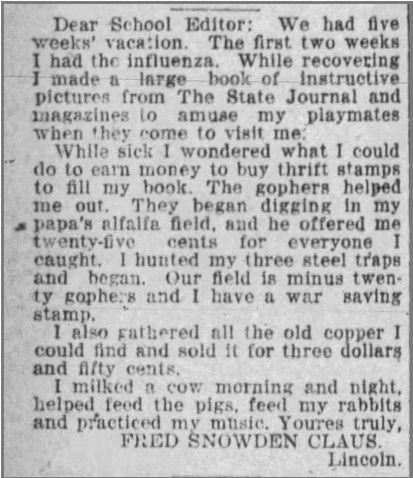 Lincoln Star, Dec. 17, 1918

Lincoln Evening Journal, Jan. 8, 1941