Michelle Welch doesn't mind being called "wacky." In fact, she often introduces herself as the "wacky wellness lady."
"What can I say," Welch says with a laugh. "You don't have to take yourself too seriously to still have a serious impact."
She takes fun wherever she goes, utilizing her unique accessories to break the ice when meeting others. "I've had people yell across parking lots about liking my purses," she says.
Welch's purse collection includes tea kettle and watering can-shaped handbags, and one based on the Rubik's cube, among others. Her handbags symbolize her life philosophy – be happy, be healthy, have fun. Welch's infectious spirit works well to inspire the teachers, staff and students who are part of the Lincoln Public Schools system to be healthy.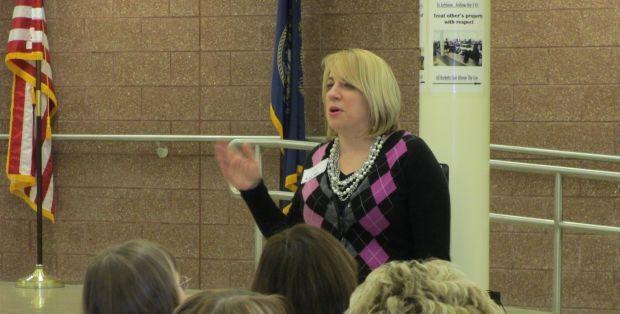 Welch, district wellness coordinator for LPS, has a serious mission, but knows that people, especially kids, better incorporate healthy living and fitness into their lives when it feels fun and organic. "Preaching at kids and parents with 'do this, don't do that' is less effective, and it's very important that they get the message," says Welch.
And the message can be pretty grim. Childhood obesity is at epidemic proportions. In the 1970s, around 5% of children were obese. As of the most recent State of Childhood Obesity Report, the national obesity rate for youth ages 2-19 was 18.5%. Public health research tells us that childhood obesity will likely cut the life expectancy of our children by an average of 5 years.
What's happening? Health experts say it's a perfect storm of added sugars in food and beverages, fewer minutes in physical education and recess in school, less access to safe physical activity opportunities in lower-income neighborhoods, too much "screen time" marketing unhealthy food to kids on TV and social media, and the higher cost of healthy foods compared to less-healthy fast food.
With fewer minutes in school devoted to P.E. and recess, Dr. Bob Rauner, president of Partnership for a Healthy Lincoln, a community health and wellness nonprofit, researched the relationship of fitness to academics. Rauner and colleagues demonstrated a strong correlation between fitness, health and improved academic performance. Their findings were published in the Journal of Pediatrics and received national attention.
"Physical activity is a key component in the fight against childhood obesity," says Rauner. "Recess, physical education and activity breaks also help kids energize their brain cells, and fit children learn better." Rauner's past work with the Lincoln Public Schools in tracking fitness and obesity rates helped to permanently fund the LPS wellness coordinator position.
Energizing kids and their brain cells is what Welch is all about. And it doesn't stop with kids. Welch sends out "Wellness Wednesday" messages to LPS staff members and kids, and encourages wearing sneakers on Fridays with promotions like Sneaker September, Dashing December and Fitness February. Kids, teachers and staff members snap "shoefies" during a walk, run or any physical activity that Welch shares in. "Anything to make movement fun," she says.
In addition to Wellness Wednesdays, Welch issues quarterly focus activities including wellness challenges, posters, intercom announcements and scavenger hunts for LPS students, teachers, staff members and parents. The challenges focus on the health of the whole child – body, mind and spirit. Creating a wellness focus for the quarter is not only fun, but it works. LPS students have lower obesity rates and higher fitness rates than the national average.
Welch says that wellness messages have to be conveyed early and often to children and their parents in order to have the greatest impact. But, just as importantly, says the "wacky wellness lady," it has to be fun.
Partnership for a Healthy Lincoln (HealthyLincoln.org) and LNKTV Health (LNKTVhealth.lincoln.ne.gov) bring you Health and the City, a monthly column that examines relevant community health issues and spotlights the local organizations that impact community wellness. Direct questions or comments to jpearsonanderson@healthylincoln.org.
Build your health & fitness knowledge
Sign up here to get the latest health & fitness updates in your inbox every week!