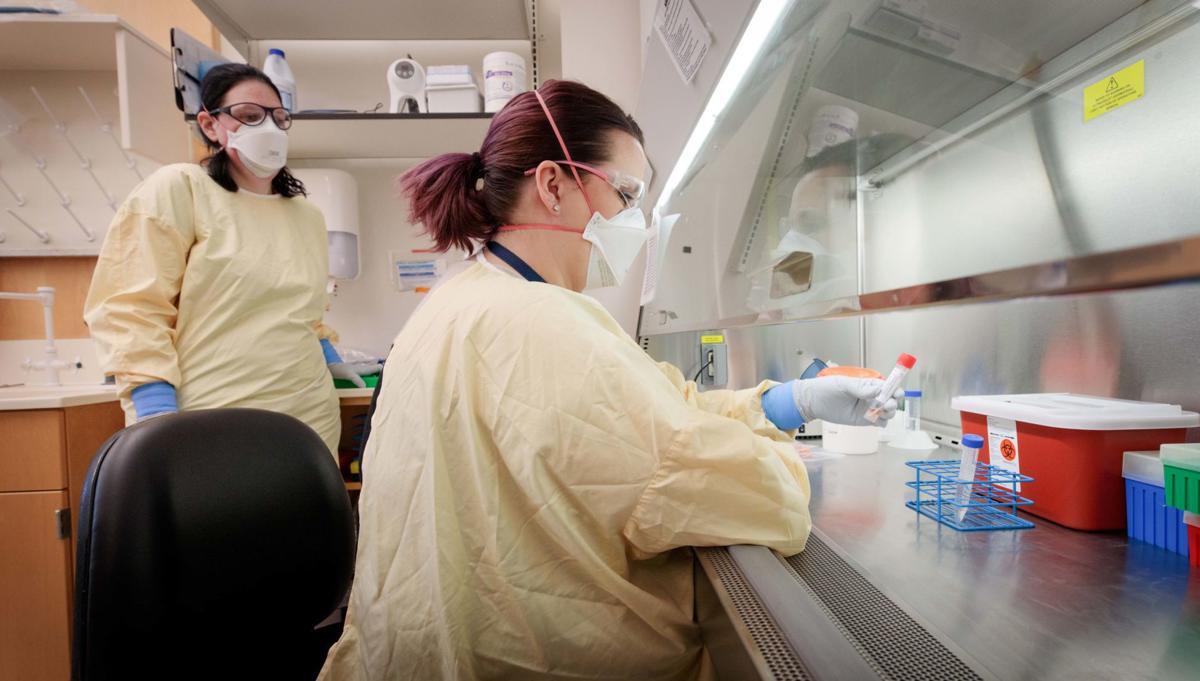 The initial phases of a joint study by the University of Nebraska Medical Center and others show new evidence that COVID-19 could be airborne, but perhaps not in the same way as other highly contagious illnesses such as measles.
The researchers, including those at Nebraska Medicine and the National Strategic Research Institute at the University of Nebraska, emphasized the study did not confirm the airborne spread, but rather identified genetic material from the virus in air samples that could show potential for that type of spread.
"More study is underway to determine if live culturable virus was captured in this study and additional evidence is needed to determine the risk of SARS-CoV-2 transmission via the airborne route," the researchers said.
The samples of the study gathered from COVID-19 patient care areas at UNMC found high levels of virus contamination by a method used to rapidly replicate the virus sample on commonly used surfaces and in the air of rooms of those patients. Air samples from hallways outside of rooms where staff were moving in and out of doors were also positive.
The study suggests that COVID-19 patients, even those who are only mildly ill, may create aerosols of virus and contaminate surfaces that may pose a risk for transmission.
"Our findings show how important it is for health care workers providing direct care to these patients to take enhanced transmission precautions," said John Lowe, vice chancellor for Inter-professional Health Security Training and Education. "That means wearing the proper personal protective equipment, using negative air pressure rooms for these patients whenever possible and being mindful about the method of entering and exiting these rooms."
During the initial isolation of 13 people confirmed positive with COVID-19 infection, air and surface samples were collected in eleven isolation rooms to examine environmental contamination. Many commonly used items, toilet facilities and air samples had evidence of the virus, indicating the virus is widely disseminated in the environment, researchers found.
The findings indicate that the disease might be spread through both droplets and person-to-person contact, as well as indirect contact with contaminated objects and airborne transmission with small droplets that may be able to travel distances. It suggests airborne isolation precautions could be appropriate, the researchers said.
Dr. Mark Rupp, UNMC infectious disease expert, said if they find it's just a few viral particles at a distance from a sick person, that might not be an important route for the transmission.
"So there's a lot yet that we need to learn about," Rupp said in a Facebook Live presentation on the study. "But it is something that's giving us pause and something that we're again trying to be responsible with ... to provide for the safest care for these patients for our health care providers."
Rupp said he wouldn't promote the idea of everyone wearing masks, but reinforces the need for aggressive social distancing that's been shown to really crimp down on the transmission from person to person. That means staying at home, keeping your distance, washing your hands, not touching your face.
Especially if someone in your house has signs of respiratory illness, make sure to clean the environment — toilets, countertops, door knobs, other surfaces — and separate the person into his or her own room and own bathroom if possible.
"We know this virus is very susceptible to low level disinfectants, so bleach solutions, alcohol, those types of disinfectants," he said.
As the warmer months approach, people might want to open their windows and get fresh air into their environments and not have stagnant air in their rooms. 
Joshua Santarpia, Ph.D., research director for Countering Weapons of Mass Destruction at the National Strategic Research Institute, said ongoing work will continue to improve the understanding of SARS-CoV-2 transmission and help identify ways to improve safety in the care of patients with this disease.
Build your health & fitness knowledge
Sign up here to get the latest health & fitness updates in your inbox every week!