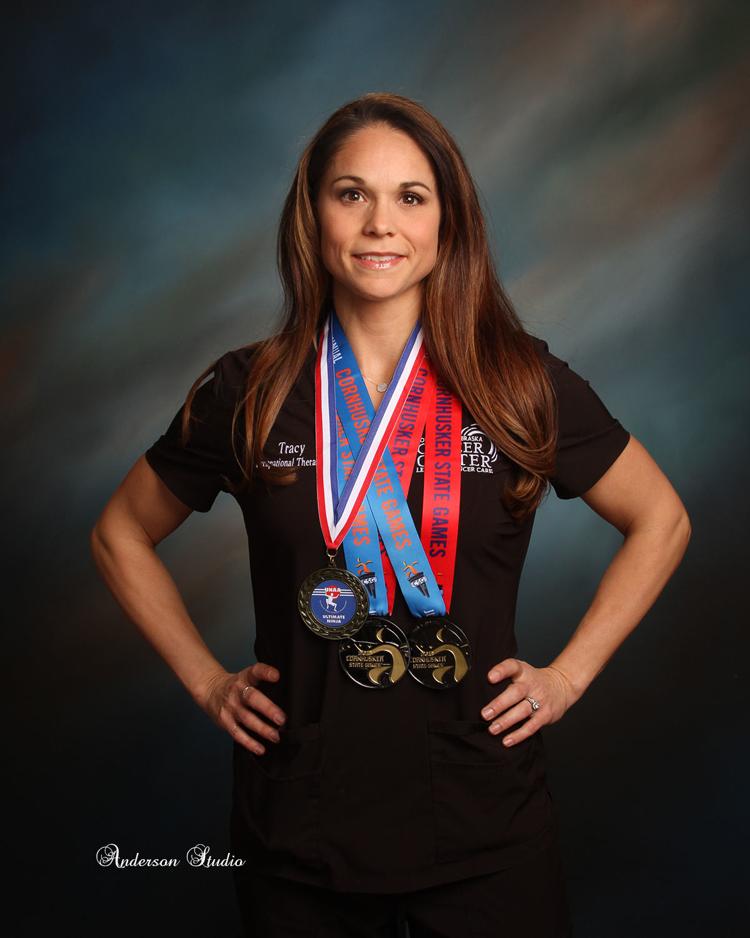 Ninja Warrior applicant Dr. Tracy Bender is just as passionate about advocating for the rights of lymphedema patients as she is about training for Season 11 qualifying competition.
For Season 10, she was a course tester but hopes to make the cut in 2019. Bender trains with four-time Ninja Warrior contestant Maggi Thorne of Lincoln.
Last July's Cornhusker State Games Ninja Challenge age division win qualified Bender for the regional Ultimate Ninja Athlete Association competition, a separate national ninja league.
A former high school cross country and track athlete who competed at state all four years, Bender said fitness is at the top of the list for keeping her and her three children healthy. She has completed 13 half marathons, two triathlons and many road races, and loves to run with her two girls.
In the Run to Overcome, daughter Ava, 7, placed first in her age division for the 1-mile run, and daughter Jaeden, 13, won the entire women's 5K, with Dr. Bender coming in second.
Bender encourages a healthy lifestyle with patients as well, wrote Charmain Satree. "Tracy in many ways has not only been my OT (occupational therapist) but my motivator to keep going and do things that are good for my body, my soul and whole being."
"Honestly, the ninja journey has tied in really well," Bender shared. "I've been able to live by example for my patients."
Professional passion
An occupational therapist for the past 11 years, Bender specializes in cancer rehabilitation recovery and lymphedema treatment for those experiencing swelling and pain due to a damaged or impaired lymph system. She received her doctorate in occupational therapy from Creighton University, is a certified lymphedema therapist and also completed expert training in breast cancer care.
Advocacy and outreach
An advocate for the passage of the Lymphedema Treatment Act, Bender hopes to help patients seeking reimbursement for lymphedema treatment-related expenses. She campaigned for an income-based grant program provided through the Heartland Cancer Foundation to help patients cover compression garment expenses.
To further spread awareness for lymphedema and lymphatic diseases, which affect up to 10 million Americans, Bender speaks at local and national events. "It's hard to get people to support this when they don't understand it," she said.
In an attempt to promote wellness among cancer survivors, she and Thorne will host a Resilience Survivorship Empowerment Conference at Lincoln Berean Church on March 2.
"It's Tracy's vision," Thorne said. "She has such a heart for it -- nationally, globally -- to help people go through that survivorship part. There are so many tools that are missing, and that's her push."