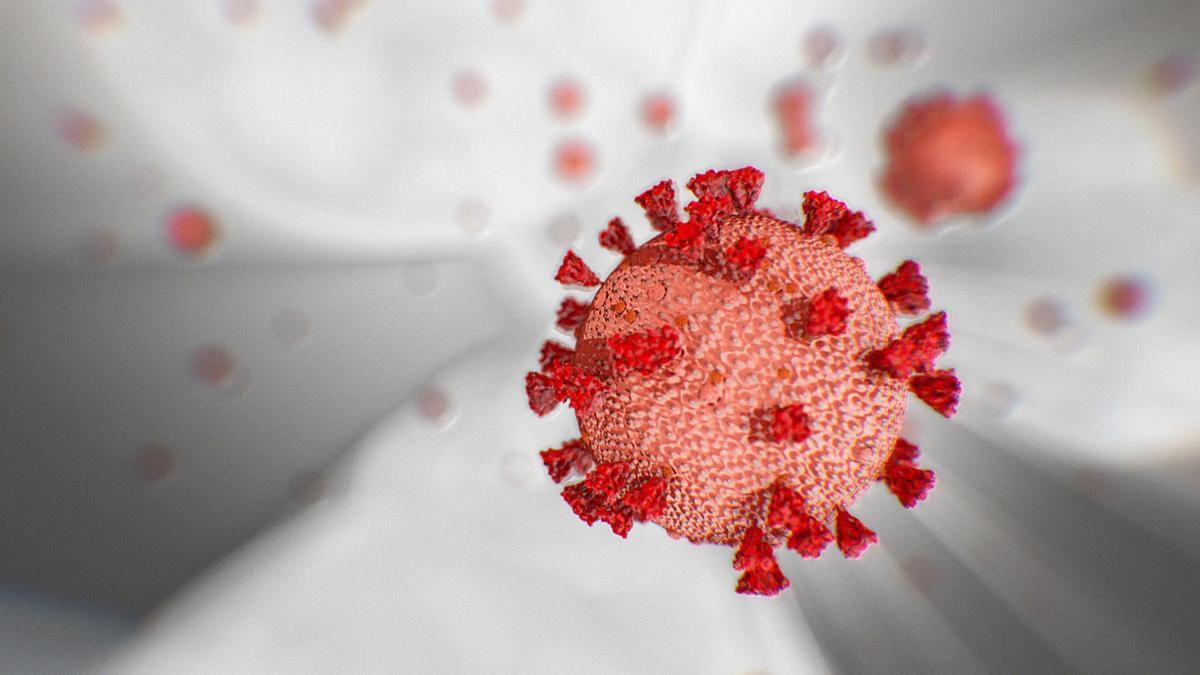 Two new cases of coronavirus were confirmed Sunday in Lincoln, both travel-related, bringing the city's total to six. 
A woman in her 20s returned from Mexico on March 17, self-quarantined, and developed symptoms two days later. The Lincoln-Lancaster County Health Department said her close contacts are also self-quarantined, and none have symptoms at this time.
In the second new case, a woman in her 80s traveled to New Orleans on March 6 and went on a seven-day cruise. She returned March 16, and both she and a family member in the same household self-quarantined. She developed symptoms March 18, and had no close contacts with others in the community.
A case reported late Friday afternoon was a man in his 30s who had traveled to Colorado on March 6-8. He became symptomatic March 12. None of his identified contacts are believed to have symptoms at this time.
Two new cases of COVID-19 were also reported in Lincoln County on Sunday, while there were three in Hall County, one in Adams County, two in Sarpy County and nine in Douglas County. Scotts Bluff County also reported its first case.
The Lincoln-Lancaster County Health Department is now monitoring 120 individuals because of their travel history or exposures. Lancaster County reports 228 negative tests and six positives with 16 cases pending at the Nebraska Public Health Lab.
Nebraska now has 125 confirmed cases of COVID-19 and two deaths.
Officials gave an update Sunday on two cases that were reported March 20 at the Douglas County Health Center long-term care unit involving two women in their 70s and 80s. The women are in stable condition with fever and respiratory issues and in one contained area, said health center administrator Erin Nelson. All other residents are doing well, she said. 
A staff member is believed to have unknowingly brought the infection into the health center, and it was picked up on a routine temperature screening, but evidently not in time to prevent the two women from being infected, officials said. The long-term care center has 237 residents, with a capacity for 254.
The West Central District Health Department said the new cases in Lincoln County are a man in his 90s and a woman in her 80s. Both are hospitalized.
There are now five confirmed positive cases of the coronavirus in Lincoln County, the department said.
And the Central District Health Department has now reported a total of six confirmed cases in Hall County, with the three new cases reported Sunday.
The South Heartland District Health Department also identified a case in Adams County on Sunday to bring the district's cases to three. The new case involves a woman younger than 20 and is linked to a prior case. She is self-isolating after reporting symptoms, including loss of smell and taste.
The Scotts Bluff County Health Department confirmed that a man in his 30s in the county tested positive for the virus. The man has been self-isolating since Tuesday.
In Sarpy County, two more COVID-19 cases were announced involving individuals in their 30s or 40s, according to the Sarpy/Cass County Health Department. One of the cases is related to a previous case while the other was the result of community spread, bringing the number of cases in Sarpy County to 13.
Sarpy and Cass counties added to their directed health measures on Sunday that as of Tuesday, any event or gathering at a school, child care center, business, wedding or funeral must have 10 or fewer attendants that can distance from each other by at least 6 feet. The measure is in place until April 30. That includes beauty and barber shops, massage businesses and tattoo parlors.
Restaurants and bars are limited to carry-out, drive-thru and delivery. Elective surgeries and procedures are prohibited.
Three Rivers Public Health Department identified an additional case of COVID-19, as well. The Washington County resident is a female in her 90s and is self-isolating at home.
"As expected, this case is related to the Carter House (retirement and assisted living community in Blair) outbreak and has been identified through a contact investigation," said Terra Uhing, executive director.
All Carter House residents and staff were tested Sunday and results should be available in 48 hours. It is the ninth case in Washington County and brings the total for the Three Rivers area to 14. 
Carter House residents will be moved out of the facility temporarily, according to Uhing. A number of neighboring health care facilities and hospitals are assisting with the effort. While empty, a complete deep cleaning to disinfect the facility will occur.
The nine Douglas County cases reported Sunday include a man and a woman in their 20s, a woman in her 50s, two women and a man in their 60s, two women in their 70s, and a woman in her 80s. Four of the cases had direct contact with a known case, two cases are travel-related, and one involves community spread.
Adi Pour, Douglas County health director, said at a news conference Sunday afternoon the woman in her 70s who is hospitalized has several underlying health conditions. Others are being investigated.
"As I have said before, more testing, more identification of cases," she said. "We are really lucky in this community that we are seeing testing increasing significantly."
Pour said Omaha has 620 beds available with 43% occupancy, and 264 ventilators with 57 in use.
Pour expressed concern that driving to the news conference she saw streets crowded with people and traffic. And she has heard complaints that big box stores such as Menards, Home Depot, Walmart, Costco and Sam's Club, are as busy as ever. It's not the time to go to home improvement stores to start your house projects, she said.
She'd like to see only people out on nature trails, one or two people together at the most. There has been a 33% reduction in travel according to one study, but that's not enough. To have an effect on the virus it should be more like 75%, she said.
She pleaded with people to take the recommendations for social distancing and hand-washing to heart, because it works. 
On Saturday, Dodge, Gosper, Madison, Platte and Buffalo counties each reported one new case.
Omaha Mayor Jean Stothert said that while the health care workers are known to be the life savers in this, other big life savers are the people of Nebraska in its cities.
"You know, stay home means lives saved. We know that now. And I am pleading with people that are visiting and shopping in these crowded stores to not do it," she said. "I'm pleading with the managers of these stores to please keep the crowds thinned out."
DoorDash to the rescue in time of crisis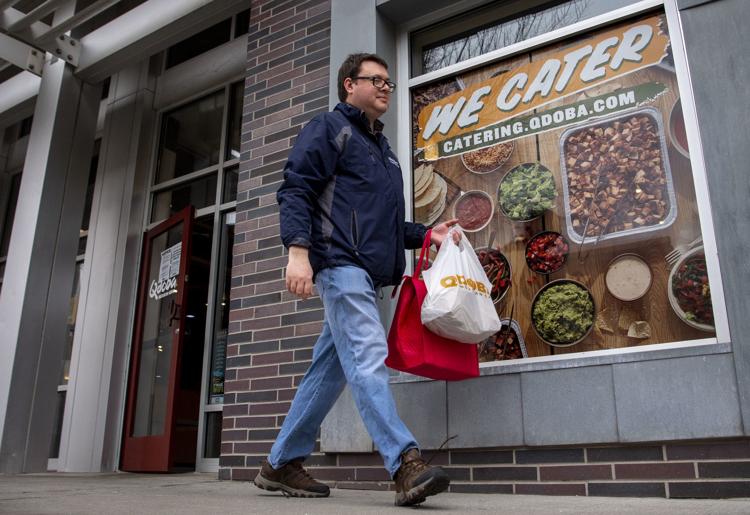 Derek Johnson signed up to do deliveries for DoorDash about a year ago.
It started out as side gig, something he'd do occasionally in the evening or on the weekend for extra money.
But when the 36-year-old lost his job as a data specialist a couple of weeks ago, the online delivery service became his sole source of income.
The good news for Johnson is that with restaurant dining rooms shut down and many people shut in their homes, delivery services such as DoorDash are booming.
Johnson said it used to be that he'd log into the app on a Friday night, have to wait a half hour or more to get a delivery and might do a few throughout the night.
Now, he logs in and, "I'll pretty much get five to six hours of straight work," he said.
Not only is he delivering for restaurants, but he said he's gotten quite a few grocery deliveries as well. He also often gets multiple deliveries at one time.
While he continues to look for another full-time job, DoorDash is paying the bills right now.
"It's good money," he said. It's also flexible and can accommodate his need to go to job interviews that pop up.
Johnson said he's not that worried about getting sick. Most restaurants he picks up from have hand sanitizer available, and he keeps a bottle in his car. He also keeps his distance from customers when dropping off his deliveries.
"I do try to take precautions," he said.
Asked what restaurant he delivers for the most, he answered without hesitation: Chipotle.
"People love their Chipotle," Johnson said.
It's Kirk and Norris and Buffalo Bill now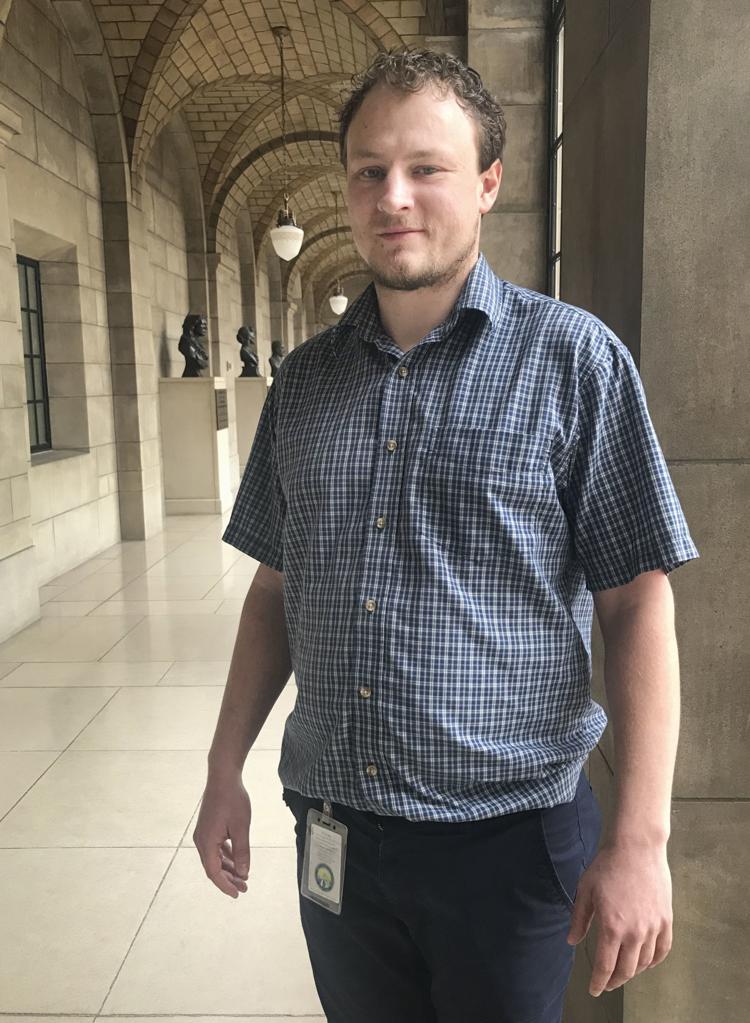 The Great Hall at the Capitol is empty.
No one is here except George Norris, John Pershing, Willa Cather, John Neihardt, Father Flanagan and Buffalo Bill, all perched in their alcoves.
And a Nebraska State Patrol member of the governor's security detail who walks down the hall.
"I'm still here," he says.
But the usual flow of people that energizes the Great Hall on the Capitol's second floor and occupies the time and attention of the Capitol tour guide and aide isn't. Not in the midst of the novel coronavirus pandemic.
"There's still a handful of people coming into the building, but the kids are gone," Woita says. "People walk around and ask questions. I'm here and still available for tours."
For Woita himself, his personal life has become "more limited," he says.
Many of the gathering places for younger people like him are no longer open.
So he remains connected on social media -- and, fortunately, golfing weather lies just over the horizon with April coming into view.
"I play maybe once a week," he says, "and I'm waiting for the weather to turn around.
"Unless, of course, the city of Lincoln has more cases to the point where we are asked to shelter in place."
In the meantime, he says, he has "definitely become more aware of sanitizing, washing, and taking more time to do that.  
"I've accepted the fact that we just have to adapt to the situation."
And that means the kids are gone. It's Kirk and Norris and Cather and Buffalo Bill now.
LPS closure affects mother and daughter in similar ways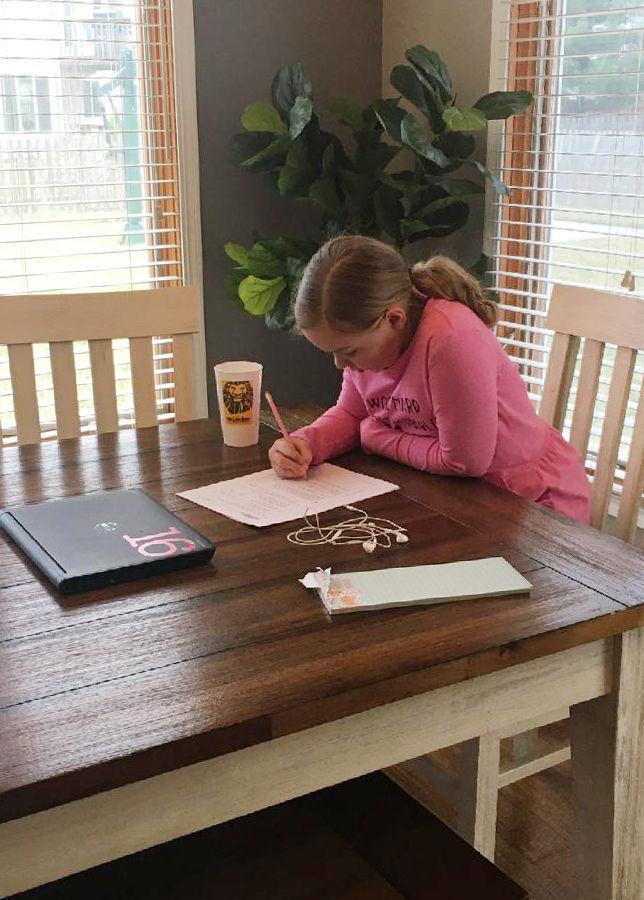 Harper Sloan has a pretty simple way to describe not only her new world, but the world of everyone else trying to make their way through the coronavirus pandemic
"Pretty boring," the third-grader at Humann Elementary School said Wednesday from the couch in her living room.
Like all other school-age children in Lincoln, the 9-year-old is learning at home. She has some lessons downloaded onto her Chromebook and can get more from the Lincoln Public Schools website.
She also has a new teacher, who has seen her own routine turned upside-down with LPS shutting down.
"It's a lot different," said Kinzie Sloan, Harper's mother. "Just for me, the lack of structure. And not necessarily having places to go, since I do home visits for a job, and just being home all day."
Kinzie Sloan works as an early intervention speech language pathologist for LPS. She would normally spend her weeks visiting homes and child cares. A typical day could see her in up to seven different places.
Now, she's in one place, serving as Harper's teacher as well as mother to 3-year-old daughter, Sawyer, and 17-month-old son, Porter.
Her husband, Jay, has also seen his routine drastically changed. As a regional operations manager for Merchants Metals, Jay is on the road for work nearly as much as he's home. 
Now, the whole family is under one roof.
Like everyone else, the Sloans are doing their best to cope. But things are still different. Recess now means going out in the backyard or on a walk through the neighborhood.
"Not being around other people, other kids my age," is the toughest part, Harper said.
UNL student's Disney World experience cut short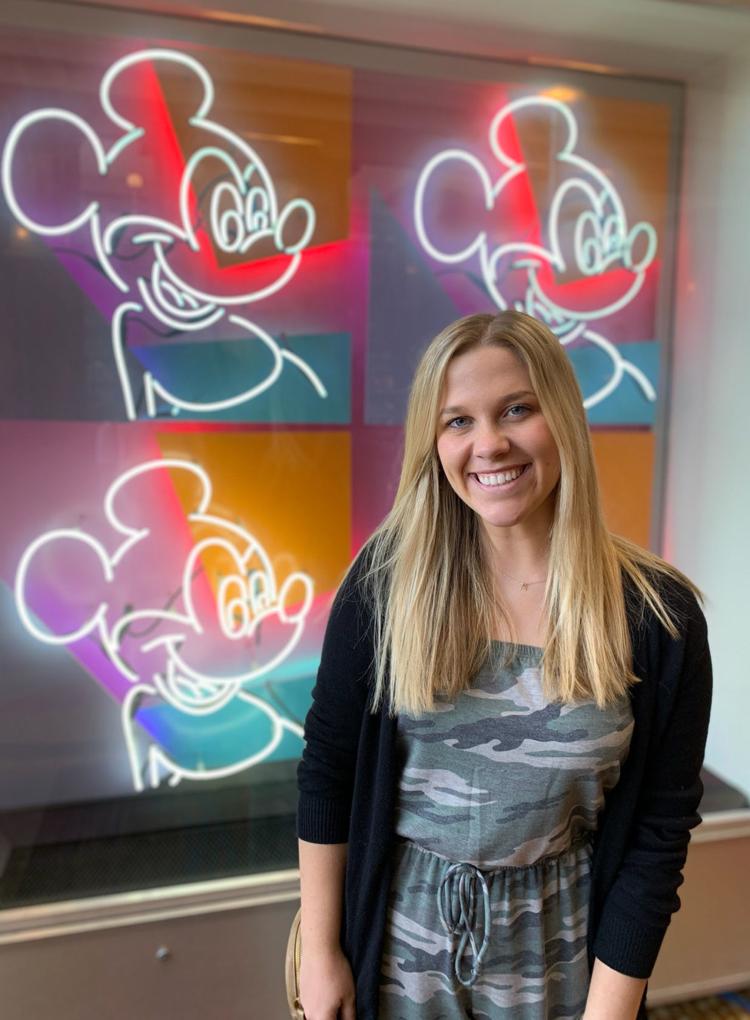 Claire Wynne was supposed to be in Florida until May.
The University of Nebraska-Lincoln junior took a semester off this spring to pursue one of her dreams — participating in the Disney College Program.
She had been at Disney World for less than two months when the program was suspended due to the coronavirus.
"I was sad it happened, but deep down I knew it could happen because of other closures happening around the world," she said.
When Disneyland in California closed on March 14, she knew it was only a matter of time. Disney World followed suit the next day.
"It was a whirlwind of emotions," she said.
As part of the program, Wynne worked at Cosmic Ray's Starlight Café at Disney World's Magic Kingdom and also took courses pertaining to Disney and operations of the parks.
A few days after the parks closed, Wynne's parents drove down to Florida from her home state of Illinois. From there they drove 17 hours home.
"I haven't been home for this long in a long time," Wynne said. "Since I go to school out of state, I don't have the opportunity to come home much, so that's a positive in all of this."
While the future of the Disney College Program for those whose time was cut short is uncertain, Wynne and her fellow classmates hope they can eventually finish out their time in Disney World.
"I never expected this going into my college program but everything happens for a reason," she said. "I hope I can do another college program someday in my future, otherwise I hope I'll be back at Disney with my family as a guest someday."
Photos, video: Creating community during the COVID-19 crisis in Lincoln and Nebraska
Watch Now: Lincoln churches unite in blessing
Corrections workers lend a hand
WATCH NOW: Parking Lot Plays
Asian Center connecting with those in need
Watch Now: Screamers performance at Hillcrest Firethorn
Lincoln East return and retrieval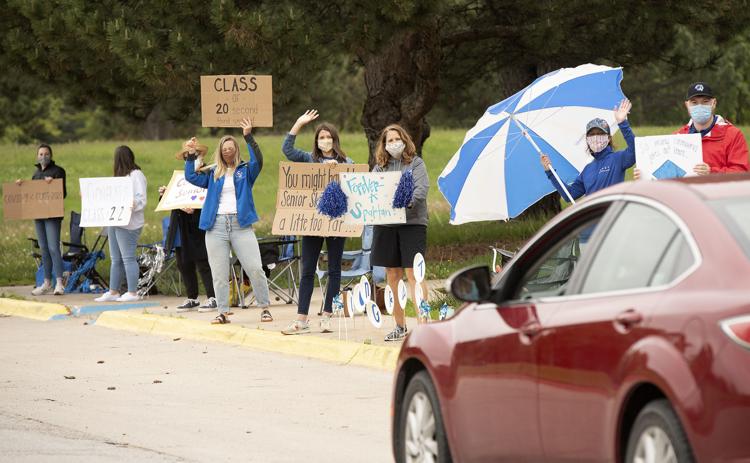 Nebraska National Guard flyover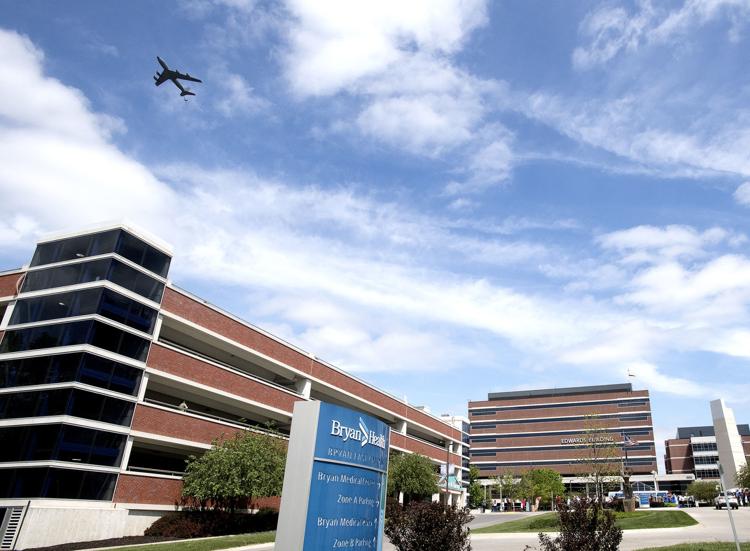 Nebraska Strong PSA
Guard helps Food Bank of Lincoln
Red carpet for essential workers
Lunch date with a squirrel
Red Cloud's parking lot graduation
Homemade masks for the mission
Coffee for health care workers
Switching to hand sanitizer
The show went on … a month early
No irons in the fire: Waffleman selling mix to make dough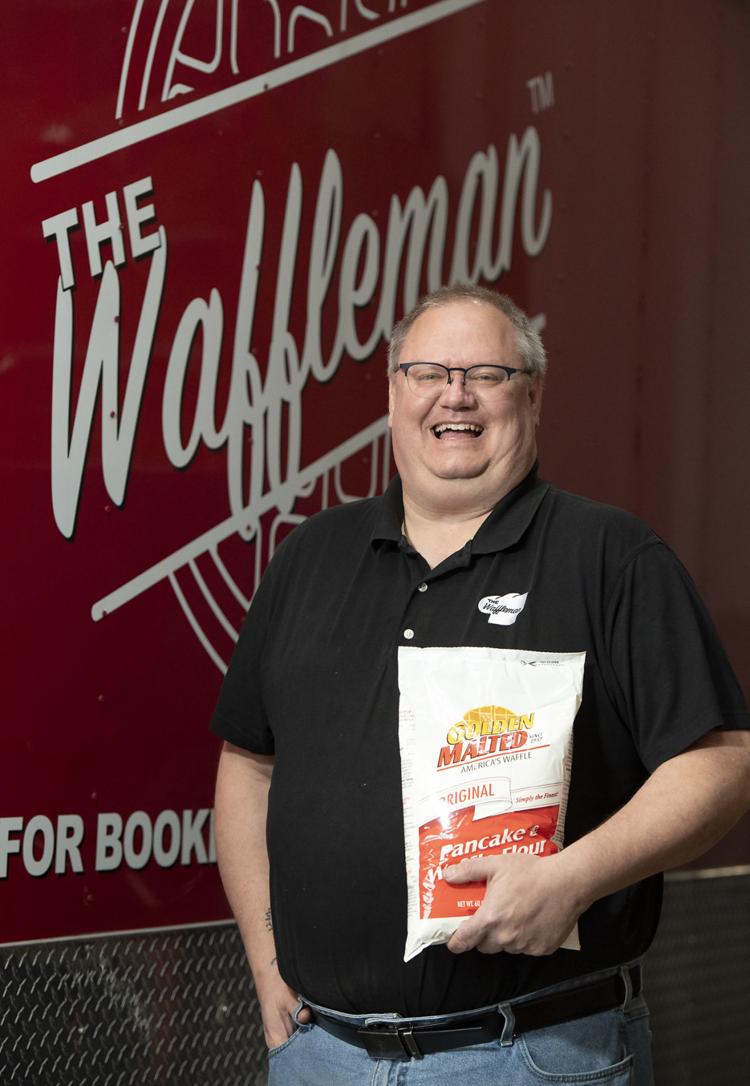 The Waffleman was bracing for a busy April.
Bill Maltas had ordered a half-ton of waffle flour, readied his 30 waffle irons and had scheduled a dozen gigs already. Corporate events, Kiwanis, Kloefkorn Elementary, at least 200 people at a time.
The Methodists in Ogallala promised 400 mouths, enough to make the long trip from Lincoln worth his time.
Now, nothing. "My business has pretty much vaporized."
That's what happens, he said, when your business model relies on feeding groups of at least 200 and the coronavirus outlaws groups of more than 10.
Since assuming the role of Waffleman nearly five years ago, Maltas has made more than 200,000 waffles, once serving 1,300 during a single two-day event. It's a full-time job, sometimes working him 60 hours a week.
"This is all I do," he said.
But now he can't. So he's waiting to get paid for a recent event, his last source of waffle income. He's selling 4-pound bags of his mix for $15, enough to make 30 to 40 waffles -- and including his secret recipe, so they taste like his. He's giving them to the hungry.
And he's hoping his May bookings -- a few graduation parties so far, and a wedding -- can be covered in syrup.
'You don't know how scared to be'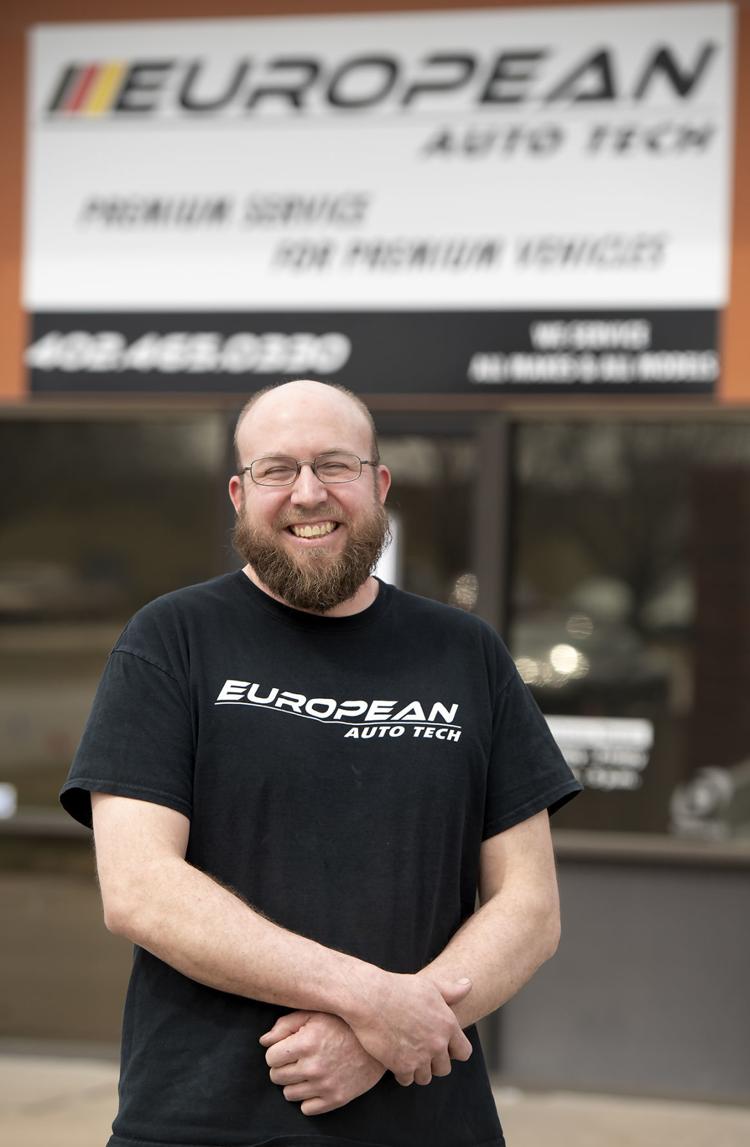 Ben Aden works on cars at European Auto Tech, a small independent shop in northeast Lincoln.
Like the little BMW coupe he was working on Thursday.
"I can't work from home," he said.
If work slows down, Aden said, he'll see what happens. But for now, people still are bringing in their cars, so he keeps coming in. He's taking more precautions now, though, about hand-washing and sanitizer after he touches the cars that he works on.
Aden said he's in the same boat as a lot of people with underlying health problems who have to think about it a bit more because he has lupus, an autoimmune disease where he says his natural defenses sometimes can mistake his own cells for an invader and attack them and make him more prone to infections.
"In theory, if I get it, it could get bad fast," he said.
So he's trying to do everything he can to remain as healthy as he can. He paid attention when President Trump's infectious disease guy, Dr. Anthony Fauci, said people with lupus had to be especially careful. When people started buying up hydroxychloroquine, the medicine he takes for lupus that was touted as a possible coronavirus cure, Aden got a three-month supply.
He said he's looking for symptoms just like anybody else, or signs that his lupus may be returning. But it's kind of like someone with a heart condition or breathing problems. 
"You don't know how scared to be, and no one can tell you," Aden said.  
He said they're saying that COVID-19 can live on surfaces for days, so he'll keep taking all the precautions.
"We're just worried about somebody whose sick and doesn't know it," Aden said.
It's the uncertainty about the whole thing that's causing people anxiety, he said.
So he and his wife, Shara, have been sticking to home, which their cats, Boris and PK, seem to like; and Shara's been making new dishes for them to try.
If there's any plus to all the craziness, he said, it's the food.
Le Quartier creatively wading through pandemic slow-down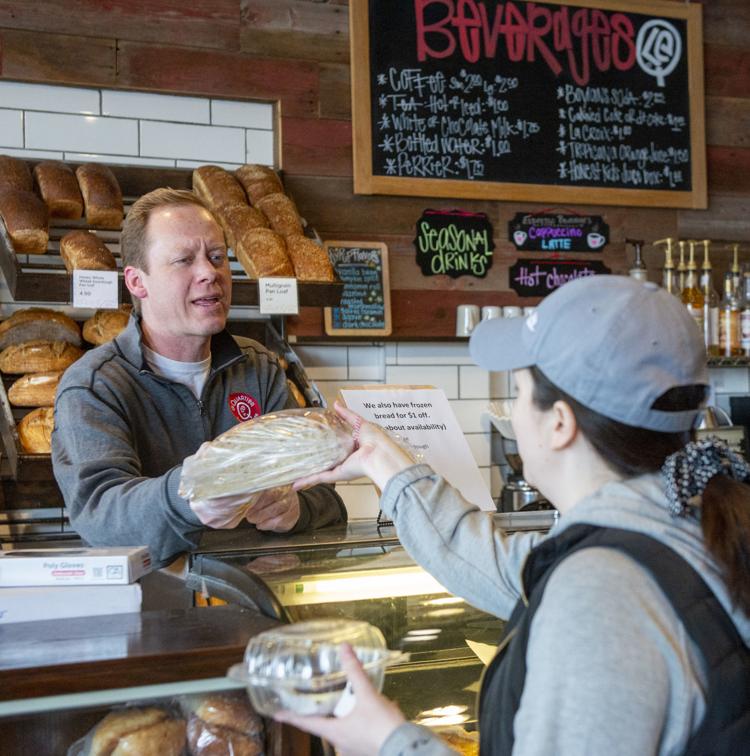 The second week of March, spring break for schools in Lincoln, was somewhat business as usual for Le Quartier Bakery & Cafe, even with news heating up about COVID-19 cases in the U.S. and a couple of cases in the state.
"We knew that wasn't going to last forever, but we at least enjoyed that one week," said Seth Quiring, co-owner of the business. 
Then Monday came, and restaurants, coffee shops and other wholesalers dropped out, eliminating about a third of the bakery's business with essentially a snap of the finger. 
Baked goods continued to sell, but the breakfast and lunch business dwindled rapidly, Quiring said. But Friday through Sunday, customers returned to give the bakery love and support. 
"It wasn't the same but it was kind of busy, actually, again," he said.  
Then Monday again, and every day is getting slower and slower, especially with community spread in Lincoln. And the business is scrambling to analyze and make day-to-day decisions. 
Some staff in Omaha are opting for unemployment rather than continuing to work, while in Lincoln they are wanting any hours the bakery will give them, he said. 
It's a strange balancing act, he said.
And so, the business is trying to be creative, with curbside pickup and delivery options, adding soups, take-and-bake pizzas, build-your-own meatball subs, and other ways to get their products out there.
And this idea: For the current trend of quarantining as if on Christmas break, Le Quartier is offering a springtime yule log Sunday. 
Speed trainer Slatt sees changes, but also sustained business in Lincoln, amid pandemic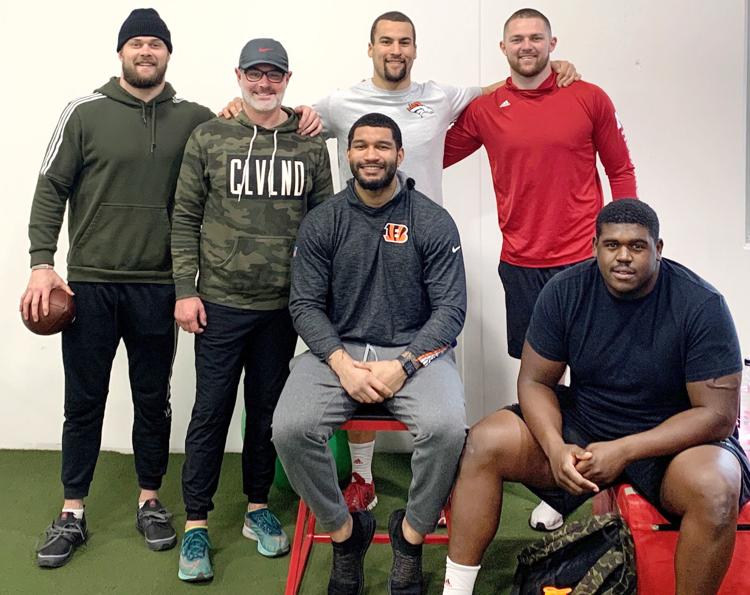 Chris Slatt likes working with small groups of athletes. It's all the better for detailed speed training, which he oversees at his shop in southwest Lincoln.
Even still, Slatt, a former Nebraska track coach who now trains several local professional football players and many other types of athletes, has overseen a significant shift in operations in recent weeks.
"It's definitely been different," said Slatt, who works with former Huskers like Nate Gerry, Luke Gifford, Brandon Reilly and Josh Banderas, among others.
"Usually, I just clean at the end of the night and I've got tape on bars and handles on treadmills, but I've stripped all that off, and after each session we're wiping the facility down.
"My groups are not very big, and I've got them even smaller now, just so we can have two or three guys at a time and have space and not be all up on each other."
Slatt said he feels fortunate -- he's working sometimes 10-hour days with clients still coming to the gym -- and has spent the past five years building a client base that now finds the gym both necessary and something of a refuge from all of the impacts of the coronavirus pandemic.
It is never far from the mind, though.
"I'm originally from Cleveland, and I've got family back home. My brother and his son and his wife, they've been on lockdown for (several) days," Slatt said.
The scene in Lincoln with much of city shut down
Mayor helped Wahoo prepare for silent storm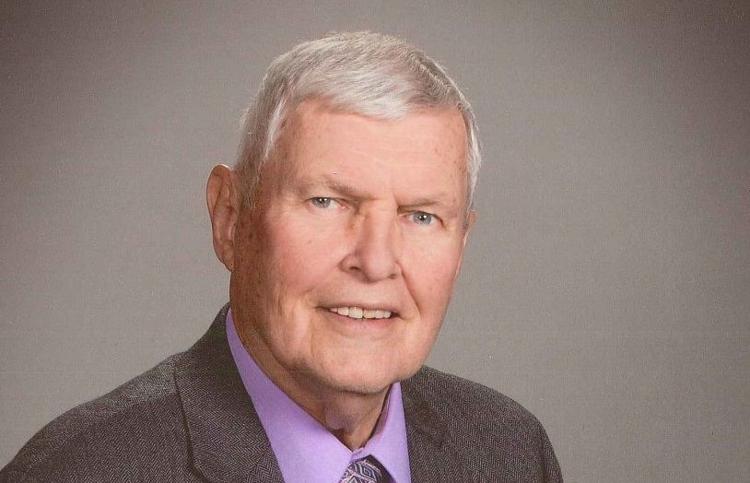 For Jerry Johnson, his part-time job as mayor of Wahoo sure hasn't felt part-time during the past few weeks as the coronavirus closed in on his community.
In Wahoo, a town of about 4,500 residents, the meetings about the coronavirus began in February. The city's board of public health convened, including the mayor, full-time city administrator, police chief and city physician. The EMS director and city attorney sit in.
The situation heightened in Wahoo following news that the state's first confirmed coronavirus case had attended an event in Fremont, which is about 25 miles away.
Wahoo began to close some of its public facilities. Later bars and restaurants were asked to close their seating areas and offer only carryout or delivery service until April 30.
Johnson took part in a conference call Gov. Pete Ricketts hosted for mayors of towns with populations of fewer than 5,000 people. 
"Some people say, 'Are you to proactive?'" Johnson said. "And I said, 'If we have minimal cases in Saunders County, or Wahoo, then I think we've done our job.' Hopefully we don't have any fatalities."
Johnson estimates he's working twice as much as normal. His salary is $4,000 per year.
Johnson is 77 years old. He's retired from a long career in agricultural management but still serves on several boards. He's in his second stint as mayor after serving a term in the Legislature.
"I've gone through a lot of storms," Johnson said. "This is so unique though because it's a silent one."
Lincoln, Omaha area cleaning service owner sees business cleaning clients increase as home cleans dry up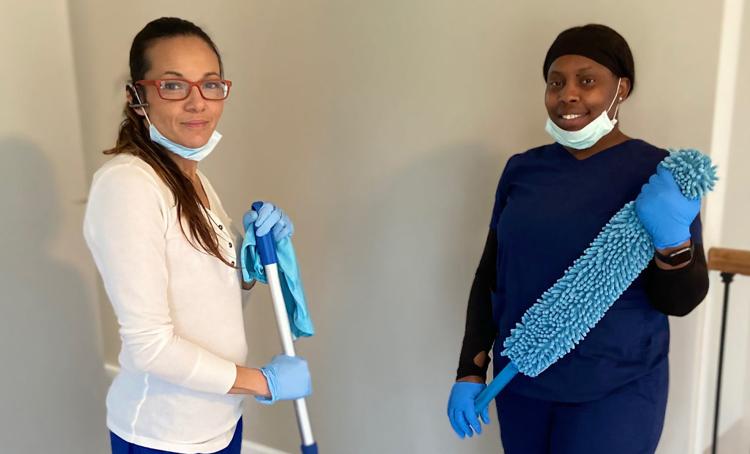 April DeCenzo and her 11 employees at Anytime Cleaning Service have drawn increased interest from commercial clients in Lincoln and Omaha, and some predicate the opening of their business on hers.
"I literally get like two to three bids out a day for commercial," DeCenzo said. Before, she said, "I was lucky to get one a week."
Before the pandemic, house cleaning calls comprised a big chunk of business, but those have dried up to almost zero, said DeCenzo. 
The remaining clients include customers who have disabilities or trouble cleaning their houses due to their old age, she said. 
DeCenzo expects to have enough staff to handle the workload because of this shift. 
But lockdowns in others states, ordering people to stay home, worries DeCenzo if Nebraska were to follow suit, she said. 
Her staff could only clean those businesses deemed essential by the government, so she's advocating for the federal government to deem all cleaning services essential so they could clean homes, too.
Her employees have taken extra care to avoid cross-contamination of businesses amid the pandemic, and after a cleaning, they disinfect the bottles of disinfectant, she said.
A market run on Environmental Protection Agency-backed cleaning supplies nationally has increased costs and she's had to add a fee to cover supplies.
During her supply hunting, she's seen price gouging, and even if she can find what she's looking for, it's not readily available.
"It's like a global shortage everywhere," DeCenzo said. 
Bartender worries about the future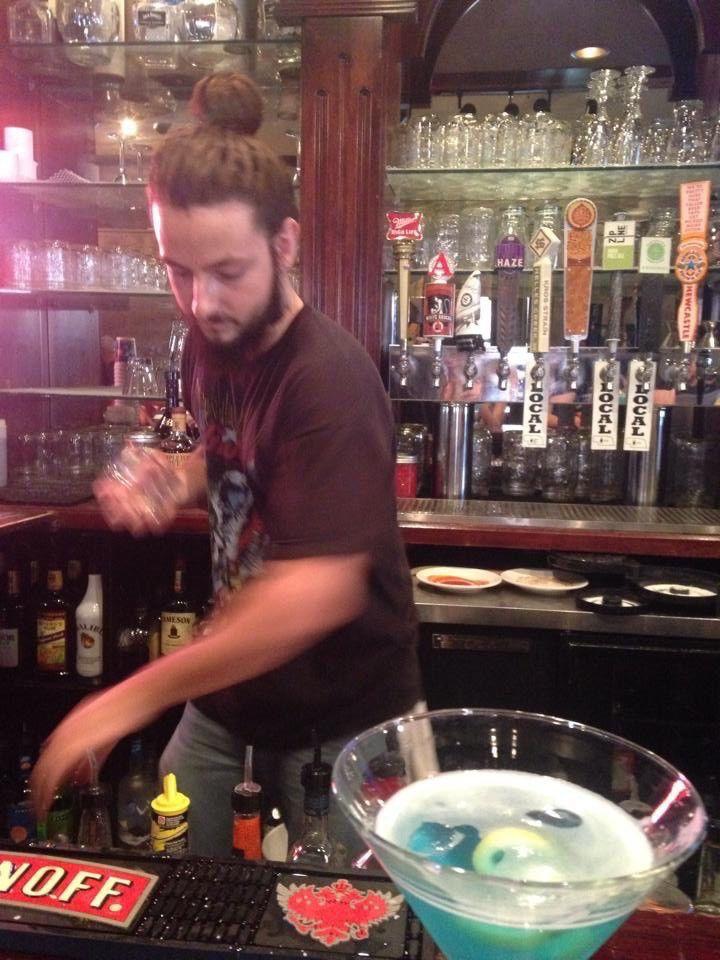 John Waechter has never been in this situation before.
As many other Nebraskans in the service industry have had to do, Waechter filed his first unemployment claim about a week ago.
"This was completely new to me," he said.
Waechter, 25, has worked in the service industry for eight years. He has worked at LeadBelly for four years as a bartender, but was let go recently after the spread of COVID-19 forced bars to shut down and restaurants to close their dining rooms.
He lives with three other roommates who are also in the service industry, and Waechter is negotiating with his landlord about rent.
"He's been really understanding about this, especially after everything else started shutting down," Waechter said.
But now another issue has come up. Waechter had his driver's license rescinded, and now that the DMV has terminated in-house services, he is hard pressed to find some valid form of identification.
He wonders how this will affect his unemployment claim.
For the time being, Waechter is trying to keep busy reading books instead of serving cocktails. He even dug out his old PlayStation 2 to kill some time.
"I think a lot of us are just trying to stay sane," he said. "It's just such a strange situation."
Radio station doing its part to stop spread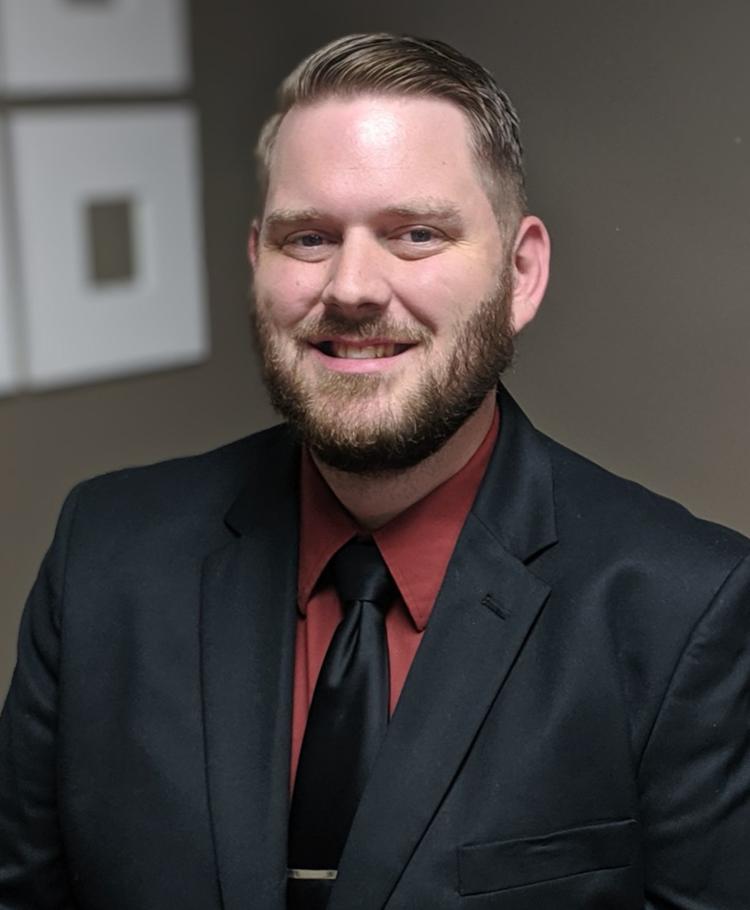 Mark Onwiler, operations manager at The Ticket sports radio station (93.7 FM) in Lincoln, arrived at work one day last week with a drill in hand.
"Our studio is a confined space, and getting 6 feet apart from somebody in there is a challenge," he said. "As we're trying to do our part to help with social distancing and stop the spread of COVID-19, we figured we need to separate our people as much as we can."
Which brings us to the drill.
"We're trying to set up microphones in various rooms where we can still interact with each other, but we're physically separated from people," Onwiler said. "So that meant setting up a temporary microphone in our production studio. We actually have our remote equipment set up in a hallway right now. If we need a third voice (on a particular show), he's standing in a hallway. So, nobody's actually in the same room as another person as we're doing our regular shows together."
Onwiler oversees a staff of seven radio personalities and a handful of part-time producers. At 330 N. 48th St., The Ticket generally keeps discussions light. It's sports talk. But Onwiler also sees a big-picture responsibility attached to the station.
"Broadcasters have a certain obligation to the community," he said. "We need to be on the air delivering a message as messages become important. Priority one is to make sure we are there when we need to be there. If we get sick, we can't be there. That's my biggest concern. That's why I'm going around with Clorox wipes and spraying with disinfectant."
And, yes, carrying a drill.
For respiratory therapist, life keeps getting busier
For Holly Kreiger and the rest of the respiratory therapy team at Bryan Health, life was busy enough before the COVID-19 pandemic.
Now, as the number of cases grows daily, she said other employees are working diligently to prepare for whatever comes their way in the coming weeks and months.
Kreiger works as a respiratory therapist, primarily treating patients in the emergency room who are struggling to breathe on their own. That work is becoming even more in demand as the nation fights coronavirus.
Kreiger said Bryan is seeing patients with symptoms that may point to COVID-19, and they are testing and treating them. She said there is a shortage of protective gear across the nation, and as the pandemic continues, ventilators could become scarce.
Staff at Bryan are even learning about ways to make one ventilator serve up to four people, she said.
While the hospitals are able to cope with cases now, Kreiger said it could be a matter of time before things look more dire if people don't take necessary preventative measures.
She said all they can do for now is prepare and wait, but she encourages people to stay home and practice social distancing to take stress off of the healthcare system.
"We keep going to work for you; please stay home for us," she said.
The beat goes on at Lefty's Records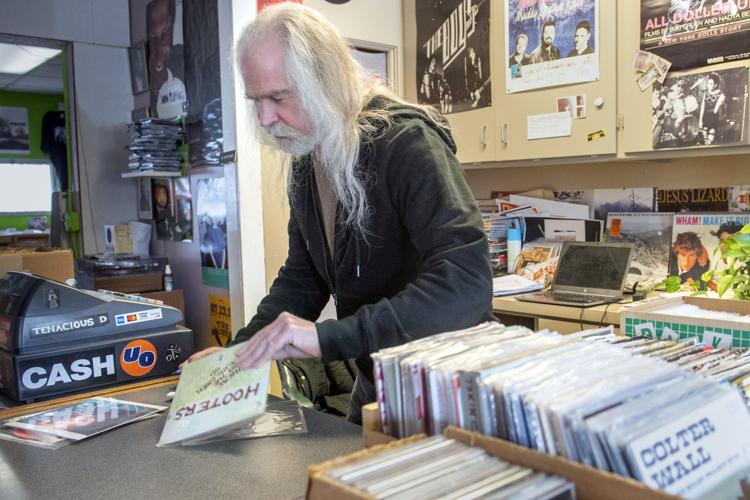 It is business as usual at Lefty's Records, at least for now.
Les Greer, who has sold new and used albums at his South Street store since 2011, is still coming in at noon and staying until 6 p.m. Tuesday through Saturday.
"I'm going to be here until they tell me I shouldn't," Greer said.
Customers are still showing up, just not as many as before the coronavirus pandemic.
"Two weeks ago, business was probably half of what I normally do," Greer said. "But, last week, it rebounded to about normal.
"This week is starting out slow, so we'll see. I do think some people are coming in just to buy something to help me out."
There's no concern about keeping those who come in to flip through the bins 6 feet apart.
"I rarely have 10 at any time," Greer said, "except during the busiest time of the year, around Christmas and Record Store Day."
Record Store Day, which had been slated for April, has been pushed back to June 20. Which means Lefty's and other stores should still have their biggest sales day of the year.
Until then, however, Greer may have to primarily sell used vinyl. When he placed a new albums order, one of his distributors said it was likely to close next week.
Greer, who plays records throughout the day, was getting ready to cue up Friday's first selection when we talked.
"I'm playing nothing but doom rock,"  he said, joking. "I'm pretty much sticking to normal there, too."
In-person recruitment canceled, UNL takes campus tours digital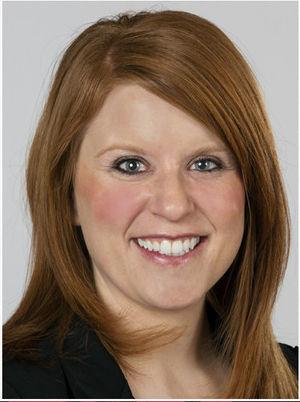 Thousands of high school students and their families visit the University of Nebraska-Lincoln each year to get a feel for what could become their future home away from home.
All of those daily visits, as well as the large-scale recruiting events that bring roughly 10,000 people to campus over the course of a school year, have been canceled until the COVID-19 pandemic subsides, however.
The opportunity to hear from faculty in an area of academic interest, admissions counselors and current college students has gone -- like most things in a social distancing world -- virtual.
Abby Freeman, UNL's director of admissions, said the new paradigm for campus visits, a combination of video conferences and live chats, started this week.
"We would obviously prefer we could host them on campus or go visit their high schools, but everyone understands that's just not the reality of the situation," she said.
Before coronavirus, prospective students could arrive on campus for a series of one-on-one conversations, and UNL recruiters could nimbly pivot if a student indicated they were interested in something else.
The online approach takes much more effort, Freeman said. In addition to planning sessions and ensuring the technology works, UNL's admissions team also has to be more thorough in their follow-up to ensure a student's questions are answered.
Freeman said UNL wants to ensure they are prepared to meet the needs of students, who are bringing a wide array of experiences with them.
"I definitely think we are moving quickly and have personalized it as fast as we can," she said.
The spring break trip that never was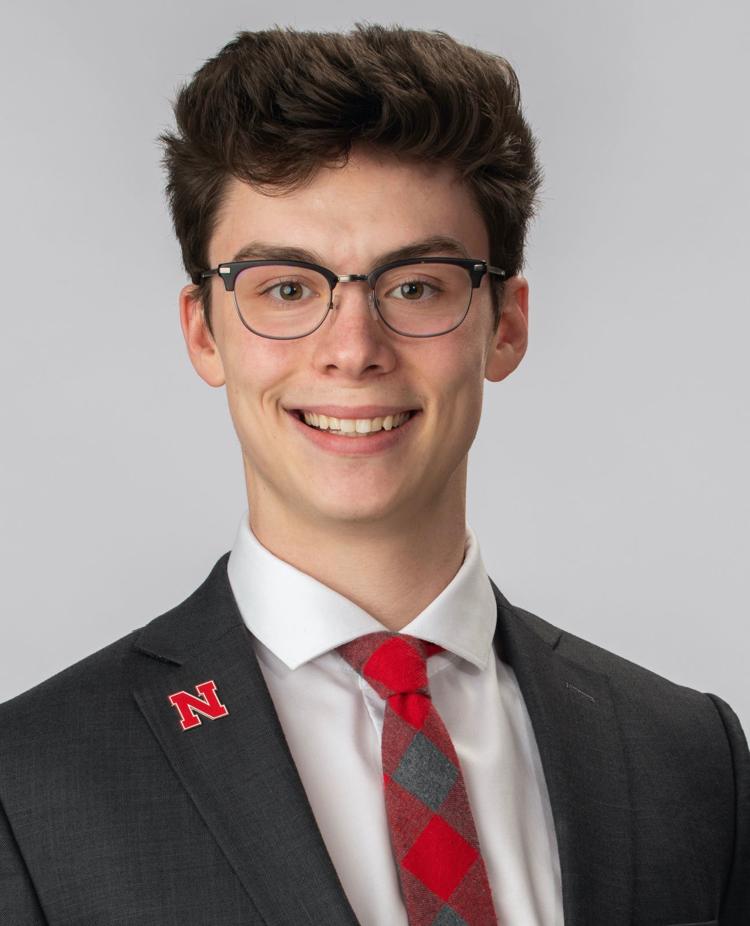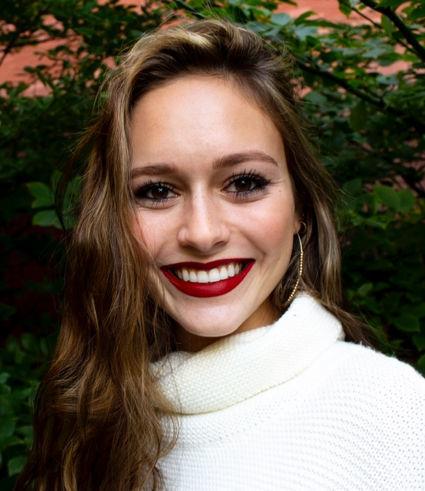 Paige DuRandt and Luke Jarecke had big plans for spring break.
The couple, both University of Nebraska-Lincoln students, started planning a trip to Puerto Rico in February. They would hike national forests and get surfing lessons during their tropical getaway.
But a week before they were supposed to leave, they canceled the trip due to the rapid spread of the coronavirus.
"We started planning it on a whim, but we were really excited about it," DuRandt said. "We had been wondering for a couple weeks whether we were going to go or not."
One of their connecting flights was in Florida, which this week surpassed 2,500 COVID-19 cases. That made it an easy decision.
"We knew there were a lot of cases there and that there would be a lot of spring breakers traveling through," she said. "We weren't too worried about getting it, but we didn't want to get it and risk spreading it around."
They were also mindful of possible travel restrictions that could have made getting home a struggle.
"We didn't want to end up getting stuck in Puerto Rico, and as more information came out we realized it was starting to get really bad," she said.
The good news: DuRandt and Jarecke got almost all of their travel expenses back for the rental car and Airbnb, in addition to vouchers for the plane tickets.
"It's a bummer that we can't go on our trip, but there are bigger things going on," Jarecke said. "This is a very weird time for everyone, and one way or another people have to deal with things they never thought they'd have to worry about."
For now, DuRandt is staying optimistic.
"We might try and use the vouchers for next spring break," she said.
The comfort of a kitty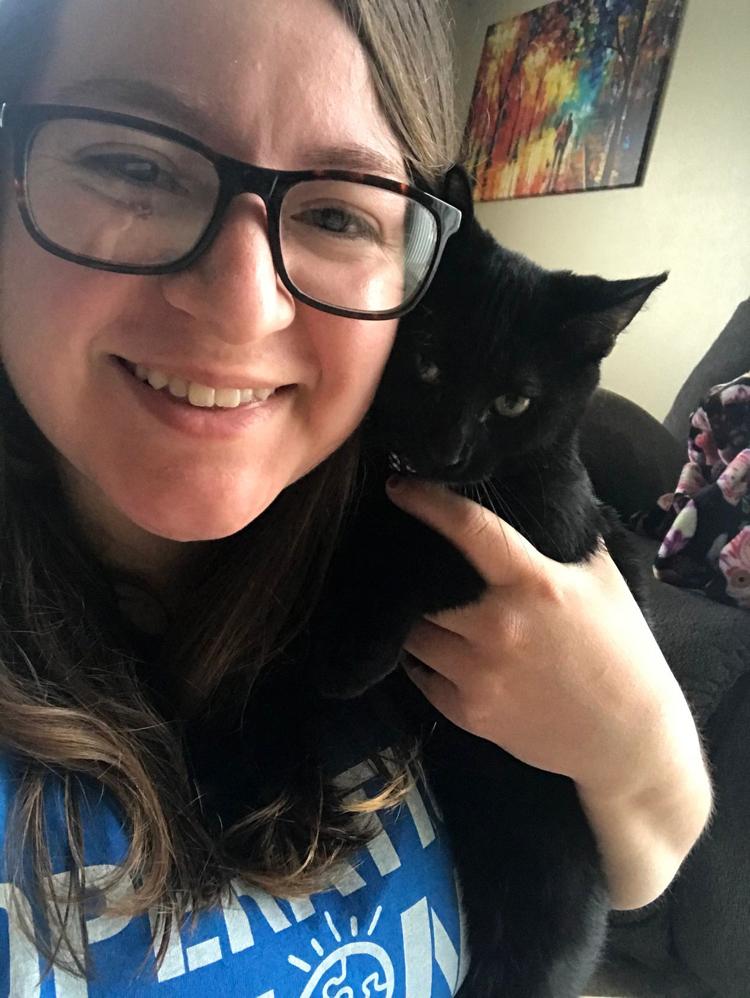 Allison Beacom has a new friend to keep her company.
She adopted Winston -- named for a character on "New Girl" -- from the Capital Humane Society last week.
"I was talking to coworkers, and we were bored being cooped up and so we went to look."
After she got the cuddly black kitten home, she texted a friend: Day 4 quarantine and I adopted a cat!
Beacom grew up with cats in Grand Island, and, after graduating from the University of Nebraska at Kearney, she moved to Lincoln to take a job as a family support worker.
She's working from home now, connecting parents and kids in foster care via Skype and other video chat services.
"Helping them see their kids in whichever way is possible."
She's been chatting with friends on those video chat services, too. Attending Bible study on video chat, alone in her apartment.
"Now it's like having a little buddy with me. I'm more motivated for work. I feel more productive. He also gives me comfort."
The humane society said adoptions haven't increased in Lincoln, the way they have in some cities hard hit by coronavirus, but people are mentioning the pandemic as one of the reasons they are welcoming a new pet.
Beacom was one of those people.
"It's kind of a dark world right now," she says. "But I look at his little face and I can't help but feel hope and joy."
Child care provider adds teaching her kids to responsibilities of caring for others' young ones
Tonya Chandler's 6-year-old daughter made a fort in the playroom, the daily hub of Chandler's home child care business.
The fort isn't so unusual, but the fact that Chandler's daughter is there and not in her kindergarten classroom is; as is the name she decided to give her newly constructed shelter: a "coronavirus fort."
Because -- like life across the city -- things are different now in the Chandler family home, where Tonya has run her child care business for 30 years.
"Everyone is just stressed right now. I can just see it in their faces," she said. "It's taking a toll on everybody. You feel it."
Parents of a few of the eight to 10 children Chandler cares for have chosen to keep them home since efforts to stem the spread of the coronavirus closed schools and businesses and limited public gatherings. 
The others bring their young children to Chandler while most go back home -- not to the office -- to work.
Her son is pretty self-sufficient, she said, but she's helping her daughter with math worksheets and flash cards, juggling toddler care and teacher duties.
Her home follows guidelines set by the governor limiting gatherings to 10  and she tries to limit the number of people coming to the house.
Her husband is even more diligent about wiping down doorknobs and other surfaces when he passes though.
She knows how her families depend on her.
"I know it's a hardship for people to be home with kids when they're trying to do their jobs," she said. It's a weird time to be living."
For Snyder and area dirt-track drivers, the waiting game replaces the thrill of racing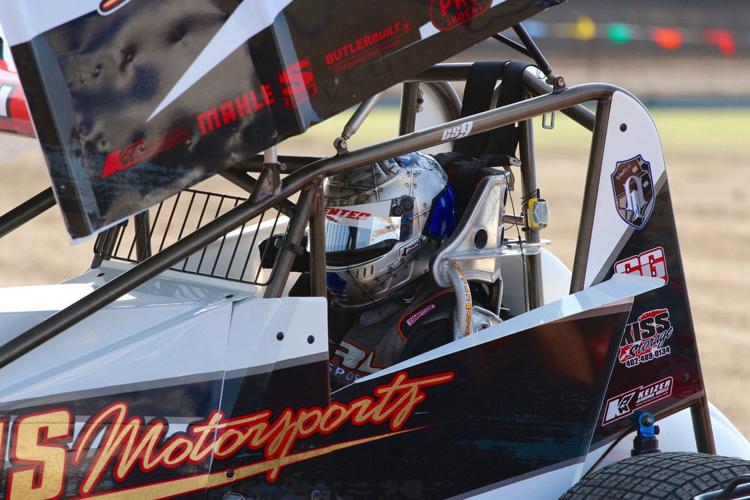 Stu Snyder was supposed to be on the road Friday morning, his No. 5 305 sprint car in tow.
A 48-race schedule was to begin this weekend in Hays, Kansas, but instead the car sits inside a Lincoln garage.
Like most Americans, Snyder and his crew wait — not an easy task for someone who is used to driving at nearly 150 mph around dirt ovals, including Eagle Raceway and I-80 Speedway.
"We bust our butts all winter to get everything all ready to go and then this virus came about," said Snyder, who drives 305 and 360 sprint cars and is one of the top sprint drivers in the state. "At the same time, we understand that the community and people's livelihoods are at stake on this."
Like all sports, dirt-track racing is on hold, which means no chance at prize money, which can go to covering the costs of building new cars, buying parts and having motors rebuilt.
"It's kind of a hobby for us, but we benefited off of it tremendously and it helps keep everything going throughout the season," said Snyder, who drives the 305 car for owner Roger Love. "You look at what possibly could have been made this weekend was almost $3,500 ... and now there's nothing."
For most dirt-track drivers, it's not about the money. It's the thrill of racing under the lights in front of a few thousand fans, sometimes more.
Luckily for racers, there is an outlet. Snyder said he is hooked on iRacing, a virtual racing simulation game, which places you on NASCAR tracks, but popular dirt tracks, as well. Just the other night Snyder was iRacing from his home against World of Outlaw drivers.
Concerned about COVID-19?
Sign up now to get the most recent coronavirus headlines and other important local and national news sent to your email inbox daily.