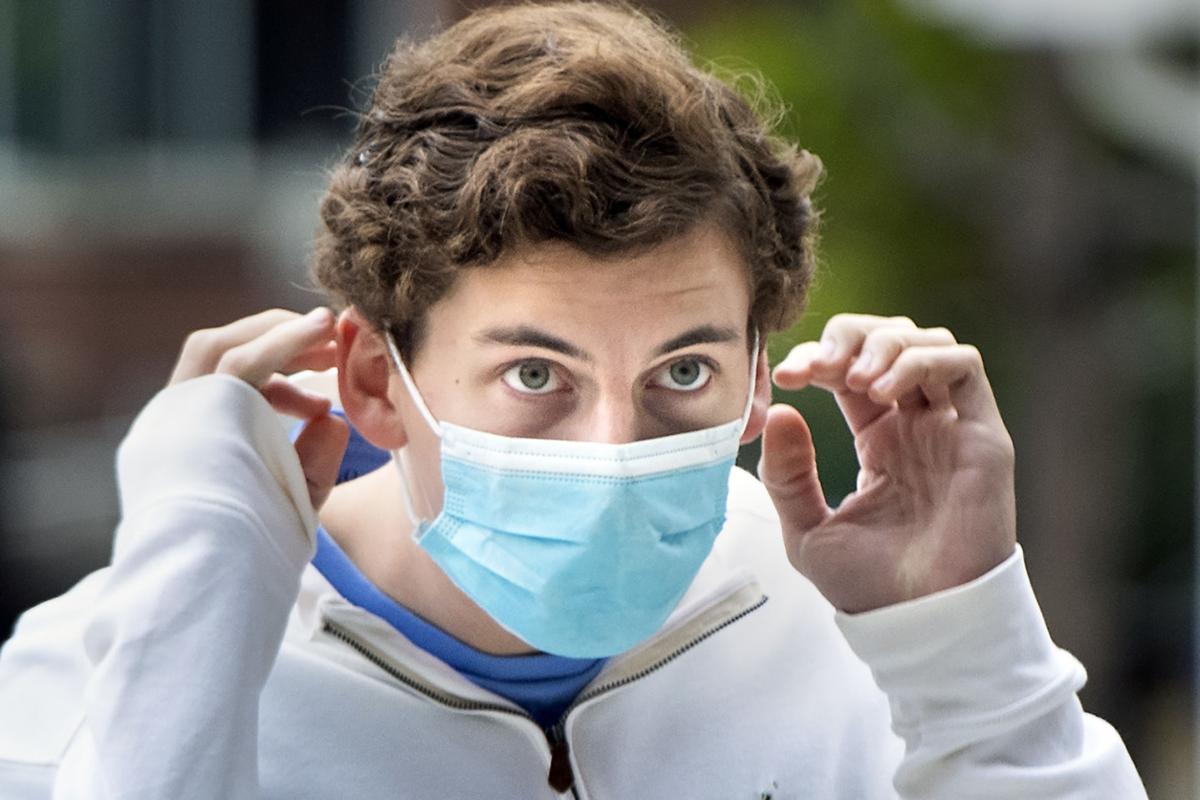 COVID-19 cases in Lancaster County dropped last week to their lowest level in almost three months.
But the test positivity rate went up, and admissions to local hospitals remain stubbornly high.
For those and other reasons, local officials have decided to extend the county's mask mandate for another four weeks.
Lincoln-Lancaster County Health Director Pat Lopez announced Tuesday that a new directed health measure will go into effect extending the mask mandate, which had been set to expire Thursday, until Nov. 24.
It's the second time the mandate has been extended after it was first reinstated Aug. 24.
"The data tells us our local situation is still concerning, and we're not yet in a position where we can safely remove the mask requirement," Lopez said during Tuesday's weekly news briefing. The Health Department left the COVID-19 risk dial in the high-yellow, or moderate, category, the third week it's been there.
Lancaster County is the only county or city in the state with a mask mandate, which is somewhat due to a quirk in state law that allows its health department to institute such measures without state approval. Opposition from Gov. Pete Ricketts has in some cases prevented other cities and/or counties from instituting a similar mandate this fall.
There are a few school districts and universities that have instituted mask mandates, but some of them have started relaxing or eliminating them.
Starting Wednesday, masks will no longer be mandatory at the two high schools in the Papillion-La Vista district. They will remain mandatory at middle and elementary schools, but the district has plans to make masks optional there over the next few months if data supports it.
Ralston Public Schools plans to drop its mask mandate for middle and high school students  Monday.
And the University of Nebraska at Kearney lifted its campuswide mask mandate last week.
Most entities that have removed mask mandates have cited a decline in COVID-19 cases. According to the most recent data available from the Centers for Disease Control and Prevention, there were 3,756 cases statewide last week, a 9% decline from the previous week and a nearly 30% decline from the delta variant-associated peak reached in early September.
Lancaster County has seen an even steeper decline. There were 507 cases last week, a decline of more than 15% from the previous week. Compared with the peak reached the first week of September, cases are down more than 50%.
But local officials have expressed concern at the number of COVID-19 patients that continue to fill up Lincoln's hospital beds.
Though the number of hospitalizations has been dropping, hitting 86 patients Tuesday, the number of patients from Lancaster County has been rising, with 53 of the 86 being local residents.
Derek Vance, president of CHI St. Elizabeth and CHI Nebraska Heart, said pretty much all areas of the Lincoln hospital are full, but not necessarily because of COVID-19.
Vance said those cases currently make up about 10% of patients, down from a high of 40%.
Russ Gronewold, Bryan Health CEO, said his two hospital campuses in Lincoln are "overflowing," with a patient total of 560 as of early Tuesday morning, about 20 more than capacity.
Gronewold said that Monday Bryan had 16 patients from outside of Lincoln on a waiting list for a bed to open up so they could be transferred.
Those were patients "needing to get to a higher level of care and unable to do so because we were full here in town," he said.
Interestingly, none of them were COVID-19 patients, Gronewold said, but the fact that Bryan consistently has anywhere from 50-75 COVID-19 patients daily means many people with other serious health issues can't get the care they need.
He and Vance both said they fully support extending the mask mandate.
The mandate "makes a tremendous difference and we know that it works," Vance said.
What also make a difference are vaccinations, and Lopez announced Tuesday that Lancaster County had finally reached its initial goal of getting 75% of the population 16 and older fully vaccinated.
"Achieving this milestone gives us reassurance that we've been able to reach and help protect a significant portion of our population through vaccination," she said.
The goal now is to get 75% of all county residents vaccinated, a goal that may be more realistic after a Food and Drug Administration panel recommended giving the Pfizer vaccine to children ages 5 to 11, something that could happen as early as next week if the federal agency gives its approval.
As of Tuesday, officials said about 60% of the county's 319,000 residents were vaccinated, including better than 80% of people age 45 and over.
Vaccinating more people would likely cut down on hospitalizations and deaths, which have already hit 18 in Lancaster County this month, one more than all of September.
9 charts that show how Lincoln and Nebraska are coping with COVID-19
Lancaster county COVID-19 deaths
Lancaster county COVID-19 cases
Lincoln hospital bed occupancy
Nebraska ICU capacity, by county
Nebraska hospital capacity, by county
Nebraska COVID-19 vaccine distribution
COVID-19 vaccination rates: How Nebraska compares
Nebraska COVID-19 hospitalizations and ICU usage
Nebraska COVID-19 testing