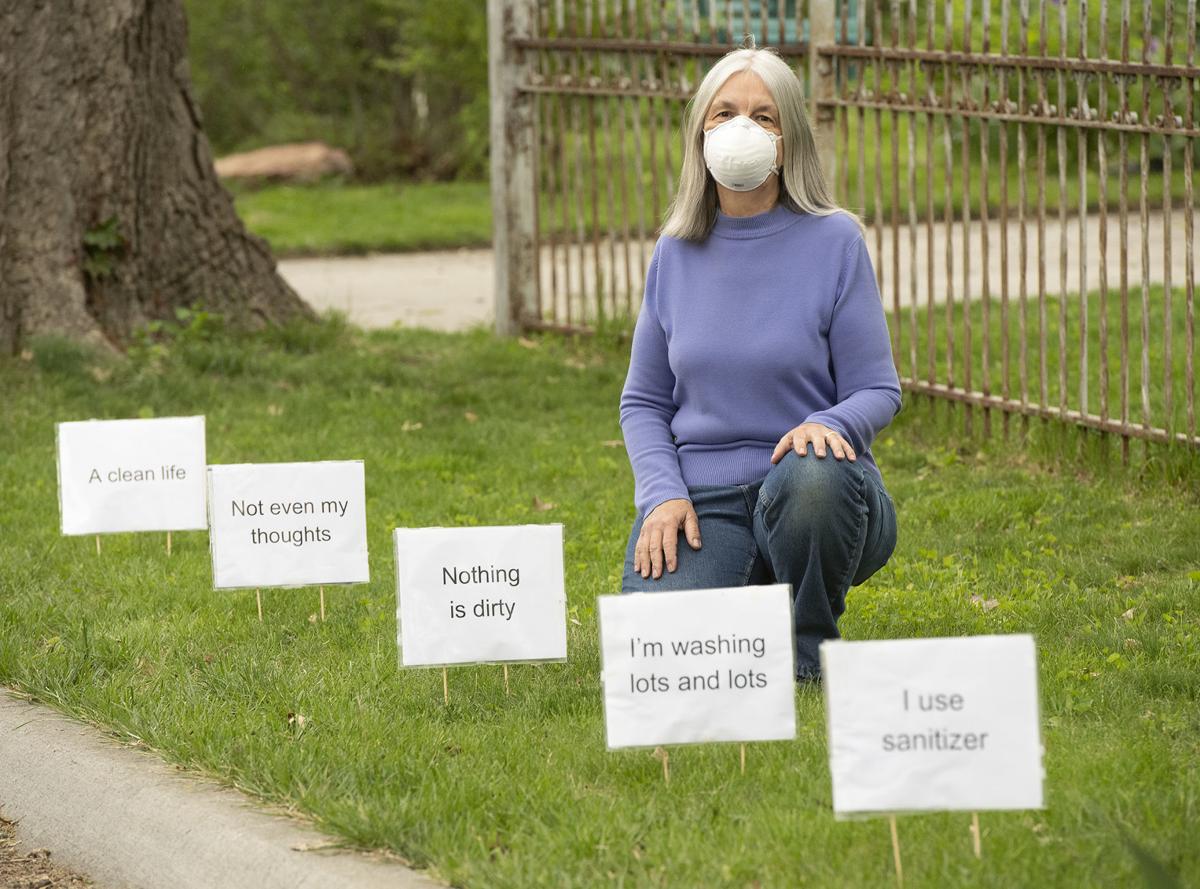 Her body felt sore that Sunday, but she shrugged it off.
Diane Walkowiak had been hiking and working in her yard the last weekend in April.
That was enough to make her muscles sore, the 61-year-old Lincoln woman figured.
Then came Monday, and the headache and fever accompanied by chills. Her body shaking so hard her teeth chattered.
When she started to cough that afternoon — April 27 — she and her husband, Bill Wehrbein, decided to call the COVID-19 hotline number on CHI Health's website.
The nurse practitioner on the other end wasn't so sure she needed to be tested, Walkowiak said this week. She was low-risk — she didn't work, she wore a mask to go grocery shopping, she washed her hands and social-distanced.
She didn't have a sore throat. Her lungs were clear.
They agreed to test her anyway. She could come to the drive-thru site at North Star High School that afternoon.
Wehrbein got behind the wheel, Walkowiak huddled in the backseat. The test was quick, not as invasive as she'd thought it would be.
"We got the results by Wednesday. They called and told me they were negative."
But did she have COVID-19?
Her friends on Facebook thought so.
"What else could it have been?"
She never lost her sense of taste or smell, one of six symptoms added to the list of possible COVID-19 signs in the days after her test.
And her throat never became sore, either, but the headache was constant, she couldn't keep food or water down. Walkowiak has mild asthma — not severe enough to use an inhaler on a regular basis — and by May 1, she couldn't fill her lungs more than halfway without coughing. Her constant fever temporarily ebbed and then returned along with a sleepless night filled with hallucinations.
She saw colors and shapes behind her closed lids. Chickens that turned into cucumbers and faces rotting before her eyes. A running collage of images — a neurological symptom sometimes reported with the coronavirus.
She jokes about it now. "I probably should have enjoyed it more, because that's the only trip I'm probably going to take all year."
After the fever abated, a lingering fatigue laid her low for more than a week. She called her doctor's office: drink fluids, control your fever, rest.
"Nobody can really do anything for you until your symptoms get so bad you have to go to the ER."
Walkowiak doesn't plan on being retested, so she'll always wonder if she had the virus, barring antibody testing down the road.
"I just treated it like I was positive," she said. "I think we're probably underreporting who has it."
Errors can happen with COVID-19 testing on either the collection or lab side of the equation, said Derek Vance, president of CHI St. Elizabeth and CHI Nebraska Heart.
"Anywhere along that path there is the potential to create a false positive or a false negative. On the lab side, it's very unlikely you're going to get a false negative."
CHI sends random groups of coronavirus testing samples to independent labs to be recertified. So far, they've had a 95% verification rate of the initial test result, Vance said, a number considered to be extremely high.
On the collection side — that long, skinny swab that is stuck up your nose into the nasopharynx cavity — problems can come if the swab doesn't reach far enough to collect RNA containing the virus.
Timing can also be a factor, he said.
"If you test too early, it may not be in your body long enough to be detected."
Testing too late? Same problem: Not enough virus remaining to be detected.
Jim Nora, Bryan Health's infectious disease specialist, agreed when he spoke to the media during a hospital news conference on testing last month.
The direct molecular testing being done now is a "point-in-time" test. "We know it is normal for a person to stop shedding virus at some point in their illness. There may be just a short window of opportunity to do testing."
Nora had no knowledge of false positives, but false negative rates "might be 10%, it might be 20%," he said. "The important thing is, it's probably not zero."
So maybe you had coronavirus in February, that week you couldn't stop coughing. Maybe you had a mild case, a scratchy throat, fatigue. Maybe you had it and showed no symptoms at all.
Vance, the CHI president, had mild symptoms and was tested. Turns out he had RSV.
At one point during that long week of the worst of her illness, Walkowiak started thinking about her passwords and making a list of people for her husband to contact if she needed to go to the hospital.
"Poor Bill was a great nurse," she says now, more than a week fever-free. "I'm really feeling fortunate he didn't get sick. We're retired, we don't have anywhere we have to go. I think I came through with just feeling gratitude."
Walkowiak is finally feeling well enough to putter around the yard. She's making more signs to stick in the grass on her corner lot.
I'm washing lots and lots
Her light-hearted pandemic message: Be careful. "Maybe it wasn't COVID for me, but I've never felt so bad in my life."
Photos: The scene in Lincoln during the pandemic