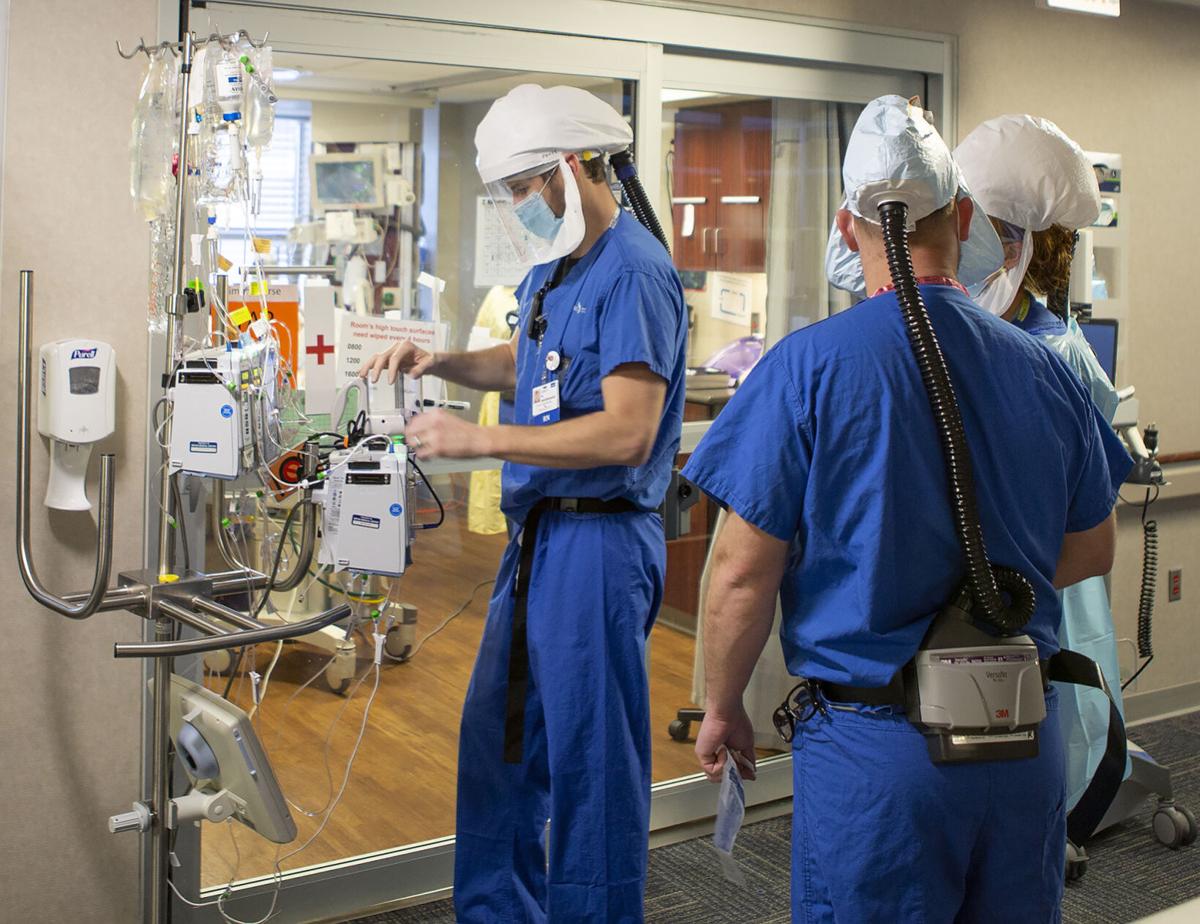 Several of the state's largest hospital systems started discussing back in May the prospect of requiring their employees to get the COVID-19 vaccine.
The plan they eventually came up with was to wait until the vaccine got full approval from the Food and Drug Administration and then make a joint announcement of a vaccine mandate.
But situations on the ground changed. After a steep fall in cases in the spring and early summer, COVID-19 started to rebound in late June in Nebraska, thanks to the delta variant of the disease.
Statewide, cases rose to nearly 2,600 last week, more than 10 times where they were the last week of June.
Also, that full FDA vaccine approval, which was expected this month, now likely won't come until sometime in September.
So the health systems decided they could no longer wait.
On Thursday, Bryan Health, CHI Health, Nebraska Medicine, Methodist Health and several other Lincoln and Omaha health systems jointly announced that they will require all of their staff members to get the COVID-19 vaccine if they haven't already.
"Each of our organizations take very seriously the responsibility of providing health care to people of all ages and all backgrounds in our communities," they said in a joint statement. "Vaccination against COVID-19 is an important step to stop the pandemic and allow our teams to work in the safest way possible."
Top officials from those health systems said they believed now was the right time to make the announcement.
"I think we're approaching a public health crisis," said Dr. John Trapp, chief medical officer at Bryan Health.
Bryan has opened four wards specifically for COVID-19 patients just in the past 10 days or so as hospitalizations in the Lincoln area have increased significantly over the past few weeks.
COVID-19 case and hospitalization numbers in Lincoln are now at levels the city hasn't seen since January.
"At the end of the day, this isn't about a vaccine, this is about the safety of our community, it's about the safety of our colleagues, it's about the safety of our patients," said Russ Gronewold, President and CEO of Bryan Health.
Bryan and other health systems already have employee vaccination rates that are much higher than those of the general public. At Bryan specifically, about 85% of all employees, including more than 95% of health providers, have already been fully vaccinated.
The numbers are similar at the other health systems, with overall vaccination rates in the 80%-85% range, and higher numbers for health providers.
Even with those high percentages, the mandate is still going to affect a lot of employees. CHI Health, for example, has more than 11,000 employees in Nebraska, said Dr. Cary Ward, its chief medical officer, meaning there are going to be about 2,000 people still requiring a vaccine and possibly even more because the health system will also require vendors to be vaccinated.
Ward said he doesn't think it will be a problem, though, because there's already been a marked increase in voluntary vaccination in the past month among employees.
"The feedback we've received so far (about the vaccine mandate) is very positive," he said.
The health systems will allow exemptions for people who have health or religious reasons for not getting vaccinated, and they will likely vary from organization to organization.
Dr. Donald Schmidt, chief medical officer for Madonna Rehabilitation Hospitals, said the organization will likely use a process similar to the one it uses for granting exemptions for the flu shot, which most employees are required to get.
Most of the health systems have set deadlines ranging from Oct. 1 to Nov. 1 for employees to get fully vaccinated.
The hospitals said they are still working on policies regarding employees who refuse to get vaccinated, with masking and testing requirements likely, as well as the possibility of restricted movement and alteration of job duties.
Harris Frankel, chief medical officer at Nebraska Medicine, said he knows there is a risk that some staff will choose to quit rather than be vaccinated, and that risk has been considered.
"It's a risk we're willing to take," he said.
Ward of CHI Health said he doesn't think it's a very big risk.
"The number of people who don't get the vaccine and leave their job is going to be incredibly small," he said.
The Houston Methodist hospital system was one of the first in the country to require its employees to get vaccinated. Ultimately, about 150 of 26,000 employees chose to quit rather than get the vaccine.
Those who have not yet gotten the shot have given a number of reasons, one of the main ones being worries about the safety of the vaccines, since they were fast-tracked and approved under an emergency use authorization, but officials said there's no reason to question safety.
In fact, Dr. Chris Maloney, chief medical officer of Children's Hospital & Medical Center, said the delay in full FDA approval has more to do with issues about supply and storage of the vaccines than any safety concerns.
The health systems requiring vaccines, which also include Boys Town National Research Hospital and Midwest Surgical Hospital, join a number of other health care and other employers requiring the COVID-19 vaccine.
Last week, Tyson Foods, which employs thousands of people in Nebraska, said it would require its employees to get vaccinated.