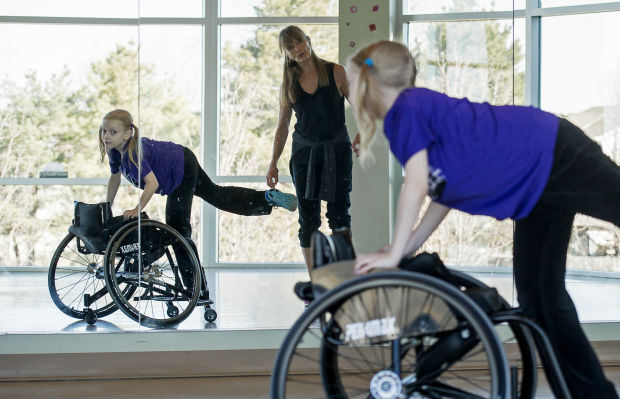 Lily Lautenschlager plays wheelchair tennis and basketball, and participates in dance classes as both a student and an assistant teacher – a pretty full schedule for a high school junior-to-be.
And, oh, by the way, Lily manages this schedule while coping with a rare congenital vascular disorder called Klippel-Trenaunay syndrome, which affects the development of blood vessels, soft tissues and bones in the lower half of her body.
In 2015, she earned the title of Nebraska Miss Amazing Pre-Teen Queen and advanced to the National Miss Amazing Pre-Teen Queen contest, a pageant in Los Angeles that measured contestants' heart, soul, confidence and compassion for others, above and beyond the challenges of their own disabilities.
Those who are familiar with the now-16-year-old will attest that when it comes to positivity and self-confidence, she checks all the boxes, despite living with a condition that causes constant pain.
Moving up the ladder
Eight years ago, she became one of the first students to enroll in Dancing Beyond Limits, an adaptive dance program created by noted Lincoln dance school owner/instructor Stephanie Chase and by Lily's physical therapist and DBL founder Suzanne Dougherty, who recruited Lily for the dance classes.
Dancing Beyond Limits, held at Chase's studio, became the first dance program of its kind in Nebraska. The program was launched with about a dozen dancers ranging from age 6 through high school seniors.
Last year, Lily padded her resume when Chase and Dougherty elevated her to "assistant teacher" status. Today, the Dancing Beyond Limits program has grown to 25 students, all from the Lincoln area. Lily says the program has outgrown the space at the dance studio; practice sessions have been moved to a church gym.
Priorities
The daughter of Lincoln Public Schools teachers Karl and Carrie Lautenschlager, Lily lives in a home where schoolwork comes first. She credits "great coaches" for supporting her in both athletics and academics and in helping her juggle her responsibilities.
"I also plan out my week in order to make sure I can do everything and do it well," she says. "It helps that my activities are in different seasons, so they only overlap for a couple of weeks. I love being busy."
The coronavirus pandemic and subsequent quarantining changed her lifestyle, of course, but that's starting to change, thanks in part to her tennis coach, Kevin Heim, the Woods Tennis Center director since 2008. Heim's expertise in coaching wheelchair tennis players included coaching the U.S. quad wheelchair team in the World Team Cup competition in 2018 in The Netherlands.
Lily's participation with the Nebraska Red Dawgs basketball program runs from roughly October to March.
Improvement seen
In her year-old role as an assistant teacher for Dancing Beyond Limits, Lily is excited to see the strides the program is making. "It's cool to see everyone growing" in their dancing talent, she says. "It's fun to be a part of it."
Dougherty, as her physical therapist and Dancing Beyond Limits founder, admires Lily's enthusiasm and upbeat attitude. "She is an inspiration to our dance students and a friend to everyone."
To enroll in the Dancing Beyond Limits program, or to learn how you can volunteer, contact the Chase the Spirit of Dance studio, 1233 Libra Drive, located south of Lincoln Southwest High School, or call 402-904-4091.