In her nearly 40 years in the medical field, the one thing that has stood out the most to Kim Russel is the scope and pace of technological change.
"Medicine in the United States has just advanced tremendously," said Russel, who has been president and CEO of Bryan Health for nearly 12 years.
The changes in technology have, of course, led to changes in the way care is delivered and to better outcomes, but it also has touched nearly every corner of how health systems operate, from the types of staff needed and their training, to how buildings are designed and where they are built.
It used to be that everything was centralized, Russel said.
"Now, of course, the name of the game is to be more accessible," she said.
Russel, who is retiring Jan. 3, has led Bryan through significant change since taking over the health system in March 2008.
From the Affordable Care Act to electronic medical records to physical expansions of Bryan's two Lincoln hospital campuses, Russel has seen constant change.
A lot of that, she said, has been driven by population growth. Lincoln has added nearly 40,000 people in the time Russel's been here.
"It's a very growing community with lots of health needs, and so that's one of the primary reasons why Bryan's services have had to grow right alongside of the community's growth," she said.
Russel has overseen a number of major initiatives at Bryan, including a remodel of the emergency department at East Campus, a new standalone surgery center on East Campus and a nearly $50 million fundraising campaign.
While she said she's "proud of everything" she's been a part of at Bryan, when pressed to name one accomplishment, she singled out the conversion of medical software to an electronic records system from Epic Systems Corp.
"It's a very difficult transition to make," she said. "We were the first in Lincoln to do it, and it went very, very well. I'm certainly very proud of that."
One challenge that Russel has encountered and believes will continue to be an issue is paying for health care.
"Basically, there's a lot more demand for services than there is federal budget or state budget or anyone else's budget to pay for it," she said.
Russel said she believes it will be an issue in next year's presidential election, as well as in the state Legislature.
You have free articles remaining.
"I wish I had the grand solution for it all, but I don't know that anyone does," Russel said.
While Bryan will continue to face challenges, she believes the health system will be in good hands.
Bryan's board of directors decided not to do a national search for a new CEO and chose to promote from within.
Russ Gronewold, who has been Bryan's chief financial officer since 2009, will take over as president and CEO. John Woodrich, currently Bryan Medical Center's president and chief operating officer, will now be executive vice president of Bryan Health and president and CEO of Bryan Medical Center.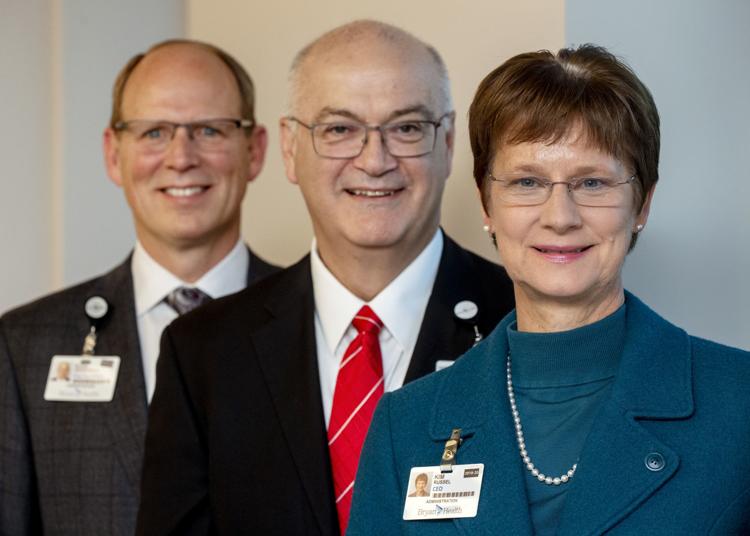 Gronewold said he and Woodrich are on the same page, in many ways mirroring Russel's vision.
"I don't anticipate people seeing big changes — any noticeable changes, frankly," he said.
Gronewold did say, however, that there could be changes coming that are unforeseen.
One area he does see playing a role going forward is medical care being driven more by consumers.
The internet, smartphones and electronic medical records are all changing the way health care is being delivered. Younger consumers focus more on cost and efficiency. For example, they may be less concerned with seeing a doctor face-to-face and more willing to utilize telehealth services, Gronewold said.
He also cited technologies such as analytics, artificial intelligence and machine learning that are "accelerating very rapidly" in their applications.
"That's extremely exciting," Gronewold said. "It's a little bit hard to know how to narrow that focus down, but we're going to be spending a lot of time on that area as well."
Gronewold's appointment has created a bit of controversy because of his previous affiliation with a conservative group, the Nebraska Family Alliance, which is known for advocating against abortion and LGBTQ rights.
He called it "unfortunate" that the information originated from a "made-up website."
Gronewold said he was asked questions by board members and also has spoken to staff and members of the LGBTQ community.
"We believe every person, by the fact that they're a member of the human race, has an innate value, and because of that when they show up here for care ... they're worthy of our respect, our empathy and the highest level of care," he said.
Gronewold said Bryan has a diverse staff, and he and other senior executives are proud of that fact.
"This is going to continue to be a safe place for folks to receive care. A safe place for folks who want to work here."
Woodrich said he believes there has been strong support from other senior managers, the staff and the community for the succession plan.
Russel has said she and her husband plan to remain in Lincoln, although she has not revealed any specific plans.
Be the first to know
Get local news delivered to your inbox!