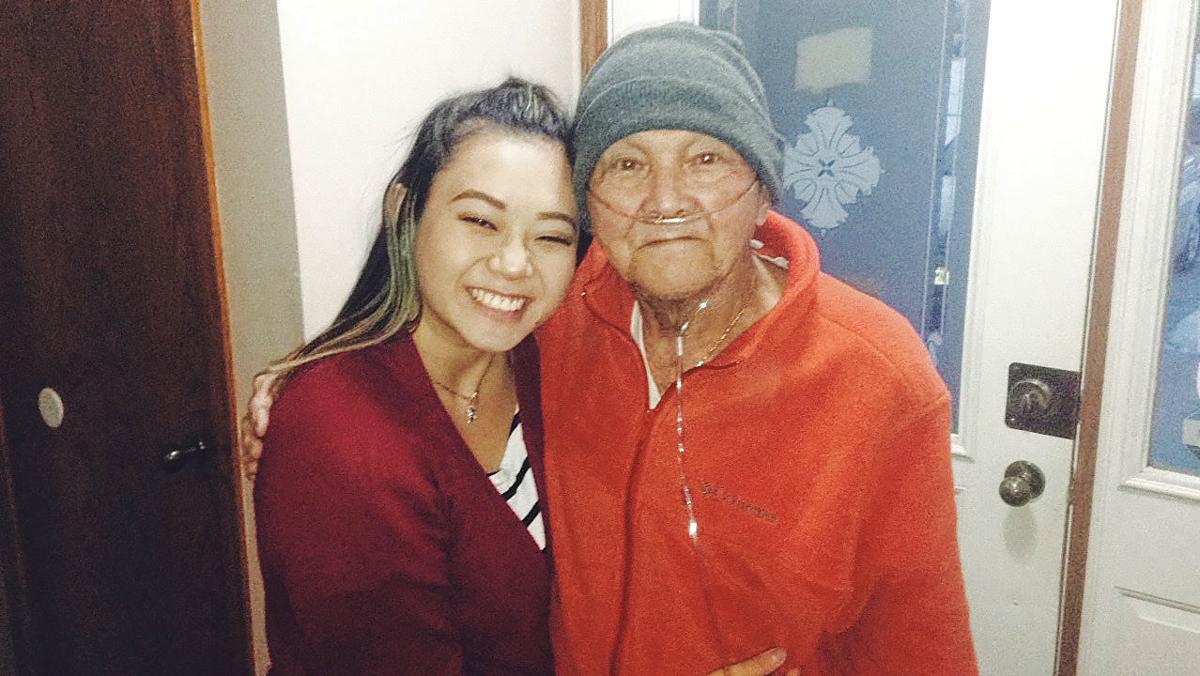 Her grandfather came to America in 1994.
He'd been a soldier during the Vietnam War, Vy Mai says.
He was captured by the North, and put into a concentration camp for 10 years.
This country welcomed him and when he arrived in Lincoln, Tam Mai went to work for Cook's Family Foods.
His three sons and their wives eventually came, too, including Vy's parents.
He picked Vy and her sister up from school after he retired. Lectured them about boys and being respectful and getting a good education.
The proud grandfather turned 80 on Saturday. He died three days later at Bryan West Campus, after contracting COVID-19. He is believed to be Lancaster County's second death.
On Wednesday evening, his granddaughter posted a comment on the Smithfield Foods Instagram.
"Hi. Both my aunt and uncle work for you in Crete, Ne. They both tested positive for COVID and passed it on to my grandmother and grandfather who never left the house. My grandfather lost his battle last night after fighting for his life for a week. I want you to know he died in the hospital alone, isolated and scared …"
A copy of the post on her own Facebook page took off, shared on social media accounts, overwhelming the grieving granddaughter.
"I don't even know where to start really," she said Thursday morning. "It was written from my heart and with all the love for my grandfather."
In her Instagram message, she asks the meat-processing plant to protect its workers.
"I want to know what excuse you have for not shutting down a plant with 50+ confirmed cases. And most importantly, I want you to see him as a person who has been affected by this and not just another statistic of your carelessness."
The granddaughter heard back from Smithfield late Thursday afternoon.
"We are deeply sorry for your loss," the company wrote. "Please know we are thinking of you and your family during this difficult time. As a Smithfield Family, we ache at the devastation wrought by COVID-19. Both as individuals and a company, we are deeply saddened by the passing of every one of the tens of thousands of people who have succumbed to COVID-19."
Vy was disappointed by the response.
"I've seen how they respond to (other) people, and it's all very cut and paste; it's not personal," she said. "This feels the same way. It doesn't feel like they even read my message or read the response other people are having to it."
Those hundreds of responses include many expressions of sympathy for her family. Comments from plant workers sharing similar stories. And still others criticizing her aunt and uncle for intentionally exposing her grandparents.
Neither her aunt or uncle had symptoms. They were tested after Tam got his results in the hospital, Vy said. Her grandmother also tested positive and is recovering at home after experiencing flu-like symptoms.
More than 240 Smithfield workers have tested positive for COVID-19, along with 70 family members and other close contacts. The plant has reduced its hours but remains open, a directive from both the White House and Gov. Pete Ricketts, who has called meatpacking plant workers essential.
"My aunt and uncle had been going to work and did not know they had it," Vy said.
Last week, when her grandfather became ill, her aunt and uncle were home, taking personal days off from the plant.
Vy got a call from her uncle on April 29. Her grandfather was having trouble breathing. He had a sore throat and chills. He was on oxygen because of heart and lung disease, but this was something different.
"We were panicking that it was COVID."
She met them at the emergency room. They'd rushed out of the house so fast, her grandfather — her ong noi — wasn't wearing socks.
"He was so pale and sick. I helped him fill out paperwork and they came out with a wheelchair."
It was all a blur, no time to reassure him or say goodbye. She explained he didn't speak English.
She asked if she could stay.
No. To limit the risk of infection, no visitors were allowed.
"He was so anxious, so scared. It felt like the worst thing that ever happened to me, their taking him away."
Hospital staff communicated once a day with a designated family member, who shared the information with relatives. The second day, the patriarch was a little better. The third day his kidneys began to fail.
They had a Vietnamese translator available.
"Bryan hospital was absolutely amazing," Vy said. "They assured me they would do everything they could."
The granddaughter talked to her grandfather once during his weeklong hospital stay.
He was on a ventilator and she doesn't know if he heard her. Grandpa, I graduate next week, she told him. You have to recover.
"All he wanted was for his grandchildren to go to school and have a good life."
Vy Mai will graduate remotely on May 16 from Juniata College, a small liberal arts school in Pennsylvania, with a degree in human development and health communication.
She's finishing the semester strong, she says. She knows her ong noi would have been proud.
"He will be watching over me in heaven."
On her Facebook post to Smithfield, his granddaughter invited the company to his one-hour visitation.
"I want you to know that my aunt, uncle and grandma cannot attend his viewing and cremation because they're still infectious," she wrote.
By mid-morning Thursday, her plea to Smithfield had been shared nearly 3,000 times.
Grieving at home, buoyed by the love for her grandfather, she had a message.
"My grandfather had to die alone in the hospital, no last words, no one to sit next to him and comfort him and that's the reality," she said. "I really just want people to protect themselves and protect their family members because we couldn't protect him."
Video, photos: Creating community during crisis