Panhandle health officials report that COVID-19 caseloads aren't showing any signs of coming down in western Nebraska and are further stretching the health care system.
Scotts Bluff County Health Director Paulette Schnell announced 444 new cases, bringing the total of active cases to 2,343.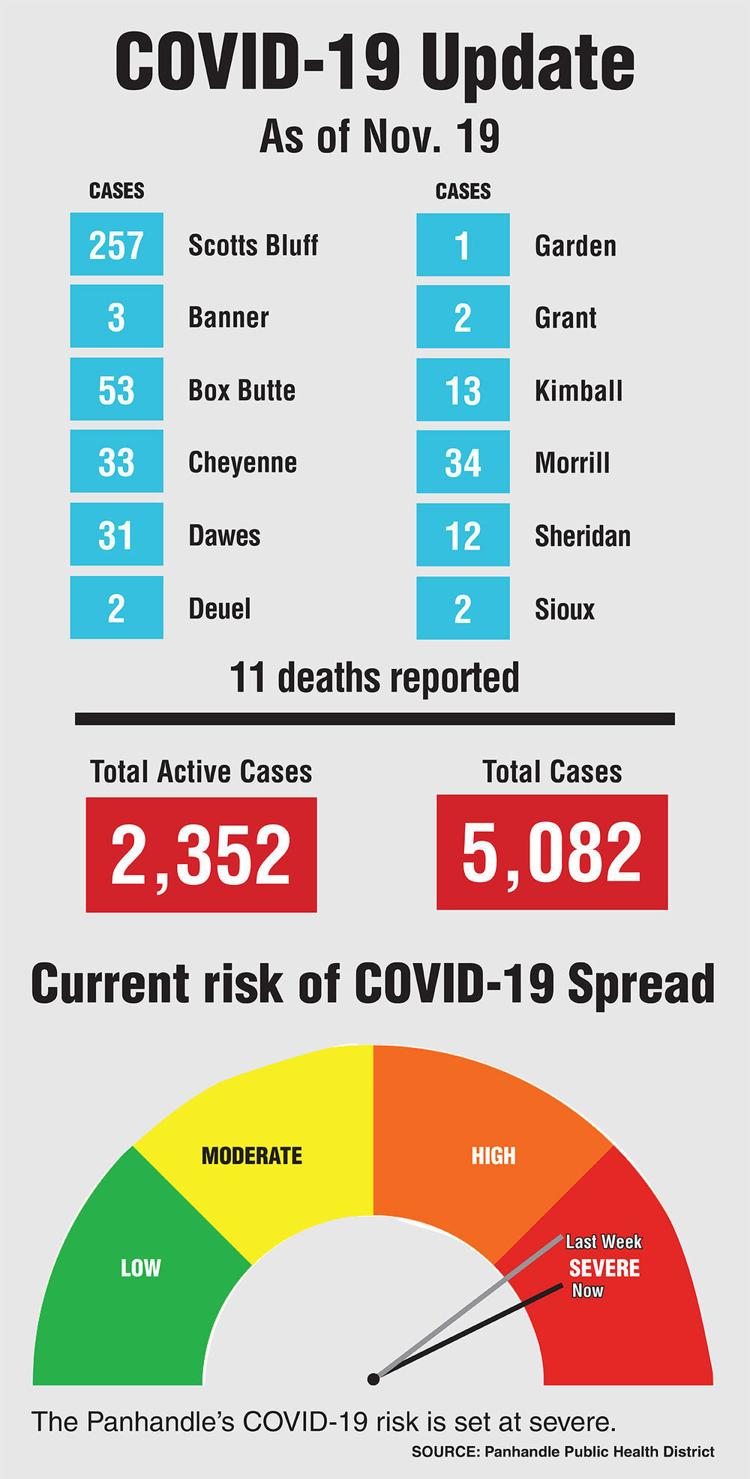 COVID-19 deaths in the Panhandle have significantly increased in the past month. On Friday, PPHD confirmed five additional deaths, which Schnell said occurred from October to the present. Eighteen deaths were reported earlier this week, making for a total of 47 deaths in the Panhandle. 
Officials said 14 deaths are pending confirmation, which can take some time as death certificates are reviewed by state officials.
Panhandle Health Director Kim Engel said death rates have increased by more than 400% in the Panhandle over the past month.
The Panhandle has an overall cumulative positivity rate of 20.7%, compared to a cumulative positivity rate of 7.1% a month ago. Positivity rate is important because a higher percentage of positive cases suggests higher transmission and a higher likelihood that there are additional COVID-19 cases in the community with people who have not yet been tested or have chosen not to get tested.
The World Health Organization recommends that test positivity remain at 5% or lower when considering measures such as reopening, according to a Harvard Global Health Institute article. Asked what was a "good positivity rate," Engel said that New York state has a positivity rate at about 3% and is "pulling out all the stops" to ensure that COVID-19 cases remain low.
At this time, she said, "it's going to take a long time to (bring the cumulative positivity rate) back down."
The Panhandle weekly positivity rate began climbing steadily at the end of September, climbing to 62.6% on Nov. 1 before falling to 53.8% the following week.
Engel said that the Panhandle has 171 staff beds, and COVID-19 hospitalizations are at 82, which means that 47.9% of the beds in the Panhandle are filled with coronavirus patients, much higher than the 25% rate that Gov. Pete Ricketts is using on the state level as a marker to implement stricter health measures. 
Ambulances in the area have also been affected, according to information released by the Gering Fire Department in a press release and in the PPHD call. Mayor Tony Kaufman and others urged Gering residents to strictly adhere to CDC recommendations and state directed health measures to curb the threat of exposure. Residents are asked to avoid crowded places, close contact and confined spaces.
The Gering Fire Department has seen the call volume increase by 42% in November alone because of COVID-19 patients.
Milestones in Nebraska's coronavirus fight
See the top stories on coronavirus in Lincoln and Nebraska since the pandemic first affected the area in March.
Concerned about COVID-19?
Sign up now to get the most recent coronavirus headlines and other important local and national news sent to your email inbox daily.