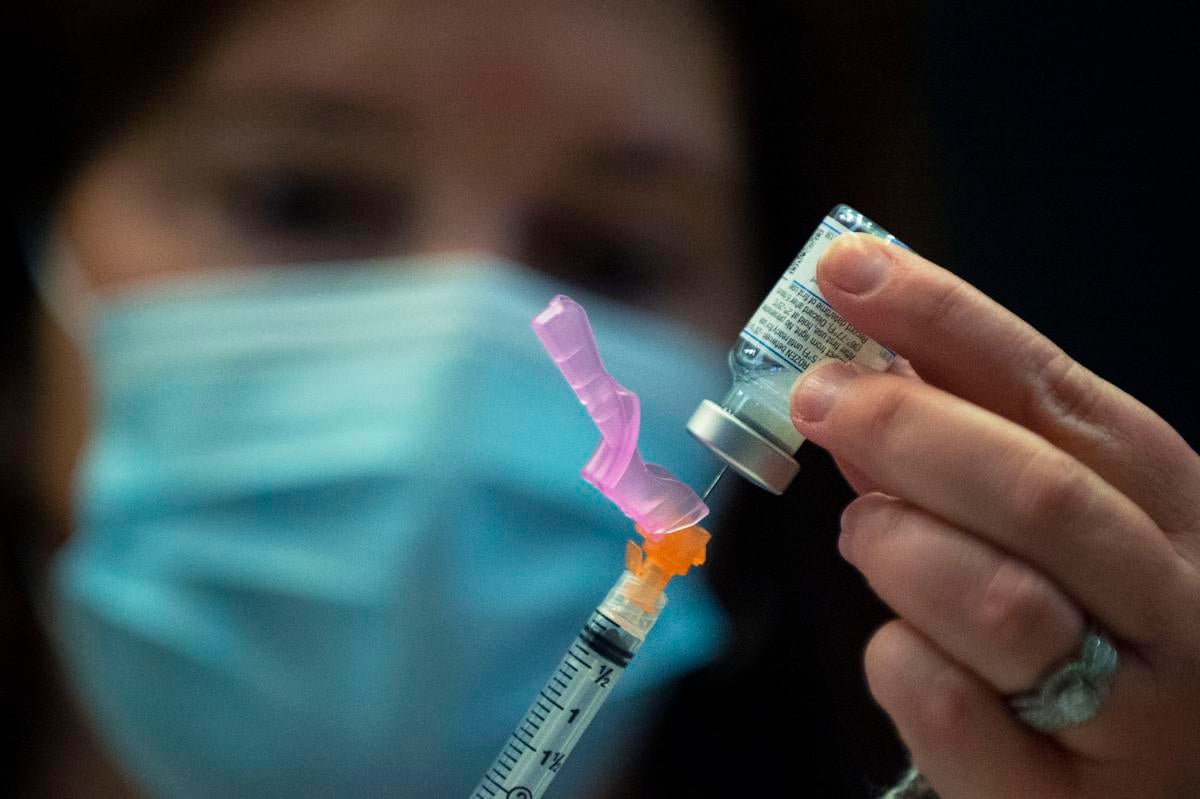 Friday's COVID-19 vaccination clinic for some of Lancaster County's oldest residents will not look like a typical event at Pinnacle Bank Arena, where thousands of people descend for a concert or basketball game, city officials said. 
Instead, up to 400 people will pass through the arena's doors each hour for an appointment-only clinic that marks the first large-scale event to vaccinate those in the Phase 1B priority group in Lancaster County.
More than 3,300 people ages 80 and up secured appointments at the clinic, which runs from 8:30 a.m. to 3:30 p.m.
The arena will be a regular venue for mass vaccination clinics that officials say are important steps toward emerging from the pandemic. 
"These clinics are really a major step forward, getting us back to the arena for entertainment," Lincoln-Lancaster County Health Department Director Pat Lopez said.  
Previous clinics at the arena have utilized several levels within the venue as more than 4,800 health care workers received the vaccine. 
But Friday's clinic has been set up to keep everything on the arena's main floor, minimizing the need to use stairs or elevators, said arena manager Tom Lorenz.
More than 120 staff will help run Friday's clinic, with additional staff and volunteers brought in to provide assistance to anyone needing help.
"We will have lots of helpful staff to guide you from parking, into the arena and through the vaccination process," Lorenz said.
Here's what you need to know before getting your shot: 
How early should I arrive? 
In other cities, people arriving hours early for vaccination clinics have contributed to chaos, including people waiting outside in cold temperatures.
To help manage the flow of attendees, local Health Department officials recommend people arrive no sooner than 15 minutes before their appointment, spokeswoman Leah Bucco-White said. 
Chairs will be available for anyone who may want or need to sit down as they wait, she said. That includes the 15 minutes people must wait after receiving their shot while observed for any allergic reactions.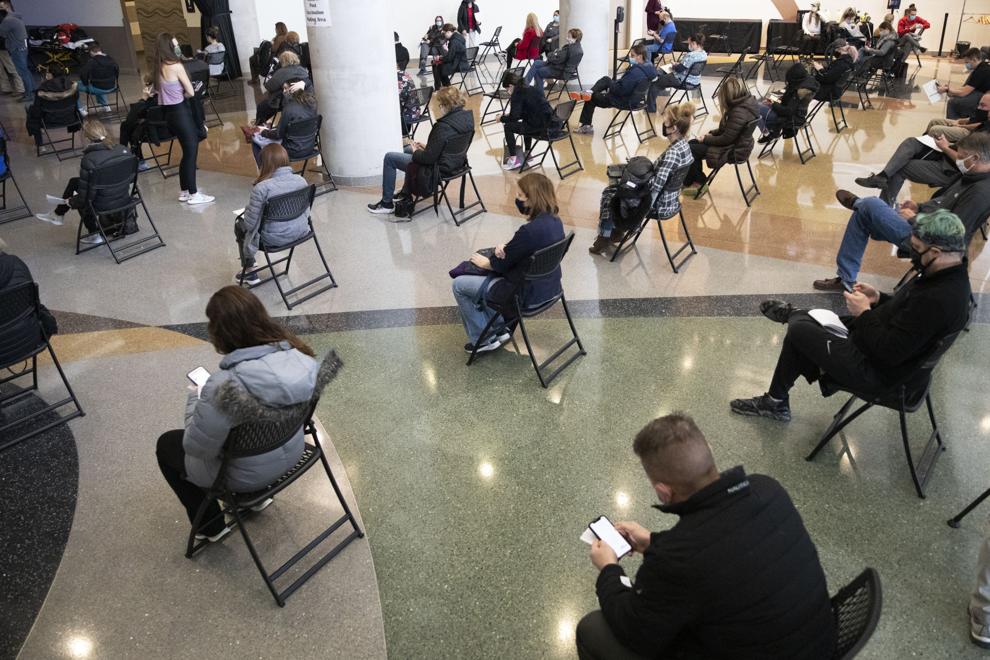 Attendees do not need any items to check in, and any necessary forms will be available at the arena. 
Staff will assist people throughout the process.
"The health care workers and volunteers are very helpful, and they will get you to the vaccination tables in a short amount of time," Lorenz said. 
How do I get there?
Pinnacle Bank Arena sits at the intersection of R Street and Pinnacle Arena Drive in Lincoln's West Haymarket.
Free parking is available in the garage attached to the arena and in the Red 1 Garage across R Street.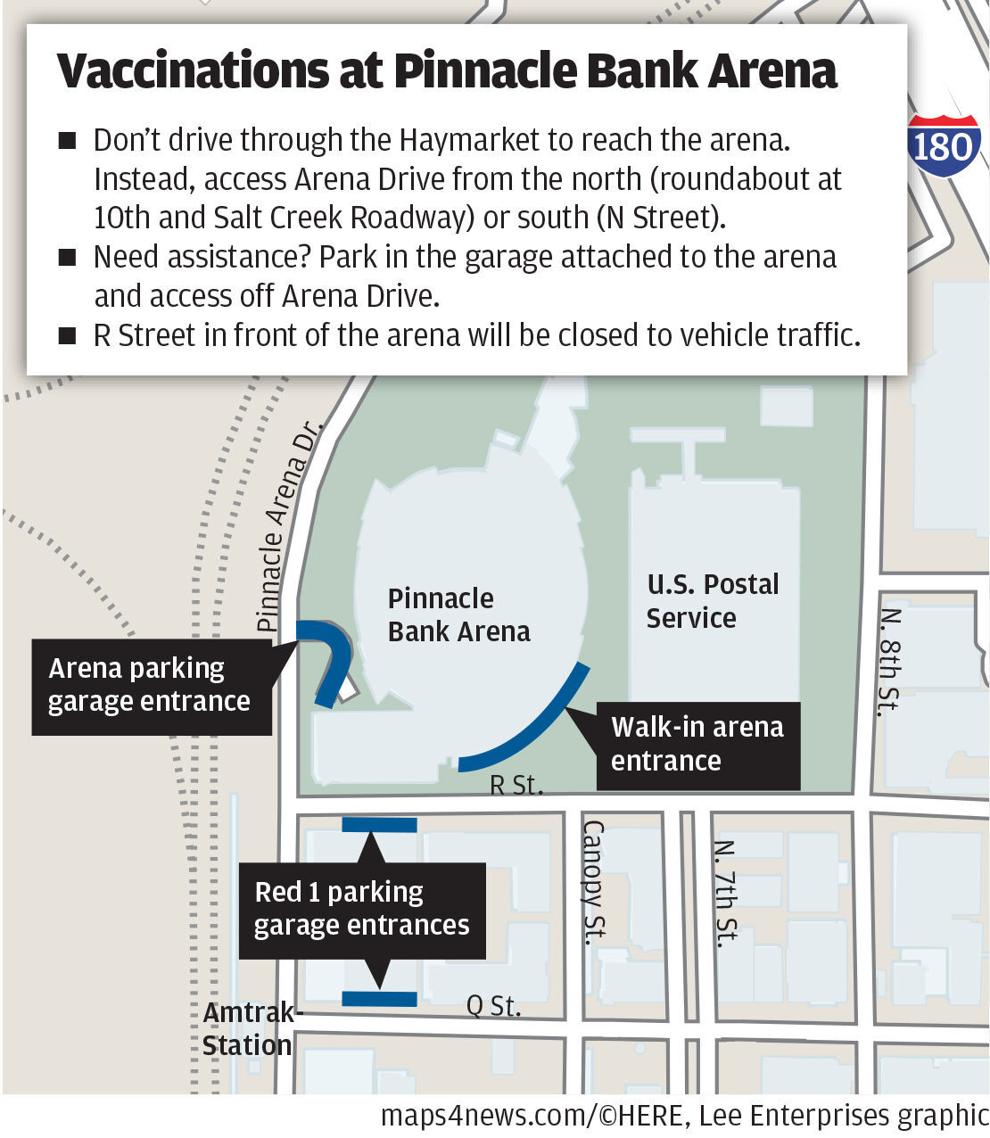 Easy access to the garages is available off Arena Drive, and those headed to the arena are discouraged from driving directly through the Haymarket.
That's because the city will partially close R Street in front of the arena so those with appointments who park in the Red 1 Garage can have safe access to and from the front doors. 
An attendant, however, will allow cars to drop off people with appointments along R Street, Lorenz said.
Whom can I bring? 
A family member or caregiver can accompany you through the vaccine process, Lopez said. 
Can I walk in without an appointment? 
No. You must have an appointment to get a vaccination Friday. 
What if I have difficulty walking or standing for an extended time? 
A limited number of wheelchairs will be provided for those who need them, but attendees are encouraged to use their own wheelchair if possible. Courtesy vehicles will be available to help shuttle people from their parking spots to the arena as needed.
How will I know about my second vaccination date? 
Each person immunized Friday will be scheduled for their second dose of the vaccine, with the date posted on the arena's video screen as a reminder. 
What should I do if I need to cancel my appointment? 
What should I do if I'm registered and eligible for a vaccine but don't yet have an appointment?
Bucco-White said Health Department staff will reach out to anyone eligible to schedule an appointment if slots become available for Friday's clinic. Otherwise they will be contacted for a future clinic, she said.
Why was the arena selected? 
Health Department officials examined several venues for mass vaccination clinics, and Pinnacle Bank Arena had a lot of the amenities needed for a clinic such as this built in, Lopez said. 
The city-owned venue not only has attached, covered parking but also an event staff, plentiful space, restrooms, tables and chairs and a design that provides access for people with disabilities, she said. 
One of the biggest challenges for an event like this is set-up, and typically that would fall to the Health Department staff, Lopez said. 
Plus, the department needs to ensure a facility used for this purpose can be regularly and adequately disinfected. 
The Health Department is not paying to rent the arena, Lopez said, but the city is tracking expenses so they can be considered for possible reimbursement by federal officials. 
"This is not a windfall for the arena," Lorenz said. "But it's certainly the right use of the arena."
PHOTOS: LINCOLN'S FIRST COVID-19 VACCINATION CLINIC