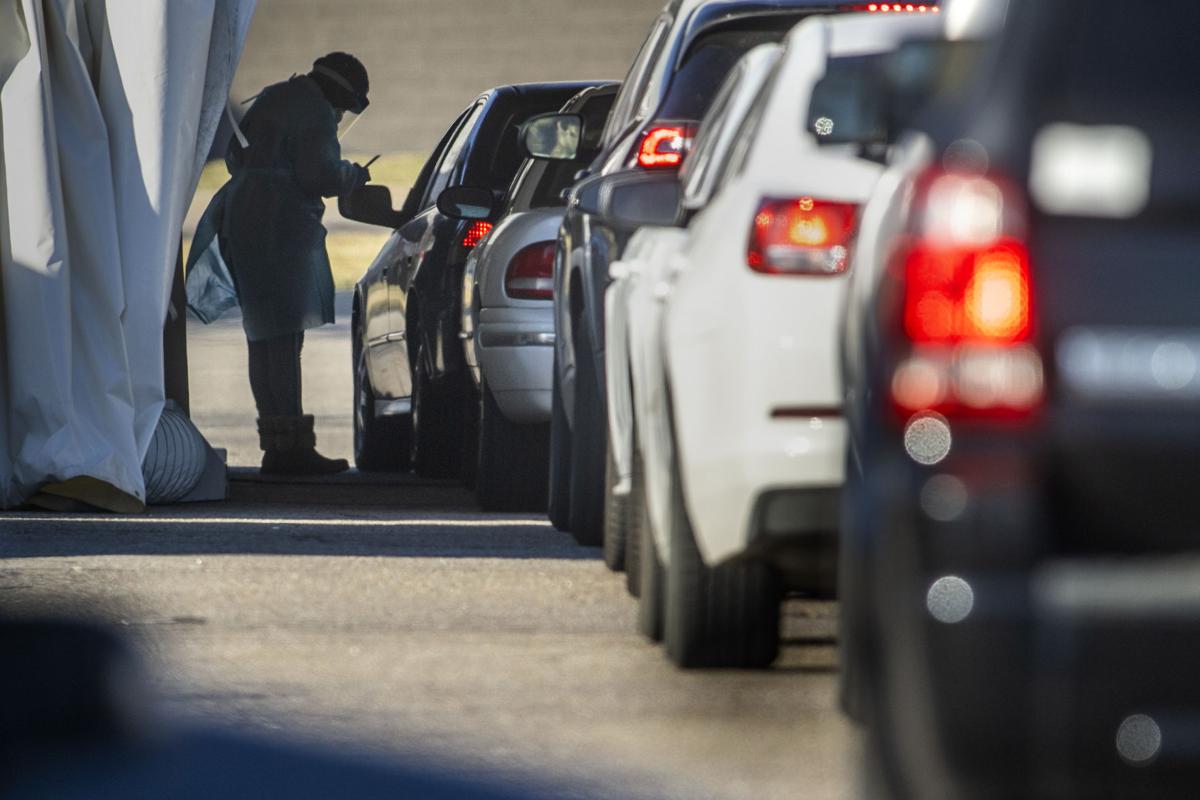 Finding a COVID-19 test in Lincoln and elsewhere in Nebraska has gotten more difficult over the past few weeks as cases have surged because of the arrival of the omicron variant.
But even for those lucky enough to get a test, a new complication has arisen: longer waits for results.
Nomi Health, which runs the drive-thru COVID-19 testing site at Gateway Mall, said that in mid-December, the average lab turnaround time for PCR test results was about 33 hours, or roughly a day and a half. Since Jan. 1, however, that average has risen to 42 hours.
Much of that has to do with the sheer number of tests. Nomi did nearly 1,000 COVID-19 tests at the site Jan. 3, which was almost triple its daily average in early November.
"Most recently, with a surge of cases tied to the omicron variant, some patients are waiting a full two days or more for their results," Nomi said in a statement.
Krista Kuenning is one of those people.
She said she and her husband waited in line for three hours to get tested at the Gateway site last Tuesday but still hadn't gotten their results Saturday, when she emailed the Journal Star.
"Luckily we do not have any symptoms and aren't relying on it to go back to work, but I feel for those who are," said Kuenning, who said she and her husband got tested because they were exposed to someone with COVID-19.
"I absolutely can't believe that we haven't heard anything 96 hours later," she said.
Kuenning later said she and her husband finally got their results Sunday.
Meanwhile, the Biden administration is working to make COVID-19 home tests more accessible, both by increasing supply and bringing down costs.
Later this month, the federal government will launch a website to begin making 500 million at-home COVID-19 tests available via mail, and starting Saturday, private health insurers will be required to cover up to eight home COVID-19 tests per month for people on their plans, the Associated Press reported.
Under the new policy, Americans will be able to either purchase home testing kits for free under their insurance or submit receipts for the tests for reimbursement. A family of four could be reimbursed for up to 32 tests per month.
Home tests, which can provide a result in a matter of minutes, have become difficult to find in stores amid the rise in cases and the delays involved in getting other test results.
A Bryan Health spokesman said it's taking as long as seven days to get results from PCR tests, up from 3-5 days previously. Even the results of rapid tests are being delayed, with the average time now about 1-2 hours, up from 15-30 minutes before the testing surge, the spokesman said.
Both Bryan and Nomi Health farm out their test kits to offsite labs to get results, and many of those labs are struggling to keep up with the surging number of tests while dealing with their own worker shortages.
The Wall Street Journal reported Monday that some labs around the country are rationing access and giving preference to tests from people with symptoms, a known exposure and those who need a test to get a medical procedure.
Labcorp told the Wall Street Journal that it was still processing tests in about 1-2 days, while Quest Diagnostics said its turnaround times had grown by 2-3 days.
The test result delays are not universal, however. CHI Health, which sends tests to its in-house lab at Creighton University Medical Center-Bergan Mercy in Omaha, is averaging about 12-16 hours for results, which is roughly the same as it was a couple of weeks ago, said spokeswoman Taylor Miller.
The Lincoln-Lancaster County Health Department said that more than 90% of positive tests reported last week had a turnaround time of three days or less.
Longer waits have occurred at other times during the pandemic, often during times of higher testing demand. However, with the speed of the spread of omicron, delayed test results can complicate contact tracing.
"We'd like to see results reported to us within one to two days," said Health Department spokeswoman Leah Bucco-White.
She said the department continues to conduct contact tracing, adding that "it is becoming more difficult due to the large number of cases. If we are not able to reach someone, we're sending them isolation or quarantine information via text message."
The Associated Press contributed to this report.
9 charts that show how Lincoln and Nebraska are coping with COVID-19
Lancaster county COVID-19 deaths
Lancaster county COVID-19 cases
Lincoln hospital bed occupancy
Nebraska ICU capacity, by county
Nebraska hospital capacity, by county
Nebraska COVID-19 vaccine distribution
COVID-19 vaccination rates: How Nebraska compares
Nebraska COVID-19 hospitalizations and ICU usage
Nebraska COVID-19 testing