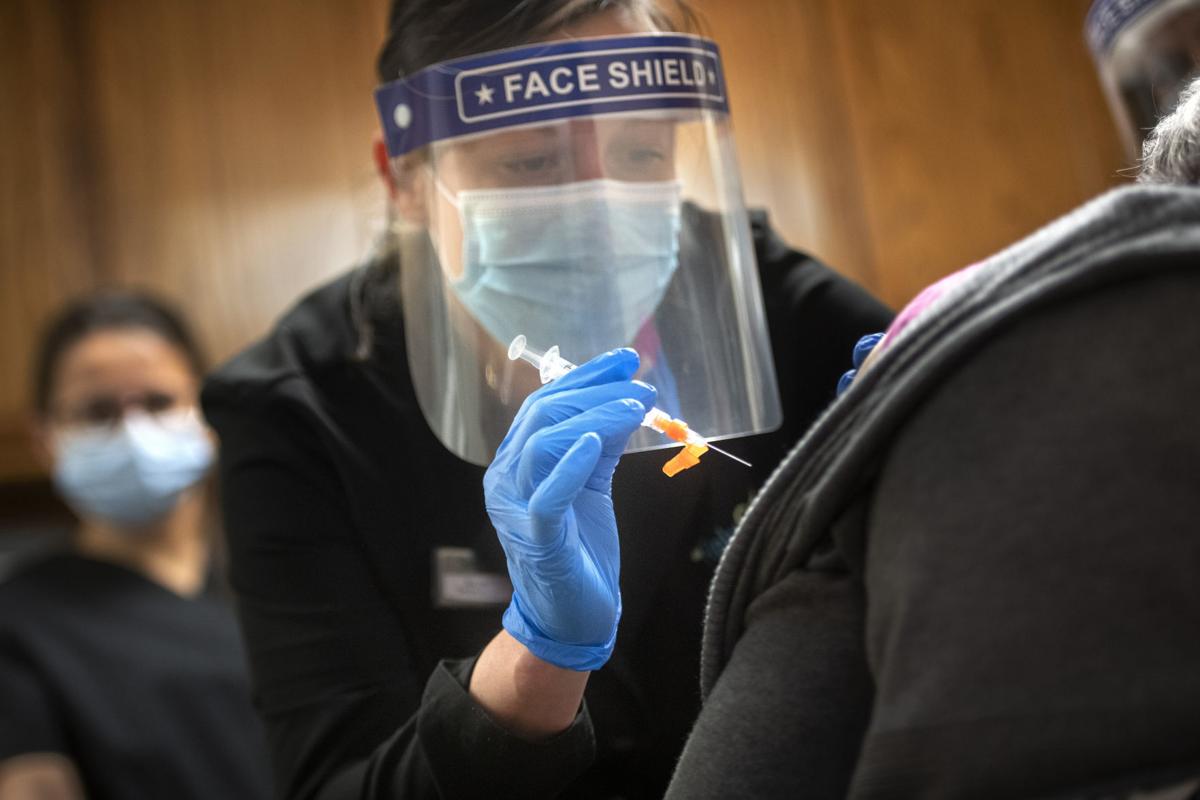 While people age 75 and older in eastern Nebraska continue to wait and wonder when the COVID-19 vaccine will be available to them, areas of outstate Nebraska already have started vaccinating people in that group.
Myra Stoney, health director for the Southwest Nebraska Department of Public Health based in McCook, said it started vaccinating people in the 75-plus age group this week.
Stoney said vaccinations for those in the state's designated Phase 1A group — health care workers and residents of long-term care centers — are mostly complete in her district.
She said the district will continue to vaccinate any person in the priority group, if they come forward, but vaccinations have moved on to people 75 and older, who are first on the Phase 1B list.
Kim Engel, director of the Panhandle Public Health District based in Scottsbluff, said her district also has been able to begin vaccinations for some people 75 and older outside of long-term care facilities.
The Loup Basin Public Health Department based in Burwell has vaccinated a "handful" of seniors in Phase 1B, mainly to ensure vaccine doses don't go to waste, said Amanda Jeffres, co-director of the department.
She said Loup Basin is tentatively scheduled to start formally vaccinating people 75 and older next week.
Stoney said there also have been instances in her Southwest Nebraska district where people in Phase 1B received vaccine early to ensure doses didn't get wasted.
"We're trying to follow the governor's tiers extremely closely, but we know it's not a perfect program," she said.
During a Facebook Live Q&A session Thursday afternoon, Angie Ling of the Nebraska Department of Health and Human Services, said areas of western Nebraska were going to move to Phase 1B before eastern Nebraska.
That largely comes down to vaccine allocations, she said. Some rural areas have very few people in Phase 1A and need to move on to ensure all their doses get used.
"We're going to be moving through phases a little bit differently based on where you live," Ling said.
In eastern Nebraska, where the population is higher and there are a lot more health care providers and others who are in Phase 1A, it's likely to be another week or two before vaccine is available to people 75 and older who are not in long-term care centers.
Plans for those vaccinations are still being worked on. "Be patient," she said.
In some areas of the state, including Lancaster County, there are people in the 1A priority group who haven't yet had access to the vaccine.
The Lincoln-Lancaster County Health Department said earlier this week that the county has received about 9,800 vaccine doses so far and has vaccinated 7,400 people, including frontline health care workers, emergency medical technicians and long-term care facility residents.
It said vaccine will soon be available for others in Phase 1A, including home health and hospice care providers, school nurses, dentists and dental hygienists.
However, the local department said it does not have a start date for Phase 1B distribution.
The Douglas County Health Department said Thursday that it likely will be two weeks before it starts offering vaccinations to those 75 and older.
Ling said that based on census figures, it's estimated there are about 130,000 people in Nebraska 75 and older who are not in long-term care centers.
That's more people than the number of COVID-19 vaccines the state has received so far, which as of this week was 108,000 doses, about 53,000 of which had been administered through Tuesday.
Phase 1B also includes essential workers, such as teachers and corrections workers. That's tens of thousands more people that will be vaccinated after the 75-and-over age group.
Ling said that going forward, the state expects to get 11,700 vaccine doses weekly from Pfizer and 11,200 weekly doses for Moderna. On its vaccine dashboard, the state projects it will take about two months to vaccinate the 1B group.
Once vaccine does become available for those 75 and over in eastern Nebraska, there will be three options for them to get vaccinations, she said: through vaccination events sponsored by their local health departments, through a health provider or through some pharmacies.
Ling said people should check in with their health departments, either online, by monitoring social media, or via emails or phone calls, to keep tabs on when vaccine might be available and how they can sign up.
In Lancaster County, the Health Department continues to work on plans for vaccination clinics and will be providing updated information on vaccinations for those 75 and over during its weekly briefings each Tuesday. 
Ling said that in about two weeks, the state will activate both a website and phone number through which people in all phases of the distribution priority list can register to get vaccinated.
Milestones in Nebraska's coronavirus fight
See the top stories on coronavirus in Lincoln and Nebraska since the pandemic first affected the area in March.