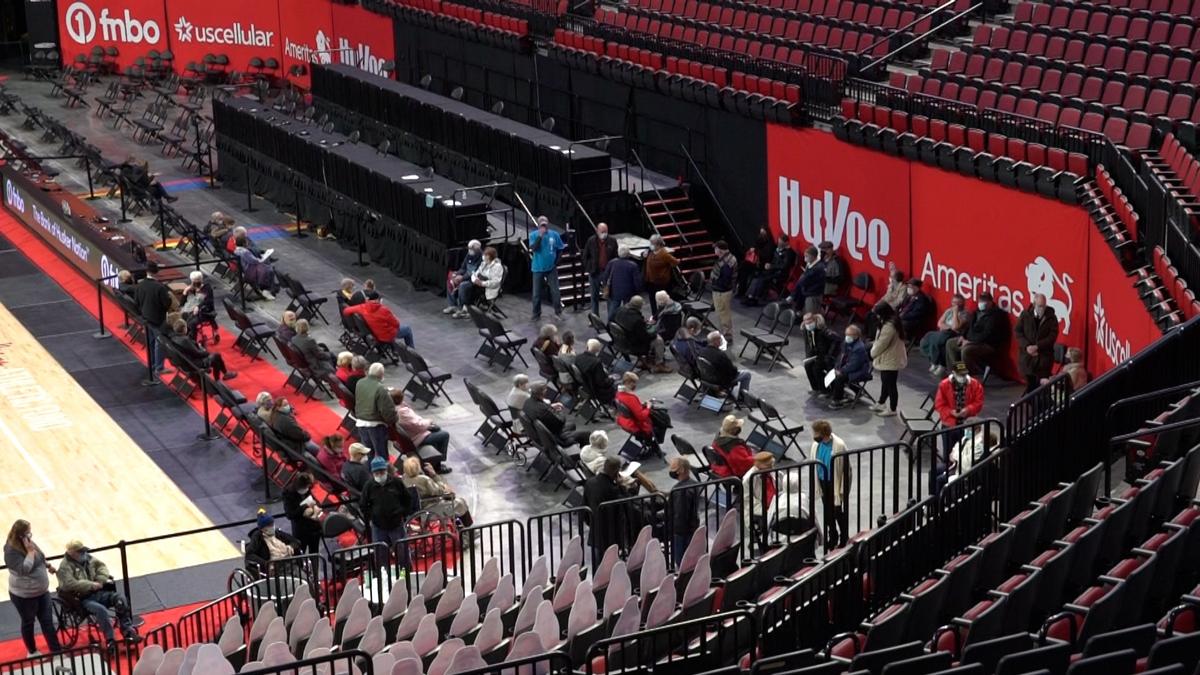 Lincoln will again look to vaccinate thousands of seniors against COVID-19 this week.
Mayor Leirion Gaylor Baird said Tuesday that the Lincoln-Lancaster County Health Department is planning to host mass vaccination clinics on both Friday and Saturday at Pinnacle Bank Arena for people 75 and older.
Last Friday, the department held a clinic where more than 4,800 people, most 80 and older, received their first vaccinations.
The Health Department also is vaccinating people living at some independent-living centers this week who have not yet gotten their vaccines, and Health Director Pat Lopez said the department hopes to start vaccinating some utilities workers as well as staff at the People's City Mission.
All told, she said the department will administer more than 8,000 first vaccine doses this week, the most it's ever done.
Lopez said this week's vaccination clinics are being split over two days to ensure proper social distancing. The Health Department is in the process of calling eligible people and their spouses to set up appointments.
For the first time, the department is having to contend with an event at the arena the same day as a clinic. The Husker men's basketball team is scheduled to play Illinois on Friday at 8 p.m., but Lopez said that will not require any adjustment to the vaccination clinic.
She said the department worked with both the Nebraska Athletic Department and the Big Ten Conference and did not have to make any changes.
"They prioritized the need to get our elders in our community vaccinated, so we're grateful for the strong partnership we've had with them," Lopez said.
Some seniors also could start getting vaccinated at retail pharmacies soon, although details of that plan are still scarce.
The Nebraska Department of Health and Human Services said Monday that pharmacies participating in the Federal Retail Pharmacy Program should receive initial vaccine shipments by the end of this week.
The state's allotment is 5,700 doses, but the department is not yet releasing details about how those doses will be allocated. Pharmacies participating in the first round include some Walmart locations, as well as some independent pharmacies.
Walgreens and CVS also are participating in the program, but neither is offering shots in Nebraska.
Walmart on Tuesday said it will start vaccinations Friday at more than a dozen Nebraska locations, all in smaller cities outside of Omaha, Lincoln and Grand Island.
In Southeast Nebraska, the shots are being offered at locations in Crete, Fairbury, Nebraska City and York.
Walmart said in a news release that the emphasis is on "locations that reach customers in underserved communities with limited access to health care."
The vaccines are available to those 65 and older, and people can sign up for an appointment at walmart.com.
Nebraska is scheduled to receive 28,700 first vaccine doses this week, which does not include the 5,700 going to pharmacies.
Gaylor Baird said Lancaster County will continue to receive 4,875 weekly doses for the foreseeable future.
The news on vaccines comes as conditions continue to improve locally. The Health Department on Tuesday moved its COVID-19 risk dial from orange to yellow, the first time it's been that low since August.
Lopez said weekly case numbers have declined 65% over the past five weeks and the test positivity rate during that time period has dropped from nearly 33% to about 20%.
The county also has gone 12 straight days with fewer than 100 daily cases and has seen hospitalizations drop 60% over the past several weeks. On Tuesday, there were only 42 COVID-19 patients in local hospitals.
The county reported 54 new cases Tuesday, pushing its total to 27,256. The local death toll remained at 209.
"Seeing this progress is very encouraging, and the residents of this community deserve a big thank you for working with our health department to stay well and help keep this virus from spreading," Lopez said.
She said the department is moving the risk dial into yellow "very cautiously," but will move forward Friday with adjustments to local coronavirus restrictions.
Under the new directed health measure, gathering limits will increase to 75% of total capacity, with no cap on total attendance. Patrons of restaurants and bars will no longer have to stay seated.
The restrictions also will be loosened on youth sporting events, allowing four spectators per participant, with additional spectators allowed if the venue can show it has the capacity. Concessions also can now be sold at those events.
Despite the drop in COVID-19 cases and hospitalizations and the relaxing of restrictions, Lopez said there are no plans to reconsider the mask mandate anytime soon.
PHOTOS: LINCOLN'S FIRST VACCINATION CLINIC