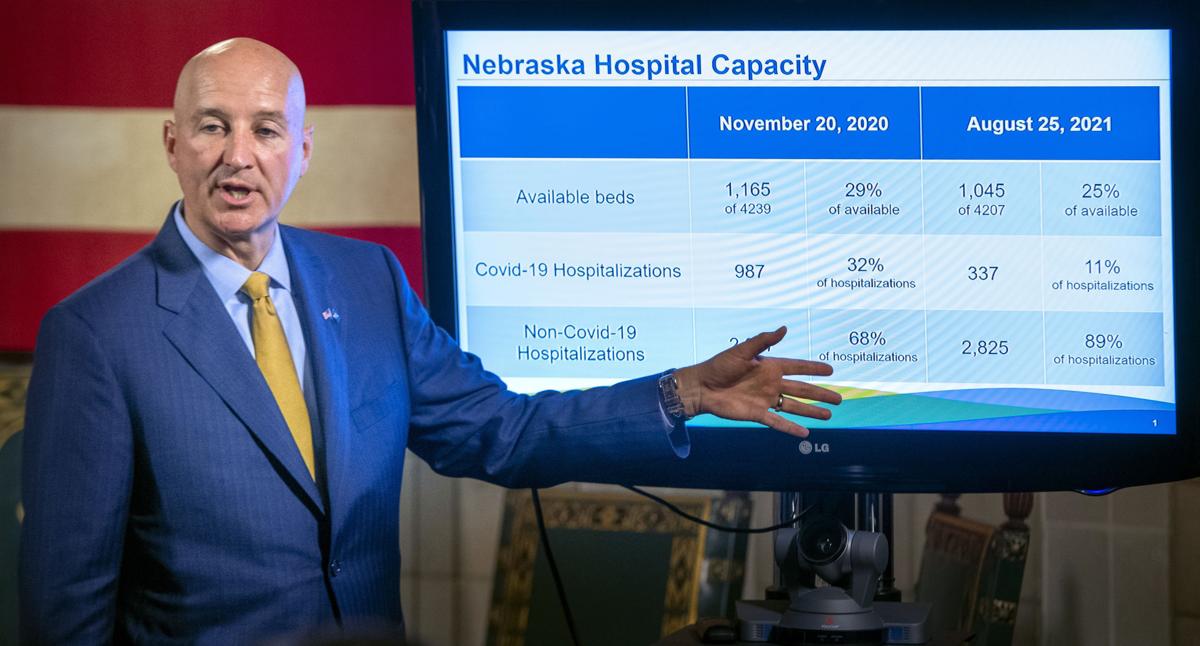 Rising COVID-19 hospitalizations added to already full hospitals have spurred Nebraska Gov. Pete Ricketts to declare a staffing emergency.
Ricketts said his executive order announced Thursday, which will last through the end of the year unless rescinded, will loosen some licensing and continuing education requirements for new, existing and retired nurses.
"That should make it easier for hospitals to get the staff they need," he said.
As of Wednesday, there were 337 COVID-19 patients in Nebraska hospitals, about one-third of the state's peak of 987 set Nov. 20. However, there are more than 2,800 people hospitalized for reasons other than COVID-19, compared with fewer than 2,100 back in November.
That means there are actually more people in the hospital now in the state than there were at the peak of COVID-19 hospitalizations.
And officials across the state have been sounding the alarm.
"We're drowning," Dr. Renee Engler, co-medical director of the emergency department at Great Plains Health in North Platte said Wednesday, a day the hospital had 15 COVID-19 patients.
Bryan Health last week announced it was cutting back on some elective surgeries because of patient numbers. "Bryan Medical Center is full," Bob Ravenscroft, vice president of advancement for the Lincoln health care system, said at the time.
Other hospitals, including Nebraska Medicine in Omaha, followed suit in reducing elective surgeries.
Ricketts on Thursday issued a new directed health measure that will take effect Monday and run for one month that requires the state's hospitals to stop doing elective surgeries that can be safely postponed for at least four weeks.
The governor said the moves are similar to ones he made last year to deal with surging COVID-19 hospitalizations and that they were done in consultation with chief executive officers and chief medical officers at the state's hospitals.
He also said he will consider making additional moves in the future if the number of available hospital beds continues to decline, such as restricting capacity at certain venues.
Though COVID-19 patients make up about 11% of all hospitalizations, they are only occupying about 8% of the state's hospital beds. In November, more than 20% of the state's beds were occupied by COVID-19 patients at one point.
Ricketts reiterated his opposition to mask and vaccine mandates, even as he acknowledged that getting vaccinated is the best way to manage the pandemic.
Lancaster County's mask mandate went into effect Thursday, but the state denied a request from the Douglas County Health Department to institute one there. The two departments operate under different state statutes, which is why Lancaster County health officials can institute a mandate without state permission but Douglas County can't.
He specifically criticized mask mandates in schools, which some districts have had since classes resumed and others have instituted after COVID-19 outbreaks that closed down classrooms or entire schools.
Ricketts said children are at low risk of getting seriously ill from COVID-19, and it should be up to parents whether their children are masked or not.
"Kids are not at risk any more for COVID than they are for the flu," the governor said, noting that schools do not require masks during flu season.
Health professionals, however, have said the COVID-19 delta variant does seem to be infecting children at a higher rate and is possibly making them sicker.
As of Thursday, there were three pediatric COVID-19 patients at Bryan Health and five at Omaha-area hospitals.
Despite the rising COVID-19 cases and his executive order and directed health measure related to hospitals, Ricketts said he has no plans at this point to bring back the state's dashboard of daily COVID-19 information.
The North Platte Telegraph contributed to this story.
Reach the writer at 402-473-2647 or molberding@journalstar.com.
On Twitter @LincolnBizBuzz.