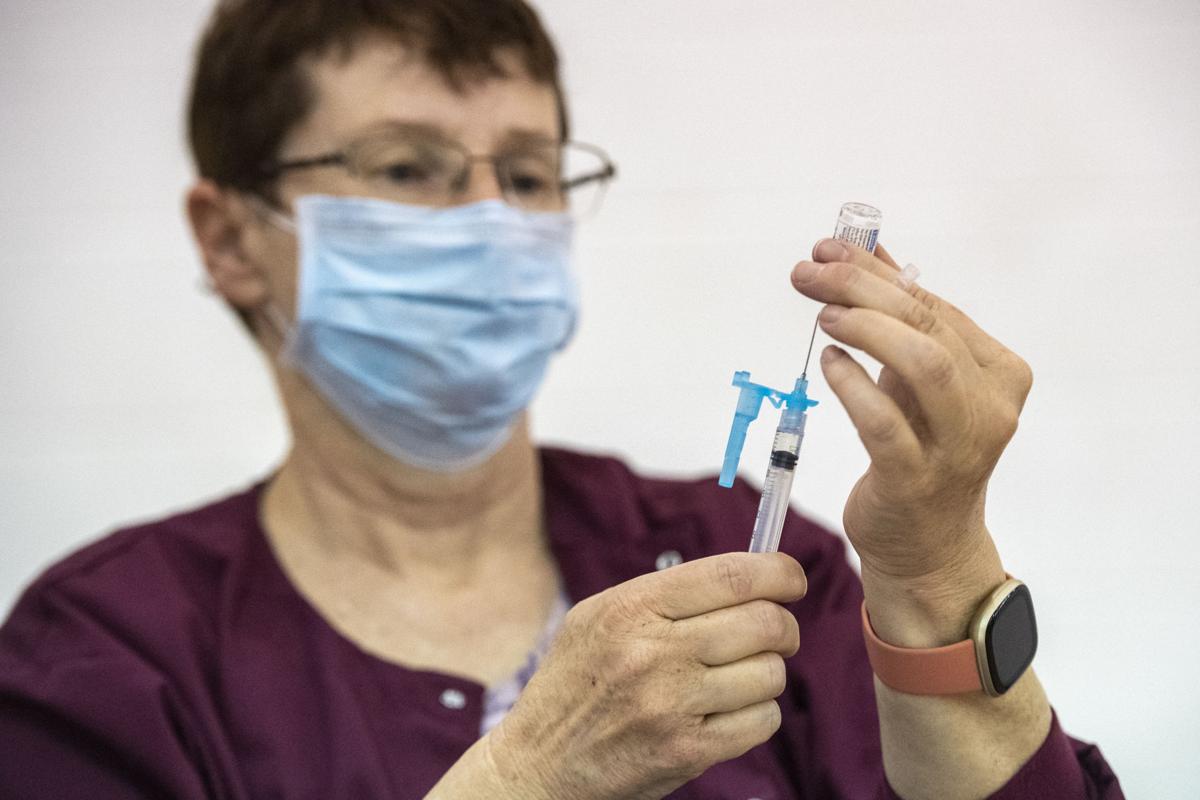 The Nebraska Department of Health and Human Services said Tuesday that it will pause use of the Johnson & Johnson COVID-19 vaccine after both the Centers for Disease Control and Prevention and Food and Drug Administration recommended doing so.
The CDC and FDA made their recommendations after six women between the ages of 18 and 48 were hospitalized with severe blood clots after receiving the vaccine, including a Nebraska woman from Douglas County.
That person was still hospitalized in Omaha on Tuesday and was reported to be in "guarded condition."
The six cases are the only known ones nationwide out of more than 6.8 million doses of the Johnson & Johnson vaccine administered. As of Friday, more than 31,500 doses of the vaccine had been used in Nebraska.
Many of those vaccines were given last week after the state received 27,600 doses. In Lancaster County, about 11,500 vaccinations given so far have been with the Johnson & Johnson vaccine, and the Lincoln-Lancaster County Health Department said it has not received any reports of adverse events.
The J&J vaccine was a relatively small part of the state's plans this week because officials expected to receive only 1,100 doses of it. Nebraska is expecting to receive 90,250 doses of the other two coronavirus vaccines this week, and the state said it will direct local health officials to use one of those two shots in place of the J&J vaccine while it is being reviewed.
The pause does not affect either of the Lincoln-Lancaster County Health Department vaccine clinics scheduled for this week at Pinnacle Bank Arena. It does, however, affect drive-through clinics planned Wednesday and Saturday at the Test Nebraska site at Gateway Mall.
Those clinics, being administered by the Department of Health and Human Services, will go on as planned, but they will use Moderna vaccines instead of Johnson & Johnson, which means those receiving the vaccine will need to get a second shot.
The local health department said it is in the process of contacting people who have scheduled appointments to notify them of the change in vaccine.
Felicia Quintana-Zinn, deputy director of the Nebraska Department of Health and Human Services, said Monday that there was no evidence linking the vaccine to blood clots. However, health officials said people who have received the Johnson & Johnson vaccine who develop a severe headache, abdominal pain, leg pain or shortness of breath within three weeks after vaccination should contact their health care provider and seek medical treatment.
The six cases of the blood clots, called cerebral venous sinus thrombosis, out of nearly 7 million vaccination patients, is actually slightly lower than the expected number of cases in the general public. According to various medical sources, there are roughly five cases of CVST per million people.
Dr. Renuga Vivekanandan, chief of infectious diseases at CHI Health-Creighton, said anybody who has already had the vaccine should pay attention to any symptoms in the first couple of weeks and call their doctor if they are concerned.
The Associated Press contributed to this report.
Reach the writer at 402-473-2647 or molberding@journalstar.com.
On Twitter @LincolnBizBuzz.