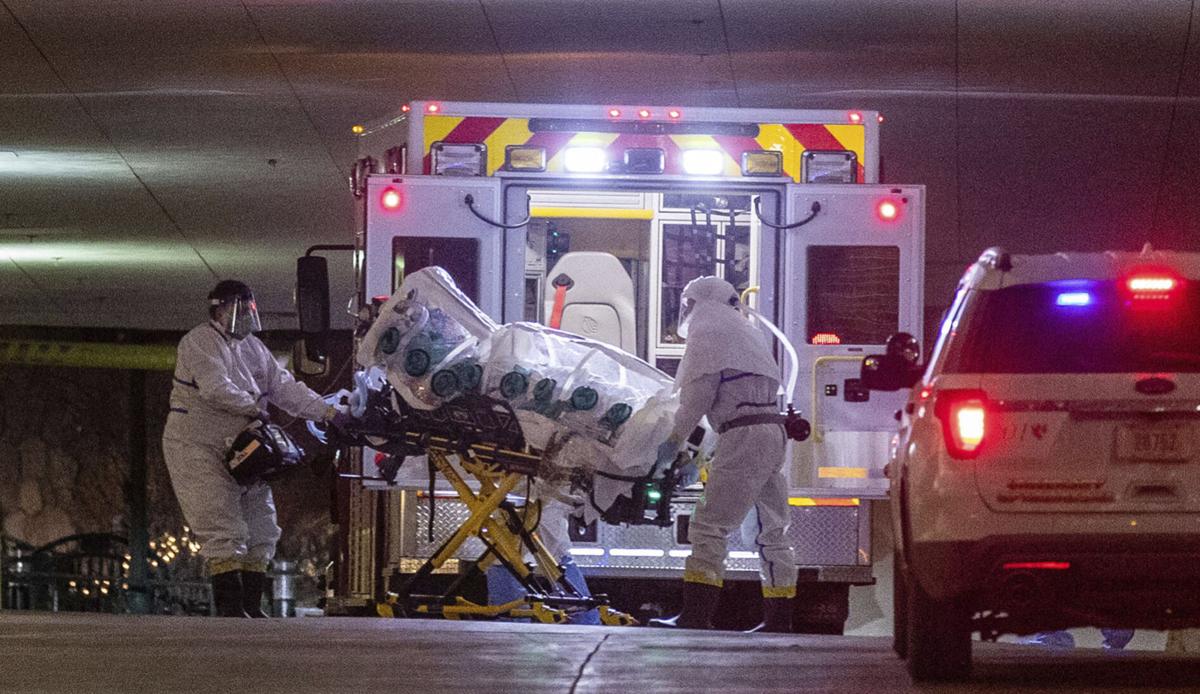 With COVID-19 cases and hospitalizations both skyrocketing in Nebraska, officials from three of the state's largest hospital systems have announced plans to alter their operations to better deal with the surge of patients.
CHI Health, Methodist Health and Nebraska Medicine on Monday all said they either have already or are in the process of reducing the number of elective surgeries they do to free up more bed space for COVID-19 patients.
Methodist started cutting back on surgeries that require an overnight stay Thursday, while Nebraska Medicine made similar changes starting Monday.
The moves come after Lincoln's Bryan Health said Friday that it would cut back by 10% on elective surgeries that require an overnight stay so it could free up additional beds. That policy went into effect Monday.
Nebraska has seen nearly 8,000 COVID-19 cases over the past seven days, about as many as it had in the entire month of August.
That has led to a huge increase in hospitalizations statewide. As of Sunday night, there were 613 COVID-19 patients in Nebraska hospitals. That's a record number, and an approximately 170% increase since the beginning of October.
Hospitals in the Omaha metro area had 264 COVID-19 patients as of Saturday, which was 91% more than two weeks ago, and that number had risen to 279 on Monday. Officials warned they could double again in the next two weeks
Dr. Bill Lydiatt, chief medical officer at Methodist Health, said increases in hospitalizations are inevitable because of the continued high case numbers.
"We anticipate that we will be seeing more and more" COVID-19 patients in the coming weeks, Lydiatt said.
Upcoming Thanksgiving and Christmas holidays could make things even more dire, as there have been case spikes following Labor Day and the Fourth of July.
Dr. Cary Ward, chief medical officer of CHI Health, said whether and how to gather for the holidays is "a personal decision people have to make," but he recommended that those who do get together follow mitigation guidelines such as social distancing, wearing masks when appropriate and keeping gatherings small.
One of the factors that's currently fueling the rise in hospitalizations in Omaha and Lincoln is the number of patients coming from outside those metro areas.
On Monday, more than 45% of the patients hospitalized in Lincoln were not from Lancaster County, and Omaha-area hospitals also have a significant number of patients from other areas.
Ward said that unlike in the spring, when there were pockets of COVID-19 outbreaks, "there is a lot of disease everywhere" now.
He said CHI St. Francis in Grand Island, which was overwhelmed with COVID-19 patients in April because of an outbreak at a large meatpacking plant, is seeing even higher patient numbers now.
Ward said hospitals farther west, such as in North Platte and Scottsbluff, are seeing high numbers of COVID-19 patients, too.
"They're all completely full, including the ICU, at times," he said.
Ward noted that there are no mask mandates in those areas and you can walk into most businesses and see few if any people wearing masks.
Lydiatt, Ward and Dr. Harris Frankel, chief medical officer at Nebraska Medicine, all said masks work to slow the spread of the virus and everyone should be wearing them in situations where they can't socially distance.
"There's no room for further debate about the efficacy of masks," Ward said.
However, none of the doctors would go so far as to suggest a statewide mask mandate is needed.
Frankel said he'll "leave the political decisions to the politicians," but he did say that more mitigation methods, such as further reducing capacity in restaurants and bars, could be warranted.
"Whatever is going to be necessary to stop this is the right answer," he said.
Gov. Pete Ricketts said Monday that state officials are "continuing to monitor whether we will need to do more with our directed health measures."
Ricketts last month reinstituted some capacity restrictions on restaurants and bars and also dictated that hospitals must keep at least 10% of their beds open for COVID-19 patients.
He said that it typically takes at least two to three weeks to know if those changes, which took effect Oct. 21, are making a difference.
Ricketts also noted that his goal all along in instituting coronavirus-related restrictions is to conserve hospital capacity. Despite the huge increase in COVID-19 hospitalizations, the Nebraska Department of Health and Human Services on Sunday reported that 32% of all the state's hospital beds remain available.
But the doctors who spoke Monday are clearly concerned about capacity if COVID-19 cases do not start declining soon.
They said it's not so much about physical capacity — all three hospital systems can create additional beds by opening up unused areas or repurposing certain spaces — but about having enough people to staff them.
CHI Health and the other health systems have all been utilizing traveling nurses and other temporary staff to help fill gaps, but those workers are in short supply.
"We're competing with 50 states for these travelers," Frankel said.