Dr. James Lawler has a direct and critical message he wants the people of Nebraska to hear.
"Their health system is going to be overwhelmed and will collapse in a matter of weeks, unless we do something different," the director of clinical and biodefense research at the University of Nebraska Medical Center said.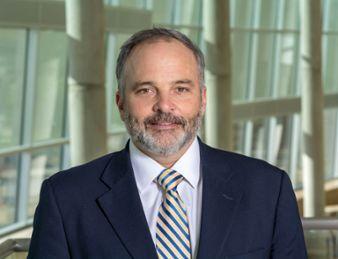 In Nebraska, nearly 75% of hospital beds are in use and about 70% of intensive care beds are full, according to the Nebraska Department of Health and Human Services. And case numbers are doubling every two to three weeks. 
Nebraska cases are nearing 90,000, and about 770 people have died from the virus. Lancaster County cases are nearing 12,000 with 54 deaths. 
What is causing the surge in Nebraska cases? Has the virus become even more contagious, or are there other reasons? 
Two studies, one in October of more than 5,000 COVID-19 patients in Houston, found the virus was accumulating genetic mutations, and one, located in the spike protein that pries open cells to make its entry, may have made it more contagious.
It's mutating in part because of random genetic changes, and because of pressure from people's immune systems, said Ilya Finkelstein, co-author of the study at the University of Texas at Austin.
During the initial wave of the pandemic, 71% of the novel coronaviruses identified in patients in Houston had this mutation, according to a report in Science Daily. By the second wave of the outbreak this summer, the variant had leaped to 99.9% prevalence. And that mirrors a trend observed around the world and in a July study published elsewhere.
A study of more than 25,000 genome sequences in the United Kingdom found that viruses with the mutation tended to transmit slightly faster than those without it and caused larger clusters of infections, the report said. Natural selection would favor strains of the virus that transmit more easily. The mutation could allow the spike to evade a neutralizing antibody that humans naturally produce to fight SARS-CoV-2 infections.
Some scientists suggest the mutation might have been more common in the first viruses to arrive in Europe and North America, essentially giving them a head start on other strains, the report said.
Lawler favors different explanations for the surge of cases in Nebraska. And those reasons have to do with missed chances to enact health directives and make good decisions to protect the state's residents. 
"The bottom line is you don't need a more infectious virus to explain this," Lawler said. "This is easily explained by the natural epidemiology of the virus and the fact that we're not doing the things that we know we need to do to stop transmission." 
SARS-CoV-2 is an RNA virus, and these viruses mutate frequently, he said. Their genetic evolution is constant, and multiple varieties and changes are expected.
The virus continues to mutate as it rips through the world, Finkelstein said. "And people are giving this virus a lot of chances," lead author James Musser of Houston Methodist told the Washington Post. Each new infection is a roll of the dice, an additional chance to develop more dangerous mutations.
UNMC has not done sequencing on the scale as the one in Houston, Lawler said. But he is not aware Nebraska researchers have seen any specific mutations that are predominating or indicate viruses with enhanced transmissibility.
The rate and rapidity of infection being seen in Nebraska and other places in the Midwest is similar to what was experienced in New York and Europe in the spring, and Europe now.
Nebraska is testing more than in the spring and finding a lot more of the cases than it did then. It's also experiencing a higher positivity percentage. 
In the spring across the country, Lawler said, only 1 out of every 18-20 cases was being detected. Now, it's 1 out of every 4-5. 
"We're still missing quite a lot. But we're catching a lot more than we did," Lawler said. "Our true infection rates are probably similar to, and in some areas of the country certainly exceeding, what New York saw during the spring."  
The outbreak is much more widespread than in the spring, affecting a much larger geographic area.
"We are watching exponential growth in action. That's how these epidemics grow," Lawler said. "We're not even close to the ceiling yet. So if you think case counts are high now, wait three weeks or six weeks."
Around Omaha, restaurants are full. Bars are full. People are having events at their houses. People are having 200- and 300-person weddings. Lincoln's Royal Grove nightclub recently had a concert with 500 attendees and pictures showed concertgoers crowded near the stage, many without masks.
"This is how a respiratory virus transmits," he said. "We did the things in the spring necessary to stop transmission. We are not doing them now." 
Limiting gatherings and mandating face masks will mean people more commonly comply, he said. He compared it to the history of seat belt use. When laws were passed, compliance went way up. 
Here's what he and other medical personnel say they would like to see: 
* Ban all gatherings of greater than 10 people. 
* Temporarily close all indoor dining, bars and clubs.
* Lower numbers of students at schools.
* Mandate wearing of face masks in public. 
"If we do all those things, we'll control the epidemic," Lawler said. 
Herd immunity has been suggested by some Nebraska politicians as a way to get through the pandemic, but is a bad strategy, and could result in 2 million deaths, Lawler said.
"That's when the health system is functioning well," he said. 
The fatality rate goes up considerably when health systems are overrun. 
"Our health systems are about two weeks away from being overrun in Nebraska," Lawler said. "Three weeks from now, when you have a heart attack, I'm not sure who's going to be able to treat you."