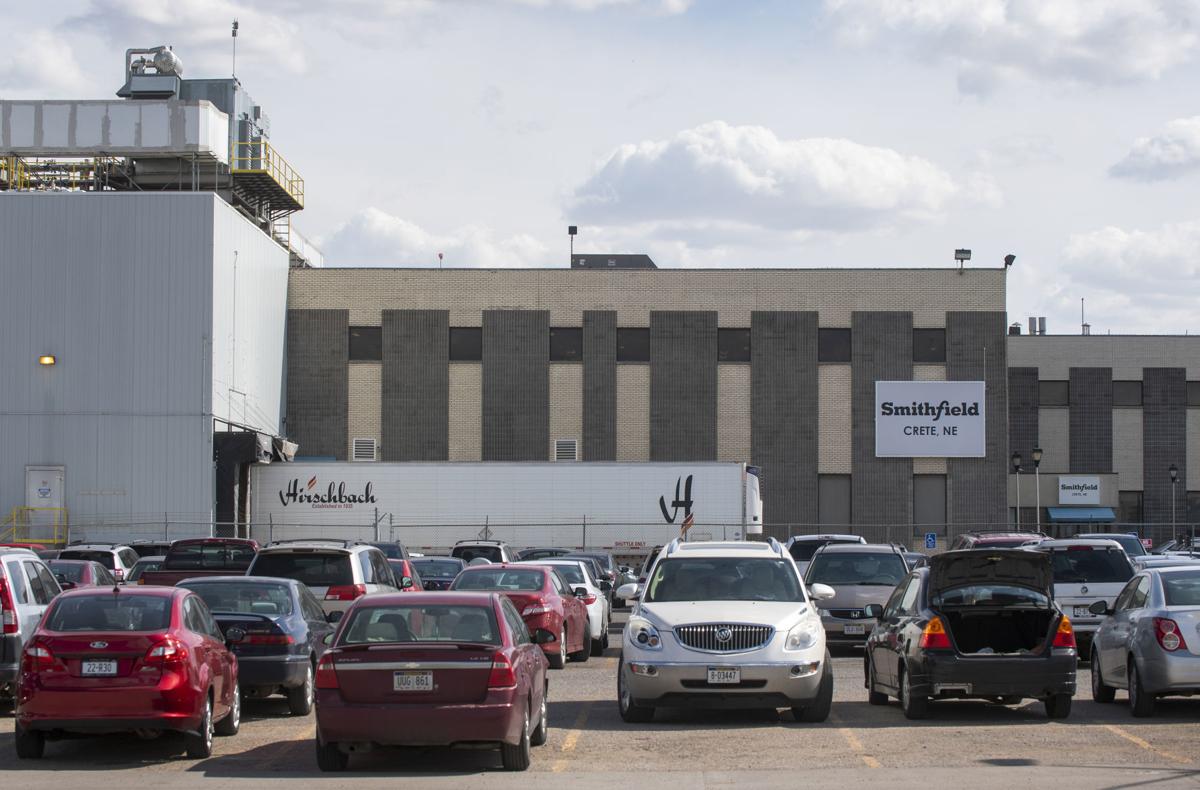 At least one Nebraska health department says it will no longer report specific COVID-19 case numbers linked to meatpacking plants after Gov. Pete Ricketts said the state will not release information related to specific businesses and only do so by industry.
Ricketts said on Wednesday during his news conference that because of health privacy laws, businesses do not have access to the results of employee tests and would have to rely on people voluntarily releasing the information.
He also suggested people might not be truthful with health care providers about where they work.
The Elkhorn Logan Valley Public Health Department said on its Facebook page that it will stop reporting case numbers from a Tyson plant in Madison, at least until it can get clarification from the governor.
"We had been awaiting clarification on these statements from Governor Ricketts," the post said. "Until clarification is received, we will not be releasing Tyson information until further notice, or until we hear otherwise that we may do so."
The last update from the Elkhorn Logan Valley district had 96 cases at the Tyson plant as of a week ago. The company announced plans Monday to shut down the plant temporarily.
Elkhorn Logan Valley appears to be the only health district so far to stop reporting meatpacking cases.
Lancaster Co. will continue to release data
On Thursday, Ricketts said health departments can release case information about specific businesses if they choose to, but he said his guidance is that they should only do so if they can verify it and the business signs off on it.
The Lincoln-Lancaster County Health Department has been reporting case numbers for the Smithfield plant in Crete and the smaller one in Lincoln, and it said it will continue to.
"There are no HIPAA violations discussing aggregate numbers from an outbreak area," the health department said in an emailed statement. "We will continue to report the number of Lancaster County residents who test positive and can be traced to the plants."
Public Health Solutions, the health district that includes Saline County, also has been reporting specific case numbers for the Crete Smithfield plant.
There are 139 employees of the Crete plant who live in that district with COVID-19 and 104 in Lancaster County so far. Lancaster County also has reported another 70 cases of family members or close contacts of those employees.
There are six employees of the Lincoln plant with COVID-19 and another three cases who had contact with those workers.
The numbers in Crete are among the highest number of confirmed cases at any meatpacking plant in the state. The Central District Health Department in Grand Island reported on April 21 that there were 237 cases at a JBS plant there, but it has not updated those numbers since.
ProPublica reports Ricketts intervened in plant closure
On Thursday, nonprofit news website ProPublica reported that health officials wanted to shut down the plant in early April after employees started showing up at the local emergency room and in clinics in large numbers, but Ricketts told them he would not allow that.
Within a couple of weeks, Hall County became the state's hot spot, with the most COVID-19 cases and most deaths in Nebraska, as well as one of the highest per-capita rates of infection in the country.
Ricketts said at his Thursday briefing that state officials learned important lessons from an initial outbreak at the JBS beef plant in Grand Island. He said state officials used that experience to test more aggressively in Lexington, another meatpacking town that hasn't seen as many cases but is still considered a hot spot.
Asked whether he should have done more to prevent the spread of the virus in the plants, Ricketts said critics were trying to "Monday morning quarterback" on a disaster that the state hasn't faced since the 1918 flu outbreak.
"Hindsight's always going to be 20/20," he said at his daily news conference. "It's called, yes, if I had known things two months ago that I know today, I would have done things differently. But that's called experience. Of course you hope you'd learn from your experience to do a better job going forward in the future, and that's what we've done."
It is also assumed that there are significant numbers of cases at the Tyson plant in Lexington and the Cargill plant in Schuyler, based on the high number of cases in the counties containing those cities, as well as surrounding counties. Health departments covering those counties have not reported specific case numbers linked to the plants.
ACLU unveils petition calling for more protections
Rose Godinez, an attorney for the ACLU of Nebraska, said workers have told her that some plants are following the recommendations of local and federal public health experts, but others aren't. The group unveiled a petition to local health districts on Thursday with more than 900 signatures, calling for more testing and protective equipment for workers and asking companies to offer paid sick leave.
Godinez said some workers received their first masks just two weeks ago, even though the outbreak began in March, and others are being pushed into unfamiliar jobs to compensate for staffing shortages.
"What we're seeing is a lack of worker input," she said. "The workers aren't being put at the table to say whether the guidelines are being followed."
The Sioux City Journal, citing an anonymous source, reported on April 30 that 669 workers at the Tyson plant in Dakota City had tested positive for the disease.
That plant, which had closed Friday for deep cleaning and to allow workers to be tested, reopened Thursday.
Douglas County Health Director Adi Pour on Thursday said there have been nearly 400 total cases there linked to meatpacking plants.
Ricketts on Thursday said there have been 1,005 COVID-19 cases at food processing companies in the state, which account for a little more than one of every seven cases.
State Sen. Adam Morfeld of Lincoln called Ricketts' comments about reporting case numbers from specific businesses a "political cover-up."
"There is no legitimacy to this as a privacy concern," he said in a string of posts on Twitter. "Understanding where outbreaks are occurring is important for the public and the government to know and understand from a mitigation and public safety point of view."
"No data = no spread = victory! We'll eventually say there's zero new cases in plants, sort of like the claim that zero Nebraskans in prison have the virus, but only because we've tested zero inmates," Morfeld said.
Reach the writer at 402-473-2647 or molberding@journalstar.com.
On Twitter @LincolnBizBuzz. The Associated Press contributed to this story.
Concerned about COVID-19?
Sign up now to get the most recent coronavirus headlines and other important local and national news sent to your email inbox daily.