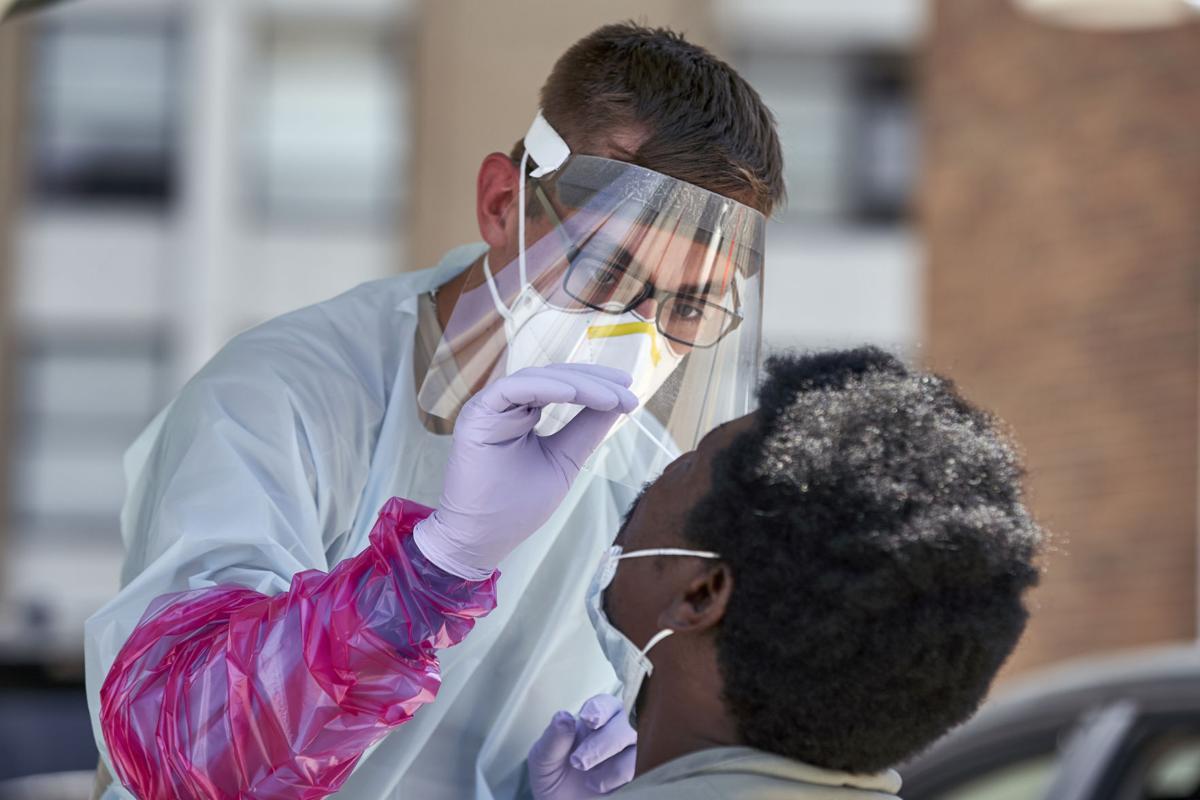 Gov. Pete Ricketts "is already too late to stop whatever UNMC will face in the coming weeks (but not too late to spare the hospital further grief next month)," Ed Yong writes in The Atlantic magazine.
"The pandemic's near-term future is always set, baked in by the choices of the past," he wrote.
"It means that some of the people who get infected over Thanksgiving will struggle to enter packed hospitals by the middle of December, and be in the ground by Christmas."
It's a stunning story centered on the University of Nebraska Medical Center and the approaching surge of COVID-19 hospitalizations in Nebraska, an article which the magazine is making available to everyone online.
It reads like a nightmare.
The 2021 Legislature convenes on Jan. 6 with more than the usual decisions to make.
Senators will choose a new speaker and select committee leaders, and they may also need to make a judgment on how to proceed with a pandemic raging across the state and a limited COVID-19 vaccination process presumably underway.
Recess for a couple of months? Proceed with caution?
Will there have been a dramatic change in conditions or in the looming threat 45 days from now?
The early guess among those who keep track is that Sen. Mike Hilgers of Lincoln will be selected as the new speaker, succeeding Sen. Jim Scheer of Norfolk, who will have reached the end of his mandated limit of two consecutive terms.
Hilgers, whose leadership and organizational skills built the fastest-growing law practice in Nebraska during the past few years, is chairman of the Legislative Council's executive board, which supervises legislative services and determines assignment of bills to specific committees for consideration.
Joyce Durand probably would be surprised — and I think perhaps both pleased and amused — to hear that her death led all the news stories online in both the Journal Star and the World-Herald for most of the day on Thursday.
Social media quickly overflowed with personal stories and memories about Durand, the Sidetrack bar in Lincoln, her band, her deep-voiced songs, her special lyrics, her, uh, colorful choice of words, which was part — but definitely not all — marketing tool.
Talked like a pirate, but she was super-smart and informed; politically wise and experienced; a force when she chose to be; a fighter when she needed to be; and she kept score.
And she always encouraged and looked after a wide variety of friends.
Tough, challenging and strong, but there were many acts of kindness, personal interaction, encouragement and counseling, a special bond that she formed with so many people.
You could see and hear it spill out on Twitter all day long.
A revealing profile interview with Sen. Lou Ann Linehan in the Council of State Government's Midwest newsletter.
"It's all about relationships and about trust.
"What you say and what you do have to be the same.
"Everybody has to be able to walk away with a win" for legislative negotiations to succeed, Linehan said.
"That has sometimes been a frustration of mine since becoming chair of the Revenue Committee — just convincing people that everybody has to get something.
"Nobody is going to get what they want unless everybody gets something."
Former President Barack Obama has kind words for Chuck Hagel in his new book, describing Nebraska's former Republican senator as "broad-shouldered, expansive and full of good humor."
Recalling a 2008 senatorial trip to Afghanistan and Iraq that included both men after Obama had won the Democratic presidential nomination, he wrote: "Chuck's willingness not only to travel with me but also to publicly praise aspects of my foreign policy just four months before the election was a bold and generous gesture."
Finishing up:
* Perhaps the central question that government leaders confront in dealing with an out-of-control pandemic is whether to adopt a policy of waiting until it gets worse to act or whether to try to prevent it from getting worse with what may be unpopular action now.
* Thanksgiving could be deadly.
* Up north, South Dakota Democrats now hold just 11 seats in the 105-member state legislature following this month's election. That's one-party rule on steroids.
* Saturday felt like the day the music died at Memorial Stadium. It's easy to recall huge disappointments, but can't recall such dismay.
* Stay safe; vaccine is on the way.