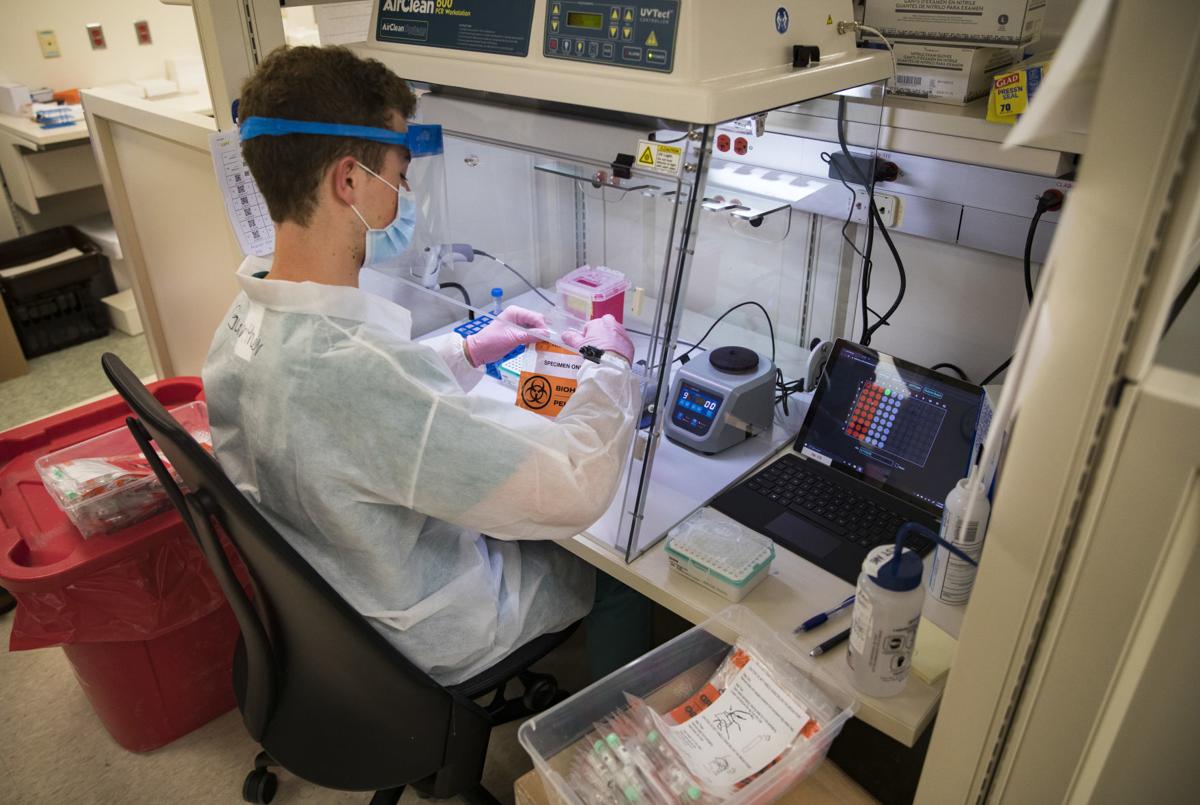 A number of Nebraska rights organizations have filed a letter of complaint with the U.S. Department of Health and Human Services Office of Civil Rights over Test Nebraska access for people with disabilities. 
The primary complainant, Disability Rights Nebraska, was joined by at least seven other Nebraska organizations, including The Arc of Nebraska, Brain Injury Alliance and Paralyzed Veterans of America Great Plains Chapter.
Test Nebraska is a public-private partnership to expand COVID-19 testing in locations around the state. It began May 4. 
The complaint offered stories of people shut out of testing because of their disabilities.
Stacy Cervenka and her husband, Greg DeWall, both blind, have two sighted children ages 6 and 2. Cervenka said the couple is concerned about how they could get to a testing site if one or more in the family should come down with COVID-19 symptoms. 
They don't drive, and if a doctor tells them to seek testing if would be unethical to go on a public bus, Lyft or Uber with symptoms, Cervenka said. The family moved to Lincoln from California two years ago and their extended families all live hundreds of miles away. 
"I think that every state needs to have plans in place to make sure that people who are nondrivers have access to COVID testing," Cervenka said. 
Test Nebraska could dispatch health care workers to a person's residence to do testing for those who can't make it to a site, she said. Or provide safe transportation in which a driver is wearing proper protective equipment. 
Cervenka said family members participate in daily activities, such as day camp for the kids, going to the grocery store and interacting with the public, where virus exposure could take place. 
She said her son was sent home from a day camp recently with a rash that the staff was concerned could be COVID-related, and they wanted a doctor's note for him to return. The parents were able to verify it was not COVID-related, but if he had needed to be tested, they could not have accomplished that, she said.  
Dea Henke of Lincoln is also a person who has been left out of testing. She lives with a form of muscular dystrophy and no longer drives. When she developed symptoms including fatigue, muscle aches, a sore throat and vomiting, she called her doctor.
She was directed to take the Test Nebraska questionnaire. When she was approved for testing but could not drive there, her doctor told her the only option was to stay at home and see if her symptoms became bad enough to merit a trip to the emergency room in an ambulance. Henke already uses a ventilator at night to aid her breathing and is worried about her symptoms, which have not yet subsided.
Some people with disabilities also do not have access to computers and the internet, which is how people sign up for Test Nebraska. 
Disability Rights Nebraska CEO Eric Evans said Gov. Pete Ricketts was asked at a news conference earlier this month about criticism that Test Nebraska wasn't accessible to people with disabilities. 
Ricketts responded he was more concerned at the time about getting the Test Nebraska system up and running "for the regular customers, so to speak, if you want to think about it — the drive-up customers that the system was originally designed to serve."
Evans said Ricketts' comment was disheartening.
"Perhaps this is merely a poor choice of words on the governor's part, but it certainly suggests that people with disabilities are second-class citizens in this case and we have fought against this perception for decades," Evans said. "All Nebraska citizens deserve equal access to this important and potentially life-saving program." 
The complaint said the state must take the following actions: 
* Issue a directive that people with disabilities who are unable to travel to Test Nebraska sites will be provided with testing, including through mobile testing at individual residences and/or by providing transportation at no cost
* Offer a screening process that does not require internet access.
How to get help in Lincoln
I'm quarantined with an abuser…What should I do?
How Do I Apply For Health Insurance?
How Do I Apply For Unemployment? - Full application walkthrough
Who Can Help Me With Rent Payments?
Where Can I Find Food Resources?
How Do I Apply For Medicaid?
How to Access to Free or Reduced WIFI
Where Can I Find A Job During The Pandemic?
What If I Receive An Eviction Notice?
How Do I Apply For SNAP?