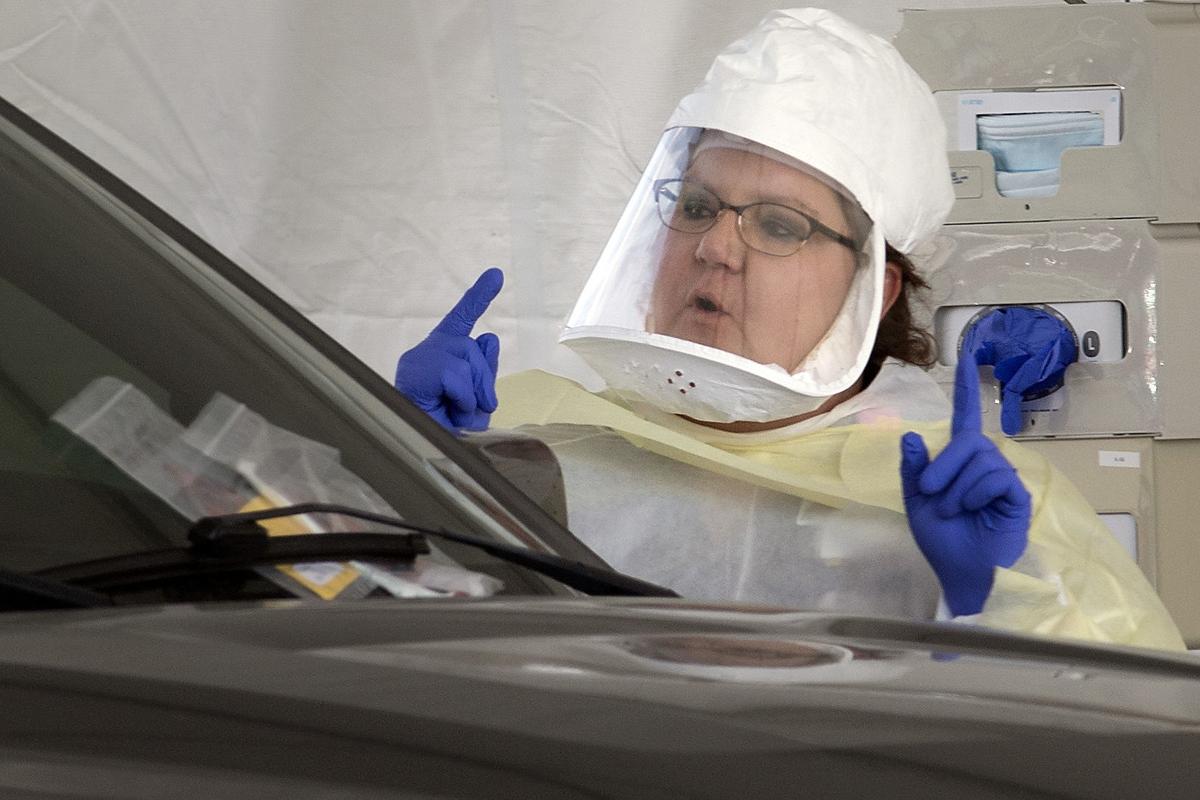 There's a science to match the new world we're living in now. 
It's called outbreak science, and it comes with an important companion: mathematical prediction tools that are garnering a lot of attention. 
The White House reviewed a dozen such models recently, and one of its own creation, for making decisions regarding the coronavirus crisis.
But a University of Nebraska Medical Center professor and infectious disease specialist, David Brett-Major, says models are not meant to be answers. They are only meant to be guideposts for planning, and as sentinels for resources. 
Some coronavirus model predictions have been criticized for their complexities and uncertainties and the inevitable confusion they cause among a public that wants information, maybe some reassurance. 
It's a given that outbreak models will change as their developers learn more about the real numbers of cases, deaths and spread.
"And so it's a numbers-chasing game we have not joined. Or at least I have not," Brett-Major said. "Models are a conversation and not a formulaic output." 
A COVID-19 forecast by the respected Institute for Health Metrics and Evaluation at the University of Washington attracted media attention this week for its state-by-state model.
Originally published March 26, it has been updated twice since. Initial projections of 424 deaths in Nebraska grew to 442 and Wednesday to 448. 
The latest projection put the peak for deaths in Nebraska at 15 per day April 24, dropping to zero by June 13.
It assumes continued social distancing and predicts Nebraska will have adequate hospital beds. And there will be a need, the model indicated Wednesday, for 168 ventilators. 
A real-time tracking of the virus by the Nebraska Department of Health and Human Services showed Nebraska's curve is starting sharply upward, with 214 confirmed cases and five deaths, as of Wednesday evening. Douglas County has nearly half of those cases.
The University of Washington model is for the first wave of the illness.
"We seem to be smoldering," Brett-Major said of Nebraska. "We seem to be still early. We probably are experiencing more cases than we know. But on the other hand, we probably are in a better place than most regarding testing."
Nebraska's curve upward in cases will probably be later and, with hope, lower than hard-hit states, he said, and affected by public health directed measures that closed restaurants and schools and mandated no gatherings larger than 10 people.
Brett-Major said for their planning purposes, he and his colleagues look at sources of large data and compile information to know how to provide health services and continue to maintain the medical center system. UNMC is a sounding board for the state and expected to provide a depth of information, working alongside Nebraska public health officials. 
He is a member of a group that published an article in "Nature Communications" recently on using outbreak science to strengthen the use of models during epidemics. 
Infectious disease modeling has played a prominent role in recent outbreaks, but integrating it into public health decision-making has been challenging, the article says. 
The group would like to see the way people organize and report on models in emergencies change, with better communication and connections between those who build the models and those public health officials who use them. 
Models, for the most part are not bad guesses, Brett-Major said, although there have been guesses that have been wildly wrong, such as during the Ebola outbreak in West Africa in 2014-2016. 
With the coronavirus, investigators are able to look at and get information on its movement from variant influenza viruses, those that start in animals and move to humans. 
"Even though this coronavirus probably does transmit more easily than a usual new strain of flu, there's a lot more experience with this, so we kind of know that it's going to be common," he said. "We know that it's going to spread in a way with which we're accustomed. And we know there's not a lot of immunity in the population to slow it down yet." 
Weather can cause breaks in the patterns. And when this virus comes around again, there will be more immunity to lessen it some, and then it will go in cycles and eventually be one of the common coronaviruses that are seen, he said. 
"In fairness, the rest of it might be predicted even better than the stock market," he said. 
Concerned about COVID-19?
Sign up now to get the most recent coronavirus headlines and other important local and national news sent to your email inbox daily.