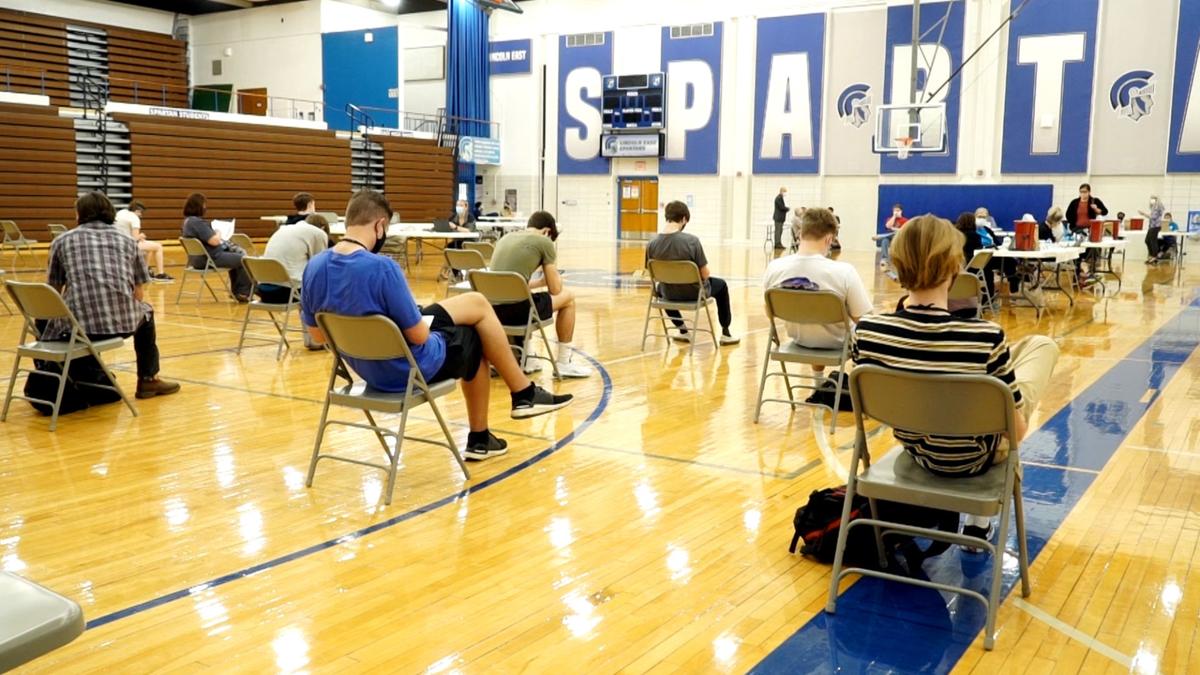 COVID-19 cases and hospitalizations in Nebraska both dropped sharply last week, signaling that the state might be turning a corner and avoiding a "fourth wave" of the disease.
According to the Department of Health and Human Services, there were 1,745 cases in the seven-day period that ended Wednesday, a decline of more than 30% from the previous week. Over the past three weeks, the average number of daily cases has fallen by almost half, from 491 to 249.
The number of people hospitalized also has declined sharply, dropping from 168 on April 18 to 128 as of Thursday.
The patients who are hospitalized tend to be younger than they were a couple of months ago and usually are not as sick. At Bryan Health, for example, there has not been a COVID-19 patient who has needed a ventilator in more than two weeks.
While those are encouraging signs, health experts say it's too early to declare victory over the pandemic, which is now nearly 14 months old in Nebraska.
Dr. Mark Rupp, chief of the University of Nebraska Medical Center's infectious diseases division, said it's clear that COVID-19 vaccination rates are reaching a level where they are having a "beneficial effect," but there's still a long way to go.
"I think it's way too early to get complacent and to feel like we are done with this pandemic," Rupp said.
As of Thursday, nearly 56% of Nebraskans 16 and older had received at least one dose of either the Pfizer or Moderna vaccines, and more than 42% were fully vaccinated with two shots of Pfizer or Moderna or one shot of the Johnson & Johnson vaccine.
In Lancaster County, those numbers are even higher, at about 66% partially vaccinated and 46.6% fully vaccinated.
That's above the 40% threshold that many health experts consider to be a milestone based on the results in Israel, which saw a steep decline in cases once it reached a 40% vaccination rate.
"When you get to somewhere between 40% and 50%, I believe you're going to start seeing real change, the start of a precipitous drop in cases," Dr. Anthony Fauci, chief medical adviser to President Joe Biden, told the Wall Street Journal earlier this week.
Dr. Bob Rauner, president of the Partnership for a Healthy Lincoln and chief medical officer of OneHealth Nebraska, said he's "cautiously optimistic" that vaccines are having an effect on COVID-19 cases and hospitalizations.
"I think we may be hitting a threshold of vaccination that is working if we can keep it up," Rauner said.
Keeping up the vaccination pace is something that might be difficult, however.
Only about 5,500 Lancaster County residents got a first vaccine dose last week, down from 15,000 the previous week and the lowest total since the week ending Feb. 26.
Total vaccinations, including first and second doses, numbered about 11,500 last week, down from 24,600 a week earlier.
Lincoln-Lancaster County Health Department Director Pat Lopez said the county received 8,200 new doses this week but will not be getting any new doses next week because it has enough currently to meet demand.
"We expect to continue to make steady progress in our vaccination efforts, but in smaller increments than we've seen previously," she said.
The Health Department plans to shift to holding smaller-scale clinics in the community in the coming weeks.
"These clinics will provide residents with additional options that help make vaccination accessible, convenient and close to home," Lopez said.
The decrease in the number of Lancaster County residents getting vaccinated mirrors a statewide trend. State health officials said 93,284 doses of the vaccines were administered last week in Nebraska, which was less than half the 211,057 doses the state reported a week earlier.
According to the New York Times, Nebraska has fallen to the middle of the pack in vaccinations, ranking 25th among the states and Washington, D.C., for percentage of people who have had at least one shot. It is a bit higher for percentage of people fully vaccinated, ranking 17th.
Dr. Kevin Reichmuth, a Lincoln pulmonologist, said there was very good demand early on for vaccine from high-risk groups such as the elderly and people with medical conditions, as well as from health care workers.
And when you combine the number of people vaccinated with those who have had COVID-19 and recovered, the population is getting closer to herd immunity levels, he said.
"I feel really good (about) where we're at," Reichmuth said.
But that does not negate the need for younger, healthier people to get vaccinated, he said, noting that Michigan was in a good place and seeing a large decline in cases before it became the worst hot spot in the U.S. over the past few weeks.
"It's not impossible that we could go backward if people become complacent," Reichmuth said.
A big factor in Michigan's outbreak has been people getting infected by COVID-19 variant strains, something that's showing up more and more in Nebraska.
As of Wednesday, the state Department of Health and Human Services reported 594 known variant cases, more than 80% of which are the U.K. strain of the virus, which is the dominant strain in most of the U.S. That's more than double the number of variant cases from just two weeks ago.
Rupp said vaccines are much more effective against variant strains of COVID-19 than natural immunity is. In fact, he said many of the cases of reinfection he sees in people who have already had the disease are caused by variants.
He also said that the more people who get vaccinated, the more it reduces potential spread of the disease, which makes it less likely that new variants will emerge.
Rauner said a new variant emerging is one of the things he's most concerned about, along with waning immunity in people who had mild cases of the disease and the relaxing of mask mandates too soon.
There are few places outside of Lincoln and Omaha that still require masks, even though transmission rates in most areas are higher than levels recommended to go without masks.
Rupp said case rates across Nebraska are at levels of about 15-20 per 100,000 people and they need to be at 5 or below for masking to no longer be necessary.
Both Rupp and Rauner also believe that masks should remain in schools until vaccinations are available to children.
Rupp said he didn't want to speculate on when that will be, but hopes approval will come sometime during the summer.
Though younger children tend to have milder cases of COVID-19, they still can spread the disease, and Rauner said getting them vaccinated as soon as possible is important.
"If we can get the vaccine to family physician and pediatrician offices, they can concentrate on getting as many kids as possible vaccinated this summer at their school and sports physicals," he said. "If we can do that effectively, we would make a ton of progress toward achieving herd immunity and may be able to delete masks in middle school and high school kids when they come back to school in August."
Even if enough people get vaccinated to reach a level needed to be considered herd immunity, it won't mean the end of COVID-19, Rupp said, but the more people who get vaccinated, the more manageable the disease will be.
He said Nebraska's progress so far is a good start.
"Clearly, we're well down the road to getting this to be something we can all deal with and live with," Rupp said.