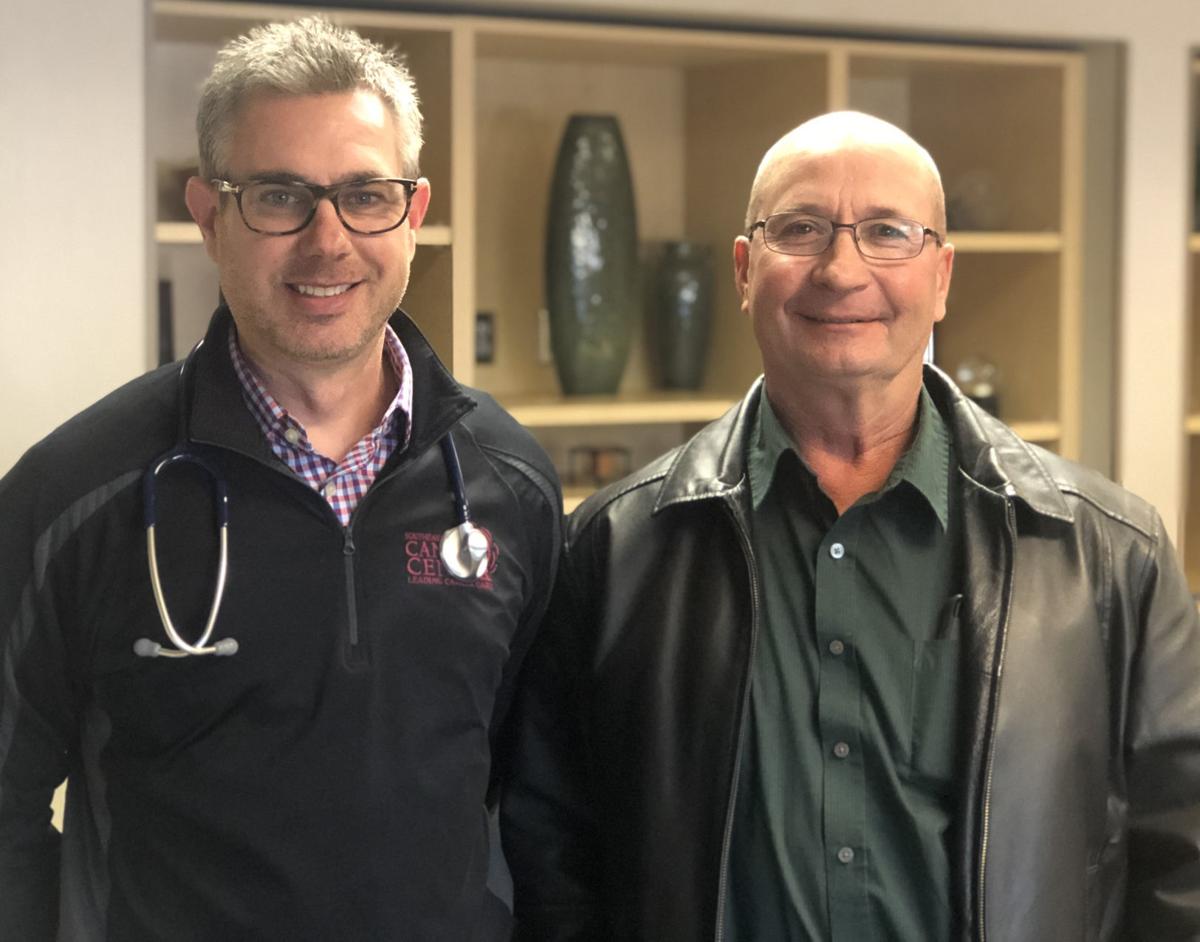 Greg Rezac was at a loved one's birthday dinner when he began to not feel well. That night, he realized that nature hadn't taken its course yet, and began to worry if something inside wasn't right.
The next morning, after a large breakfast, nature still hadn't taken care of its business. Worried, he made an appointment with his family practice doctor.
He got in to see his doctor right away and immediately requested a colonoscopy to investigate further. The prognosis from the colonoscopy wasn't good: He was diagnosed with stage 3 colon cancer in November of 2013. Greg met with his medical oncologist, Steven Dunder, MD, at Southeast Nebraska Cancer Center (SNCC).
"Dr. Dunder explained everything very clearly as to what needed to be done," Greg said. "He went through each step and made sure I understood my prognosis and treatment."
Greg completed six months of chemotherapy to fight off the cancer. During the chemo, he continued to work construction, only missing a few works days. The treatment wasn't easy for him, but the staff at SNCC made it more manageable.
"The staff always greeted me with a smile," Greg said. "During treatments, I was offered warm blankets to comfort me, and the nurses could always cheer me up, even though I wasn't feeling well."
In hindsight, he wishes he would have made the decision to see his family doctor sooner and that treatment could have been a little easier. Some signs and symptoms of colon cancer include:
• A change in your bowel habits, including diarrhea or constipation, or a change in your stool consistency that lasts longer than four weeks.
• Rectal bleeding or blood in your stool.
• Persistent abdominal discomfort, such as cramps, gas or pain.
Cancer returns
After completing his treatments, Greg returned to work and his normal routine. In 2017, the cancer returned with a vengeance. This time, Greg was diagnosed with recurrent disease/metastatic colorectal cancer, stage 4. He underwent chemotherapy again for another six months. Even though the prognosis wasn't something he wanted to hear, he knew he would get through it with Dunder and his team at SNCC.
"When Dr. Dunder broke the news that the cancer came back, I think he was more upset about it than I was," said Greg. "He made sure I knew what was ahead of me and encouraged me to stay positive for this second round."
Today, Greg lives cancer-free. He works at his construction company and spends time with his family and loved ones.
Get checked
March is National Colorectal Cancer Awareness Month. Greg continues to encourage his family to get checked and tells others to research their family history of the disease. The CDC says that among cancers that affect both men and women, colorectal cancer is the second-leading cause of cancer deaths in the U.S. If you're age 50 to 75, get screened for colorectal cancer regularly. If you're younger than 50 and think you may be at high risk of getting colorectal cancer, or if you're older than 75, ask your doctor if you should be screened.
Early detection
"Screening practices for colon cancer have improved over the past few years," said Dunder. "When detected early, there are better treatment options available and survivorship increases dramatically. Colon cancer is one of those cancers that is preventable, treatable and beatable."
That's why a screening test is so important. Several screening options for colon cancer exist. "The best screening test is the one that a person is willing to have," he said.
During March and April, free home screening kits are available at pharmacies across Lancaster County. A fecal occult blood test (FOBT) looks at a sample of your stool (feces) to check for blood. For more details about the screening kits, visit lincoln.ne.gov/city/health/hpo/LCCAgainstCancer.htm.
SNCC provides comprehensive cancer care in Lincoln and 12 communities in Southeast Nebraska. It is composed of seven medical oncologists and two radiation oncologists along with multiple supportive care services. For more information, visit LeadingCancerCare.com.