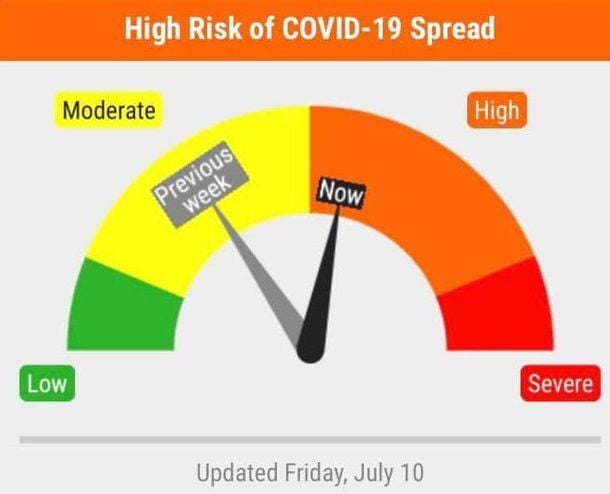 City health officials sounded an alarm Friday about rising coronavirus cases in Lancaster County, pushing the local risk dial into the orange, or high, category.
The risk dial has been in the yellow, or moderate, category since June 5. 
And since introducing the risk dial May 11, this is the first time the risk level has increased, Mayor Leirion Gaylor Baird said during a news conference. 
The "clear reversal of progress" can be seen in the data points, including new cases over the past week and the highest percentage of positive tests seen in eight weeks, Gaylor Baird said.
Similar upticks in cases have been reported in states nationwide as coronavirus restrictions have eased.
Lancaster County has been in Phase 3 of the state's reopening plan since June 22.
"This virus is not taking a summer vacation," Gaylor Baird said. "This virus is happy to give Phase 3 the middle finger and reverse our progress if we let it."
People in every political party should embrace wearing face masks, Gaylor Baird said. And residents should question how necessary a trip to the store is before going out and about.
"How would I feel if my actions led to someone close to me getting COVID-19?" she asked. "Is going out worth the risk to my health and the health of others that I care about?" 
Lancaster County is not currently considering requiring face masks in public, said Pat Lopez, interim director of the Lincoln-Lancaster County Health Department.
An increase in new cases and positivity rates, compounded by delays in testing results over the past two weeks, were factors in moving the risk dial, Lopez said. 
On Friday, the local health department reported 30 new coronavirus cases, pushing the county's total to 2,028. That includes 167 cases this week, with numbers from Saturday likely to push the weekly total beyond any week in the past month.
Positive tests are running at 7.5% this week, up from 6.9% last week and the highest level since the positivity rate peaked at 13.9% in the week ending May 9.
Cases involving younger county residents are driving some of the increase in numbers, officials said.
The 40-and-under age group accounts for 70% of all cases since June 22, Lopez said. 
Young people with the coronavirus might not end up hospitalized, but they may result in other people requiring hospital care when they unknowingly spread the virus, Gaylor Baird said.
On Friday, Lincoln hospitals reported 15 patients with COVID-19, up from single digits earlier this month.
The number of recoveries locally is 740. The Lancaster County death toll remained at 13.
Photos: Lincoln during the pandemic