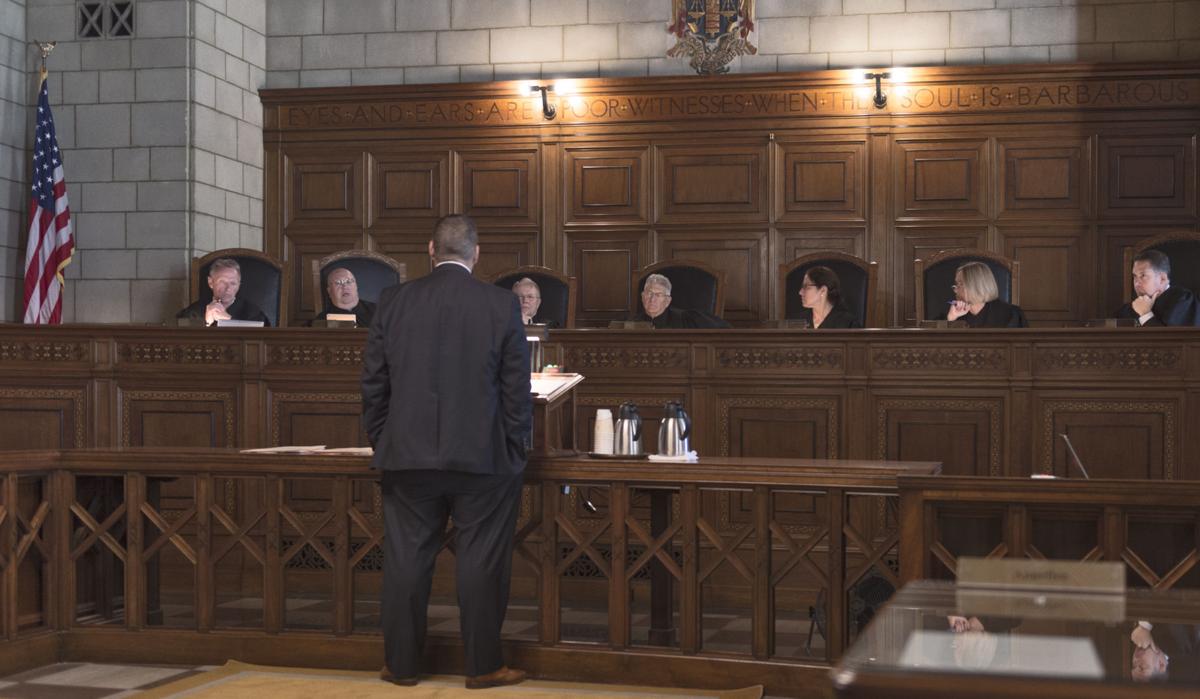 David Sears was one of three law school graduates in the state to petition the Nebraska Supreme Court last week to allow aspiring attorneys to skip the examination for admission to the bar.
They want the court to grant all applicants emergency diplomas to allow them to start working as the coronavirus continues to endanger people in large gatherings, such as test sites. 
Administering the two-day exam as planned, even with precautions, is uncertain and unsafe, said Sears and Jessica Gilgor, Creighton University Law School graduates, and Dave Gottschalk, a graduate of the University of Nebraska College of Law.
They are not alone in their concerns.
Many exam applicants wrote impact statements to the court telling of their angst and the danger they see in having to take that test in person with up to 148 other applicants.
They worry about their families and grieve over leaving law school for spring break and then never stepping foot in a classroom again, with its camaraderie and academic support. They have struggled to find safe and quiet places to study, with libraries closed and their apartment buildings teeming with homebound workers and kids.
"The bar exam is extremely stressful in times of normalcy," one applicant told the court, "however this catastrophic worldwide pandemic has increased the stress exponentially."
Few have witnessed such a situation surrounding the annual bar exam. 
"We make requirements for taking the bar. … There are high levels of security involved. But we have never seen this kind of reactional response," said Carole McMahon-Boies, administrator of the Nebraska Supreme Court attorney services division. 
She understands, she said, this pandemic is hard on people. 
In their petition to the Supreme Court, which denied it in a ruling on Saturday, the applicants argued emergency declarations and health directives have been made locally and nationally that allow for special circumstances. Ricketts has issued no less than 31 executive orders since March 31 related to the pandemic, they said. 
Applicants have experienced substantial hardships creating profound inequities, including financial stress, loss of income, housing uncertainty, increased childcare responsibilities, obligations to support families and mental health impacts, they told the court. 
Communities of color, which are among the applicants, have been disproportionately affected by the virus. The entering class of 197 at Creighton in 2017 included 25 minority students. At the University of Nebraska, 7% of 133 first-year law students were minority. 
The bar has placed additional requirements on the July 28-29 test takers. They include a mandatory coronavirus test to be taken July 24, followed by quarantining until the exam. Applicants or their insurance must pay the $157 for the test. They must also sign a liability release related to contracting the virus, and keep a temperature log for five days before the test. 
The court said financial assistance is available for those unable to pay for the COVID-19 test. 
Masks are required, and the court will supply them, cloth or surgical, McMahon-Boies said. Temperatures will be taken and physical distancing enforced. Health department personnel will be on site during the exam. 
Failure to comply with any of the requirements could be seen as a failure of character and fitness, and disqualify applicants from admission, administrators said. 
The test will be at the Lincoln Marriott Cornhusker Hotel in a 10,000-square-foot conference space. 
Applicants said their questions about whether proctors will be similarly required to take a COVID test have gone unanswered. 
McMahon-Boies told the Journal Star the proctors are Supreme Court employees and the court is taking great care not to expose them to disease, with masks and face guards, distancing and daily sanitizing of the site. 
She said that while those seeking to take the exam can be required to take a COVID-19 test, the law says employees can be offered the test but not required to take it. 
She said the Lincoln-Lancaster County Health Department would alert the Supreme Court if anyone comes down with the virus after the exam, and those in the room who are exposed would be contacted. 
McMahon-Boies said the office has been tracking the pandemic since March in anticipation of the bar exam. Officials had daily contact with national organizations affiliated with bar exam preparation and administration.
"This has just been a huge, ongoing effort on making the decision of how this can be done and can be done well," she said. 
In addressing the petition, the Supreme Court said the examination was necessary to protect the public from lawyers who do not meet minimum qualifications. The pass rate for Nebraska law school grads has been about 72%.
"Administration of justice does not stop in a public health emergency," the court said.
Evolving circumstances presented by the spread of the virus will be carefully monitored, the court said.
Sears, who lives in Omaha and whose wife is immunocompromised, said he had already signed up to take the bar exam in Missouri, but would rather take it in Nebraska, since he just bought a home in Nebraska and plans to practice here. But he will go ahead and take the exam in Missouri, he said, where he feels the examiners are being more transparent about requirements.
The bar exam is a poor measure of lawyering competence, he tweeted Saturday, citing a statement to that point from Norm Krivosha, Nebraska Supreme Court Justice from 1978-87.
"But we use it to filter out the 'incompetent' legal practitioner anyway?" 
The only thing that changes between a failed first test and a subsequent successful exam is an applicant's standardized test taking skills, Sears said.
Build your health & fitness knowledge
Sign up here to get the latest health & fitness updates in your inbox every week!