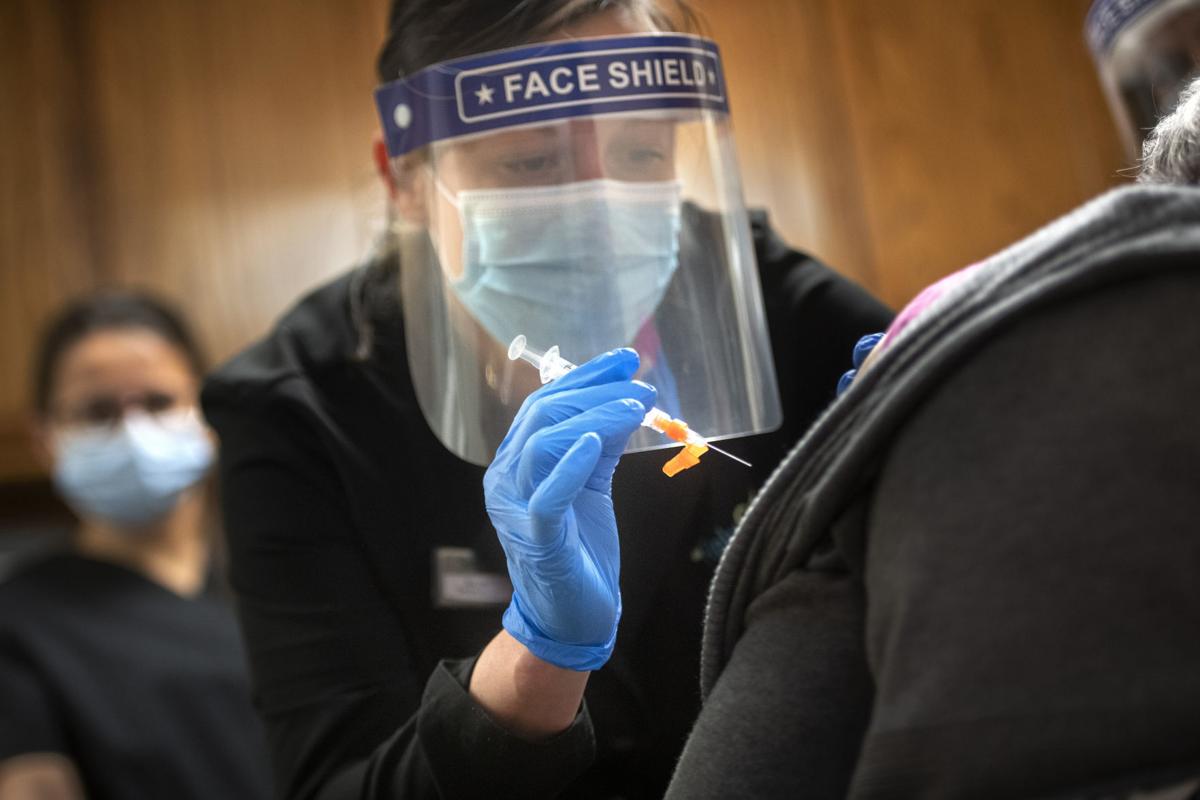 A state official on Thursday said expanding eligibility for COVID-19 vaccines to people 65 and older is not likely to cause logistical problems, but it could mean it takes several months for people in the next phase to get vaccinated.
Nebraska on Wednesday said it would follow federal guidance and lower the age of people eligible for shots in Phase 1B of its vaccination program from 75 to 65.
Angie Ling, incident commander for the Nebraska Department of Health and Human Services, said during a Facebook Live session Thursday that she doesn't believe that change will interfere with a smooth rollout of the next phase, "but it might take a little more time."
Last week, Ling had said there were approximately 130,000 Nebraskans 75 and older who would qualify to be vaccinated in Phase 1B. On Thursday, she said the number of people in Phase 1B had climbed to more than 400,000 with the addition of people ages 65-74.
Ling said she hopes vaccinations can start for most people in Phase 1B, which also includes people with certain medical conditions as well as police officers, teachers and other essential workers, within the next month or so, but she admitted it could take four months to fully vaccinate everyone in the group. Both vaccines approved for use require two shots. The Pfizer vaccine requires two doses three weeks apart, and the Moderna one requires shots four weeks apart.
Ling said the state's website portal for people to sign up for vaccines is still at least two weeks away, and she pegged Jan. 28 or 29 as the likely date for it to go live. Last week, she said it would likely be up and running in two weeks or less.
The information comes as many people in Phase 1B, especially in Lancaster and Douglas counties, wonder when they will be able to get vaccines.
John Woodrich, CEO of Bryan Medical Center, said Thursday that Lancaster County is still working on getting certain health providers in Phase 1A, such as dentists, chiropractors and hospice providers, scheduled for their vaccine.
Woodrich said 3,900 of Bryan's employees have received at least one vaccine dose and 2,600 of those have gotten their second dose. It also has given the vaccine to more than 1,100 health care providers in its network, and about 500 of those have gotten their second dose.
On Tuesday, city officials said they were working to get vaccine doses administered as fast as they can but that it would likely be next month before people in Phase 1B start getting vaccinated.
As of Tuesday, 8,300 county residents had received a first vaccine dose, and another 1,500 were scheduled to receive one by the end of next week.
On Thursday, the Lincoln-Lancaster County Health Department said vaccinations of health providers should be done next week and vaccines should be available soon for school nurses, dentists, dental hygienists and dental assistants.
It said it is actively planning for Phase 1B, having launched a survey to physicians' offices throughout the county, asking them to identify patients in the 65 and over age group as well as those with underlying medical conditions. The Health Department is also working with numerous community partners who will help support vaccination efforts.
"The plan is to open Phase 1B as soon as vaccine supply is available," the department said in a news release. "More specifics will be announced as they're finalized."
Some areas of the state, especially health districts in western and central Nebraska, already have started vaccinating people in Phase 1B.
Some area health districts have indicated they could start vaccinating people in Phase 1B soon. Public Health Solutions, which covers Fillmore, Gage, Jefferson, Saline and Thayer counties, said Thursday that it expects to wrap up vaccinations of people in Phase 1A by Jan. 22 and would then be ready to move into Phase 1B if there is vaccine available.
Four Corners Health Department, which covers Butler, Polk, Seward and York counties, said in a Facebook post last week that it hopes to start vaccinating people in Phase 1B by the middle of this month.
Both of those health departments are offering online pre-registrations, as is the Sarpy/Cass Health Department.
Ling said some of the more sparsely populated areas of the state have been able to move into Phase 1B faster because not as many health workers as anticipated chose to get the vaccine.
She did say, however, that state officials "are putting a lot of (vaccine) allocation into the Lincoln and Omaha areas" and hope to finish Phase 1A vaccinations by the end of the month.
MILESTONES IN NEBRASKA'S CORONAVIRUS FIGHT
Milestones in Nebraska's coronavirus fight
See the top stories on coronavirus in Lincoln and Nebraska since the pandemic first affected the area in March.