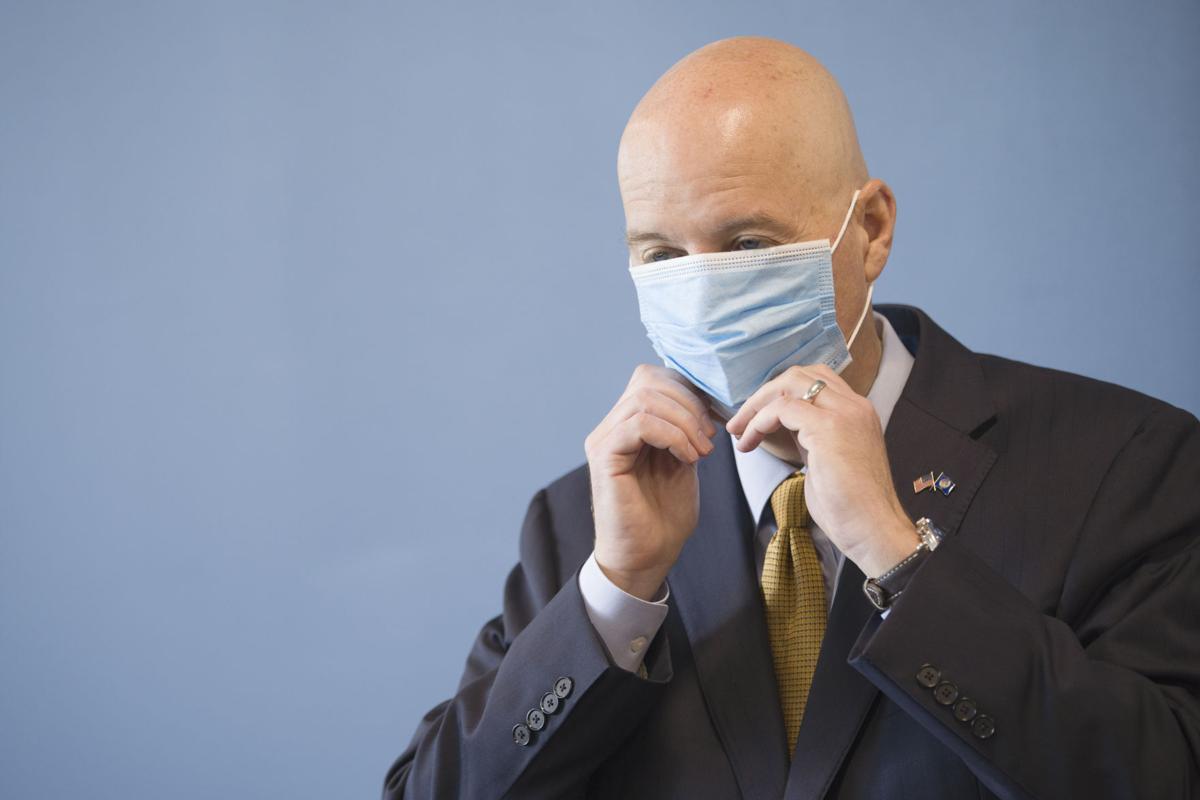 Gov. Pete Ricketts and first lady Susanne Shore are quarantining for 14 days after close contact with someone who has tested positive for COVID-19, the governor said Tuesday.
On Sunday night, Ricketts and Shore had three friends at their home for dinner outside, Ricketts said at a Tuesday afternoon news conference.
"One of the folks who came over for dinner since has tested positive (for the coronavirus)," he said. 
Their guests were not identified.
Ricketts said he and Shore would not consider the exposure as letting their guard down, as some others have talked about in their own cases with the current surge of COVID-19 in Nebraska. 
"We had the dinner outside because we knew it would be the last time we would be able to do something like this with the nice weather, at least before the end of the year, so that we'd have good ventilation," he said. 
The guests wore masks when they came into the house, he said. 
"It does demonstrate that we just all need to be careful with regard to social interactions and try to keep them to small group gatherings because the virus spreads from person to person," he said.
The couple's 14-day quarantine period will be from Sunday evening through Nov. 22. 
"We, like many people across this country, are going to adapt to the new world we're in, and do things virtually," he said, addressing the news conference by Zoom. 
He will continue to work remotely during the quarantine period, he said.
Ricketts and Shore aren't showing symptoms but will get tested after waiting at least three or four days, he said. An early exposure may not have had enough incubation time to be picked up by testing.
The governor said Shore was able to get testing times in the Omaha area for later this week. Turnaround time for a test is generally 24 to 36 hours. 
Ricketts is getting tested about once a week, he said, the last time about a week ago, and it was negative. 
Ricketts took pictures with people at a news conference Monday, without any of them wearing masks. He said the masks were off for a short period of time to take the photo and they were not in close contact for 15 minutes or more. 
He has talked about the increased spread of the virus in Nebraska being a result of informal small gatherings, as reported by local health departments. One of those was a slumber party after an event, and a significant number of those attending later tested positive.  
"Obviously, somebody who you know can give you the virus," he has said as a reminder. 
The Nebraska Department of Health and Human Services reported 2,182 new cases statewide Tuesday for a total of 87,733. The number of deaths in the state linked to the disease is 730.
Also at the news conference, Dr. Gary Anthone, the state's chief medical officer, saluted nurses and other health care workers who have been "working tirelessly (and) doing a fantastic job" in rising to the challenge of the COVID-19 outbreak and sharply increasing hospitalization numbers.
"Now I am seeing and hearing about more of a mental fatigue" following the physical fatigue that the pandemic has imposed on health care workers, he said.
All of that is "stretching our health care workforce," he said.
Answering questions, Ricketts said federal pandemic funding assistance for restaurants and bars in Nebraska impacted by COVID-19 has been exhausted and "there are no additional plans at this time" for another round of federal aid.