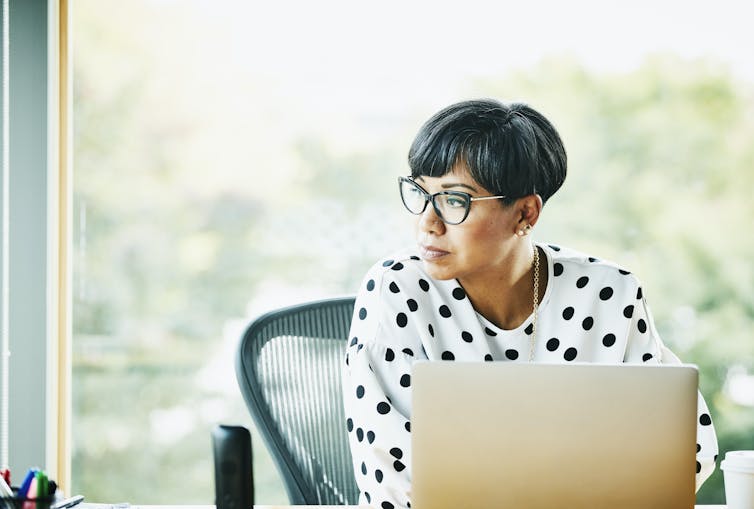 You don't need to pick up exactly where you left off; you can think about how you want your life to look. Thomas Barwick/DigitalVision via Getty Images
You've been waiting… and waiting… and waiting for this amazing, magical day when you could return to "normal life."
For many people in the U.S., it feels like that dim light at the end of the pandemic tunnel is becoming brighter. My 12- and 14-year-old daughters now have their first shot, with the second one soon to follow. I was euphoric when the kids received their vaccinations, choking up under my mask at the relief that my family was now unlikely to get sick or pass the coronavirus on to others more vulnerable than we are. Finally our family could start returning to so-called normal life.
But what should those of us fortunate enough to be vaccinated return to? I didn't exactly feel euphoric each day in my normal life pre-COVID-19. How should you choose what to rebuild, what to leave behind and what new paths to try for the first time? Clinical psychological science provides some helpful clues for how to chart your course out of pandemic life.
1. Set realistic expectations
For instance, you'll likely feel some anxiety as you try to figure out what's OK to do and what's still risky. Even as the risk level has declined in many places, there is still uncertainty and unpredictability tied to the current coronavirus risks, and it's natural to feel anxious or ambivalent when letting go of an established habit, like wearing masks. So, be ready for some anxiety and realize it doesn't mean something is wrong – it's a natural reaction to a very unnatural situation.
Even if your social skills were at their peak, the current moment serves up a lot to navigate interpersonally. Chances are you won't always agree with the people in your life on where to draw the lines about what's safe and what's not. There are going to be some complicated July Fourth parties to navigate given many families have some members vaccinated and some not. That will be frustrating after waiting so long to finally get together.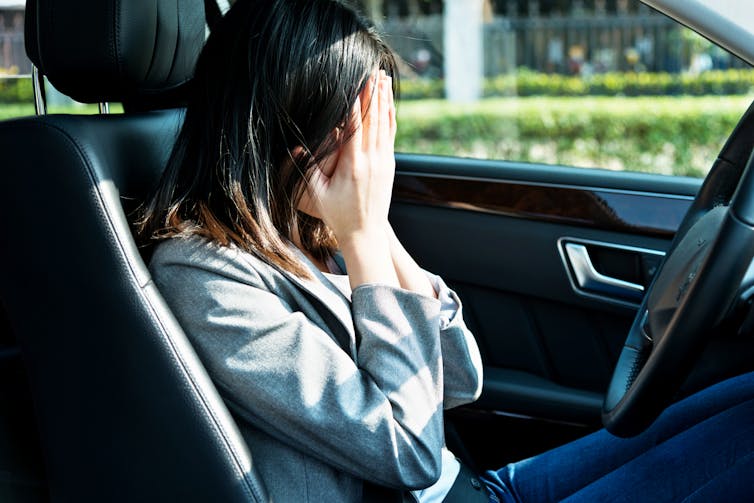 Pre-pandemic life wasn't perfect – don't idealize what it will be like to get back to the way things were. baona/E+ via Getty Images
And you won't automatically have warm, fuzzy feelings about all your colleagues, family, friends and neighbors. Many of those little annoyances that cropped up in your interactions before you ever heard of COVID-19 will still be there.
So, expect some awkwardness, frustration and annoyance – everyone's creating new patterns and adjusting to changed relationships. This should all get easier with time and practice, but having realistic expectations can make the transition smoother.
2. Live your values
To help plan which activities and relationships to put time into, think about your priorities.
Imagine you are asked to carve a pie to illustrate your different roles and how important each is to the way you feel about yourself and the values you prioritize. You might value your roles as a mother, a spouse and a friend most highly, assigning them the biggest pieces of your pie.
Now, what if you were asked to carve that pie in a way that reflects how you actually allocate your time and energy, or how you actually tend to evaluate yourself. Is the time you spend with friends much lower than its value to you? Is the tendency to judge yourself based on rigid work demands much higher?
Of course, time is not the only meaningful metric, and all of us have periods when certain parts of our lives need to dominate – think about life as a parent of a newborn, or a student during final exams. But this process of considering your values and trying to align what you value and how you live can help guide your choices during this complex time.
3. Keep track
For most people, some balance of fun, productive, social, active and relaxing activities in life is key to feeling like your different needs are being met. So, try keeping track of your activities and mood for a week. See when you feel more or less happy and when you feel like you're meeting your goals, and adjust accordingly. It will take some trial and error to find the balance of activities that provides that sense of reward.
4. Is this a time of growth or preservation?
There is fascinating research showing that the perception of time can influence your goals and motivation. If you feel time is waning – as often occurs for older adults or those experiencing a serious illness – you are likely to seek deeper connections with a smaller number of people. Alternatively, those who feel time is open-ended and expansive tend to seek new relationships and experiences.
As restrictions loosen, are you desperate to visit a close friend in the town you grew up in? Or more excited to travel to an exotic location and make new friends? There isn't a right answer, but this research can help you consider your current priorities and plan that next reunion or trip accordingly.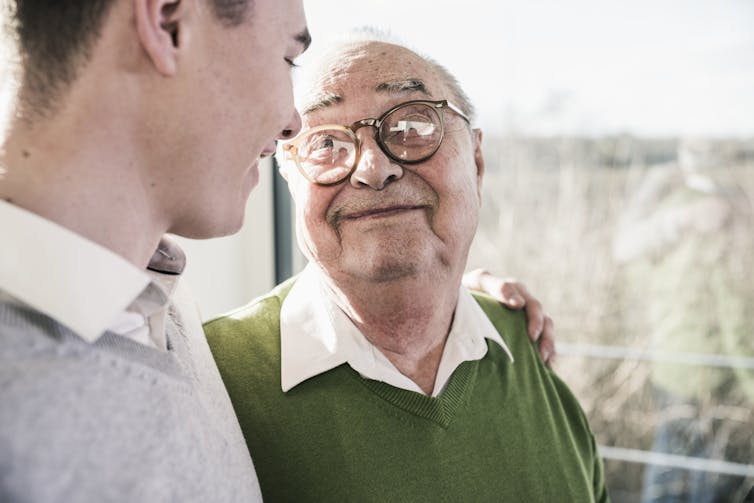 Helping others ends up benefiting you, too. Westend61 via Getty Images
5. Recognize your privilege and pay it forward
Being intentional about helping others is a win-win. Many people and communities are in need right now, so think about how you can contribute – be it time, money, resources, skills or a listening ear. Asking what your community needs to recover and thrive and how you can help address those needs, as well as considering what you and your household need, can boost everyone's well-being.
As the return to so-called normal life becomes more of a reality, don't idealize post-pandemic life or you are bound to be disappointed. Instead, be grateful and intentional about what you choose to do with this gift of a reboot. With a little thought, you can do better than "normal."
The ultimate checklist for a Memorial Day weekend get-together
Celebrate respectfully‌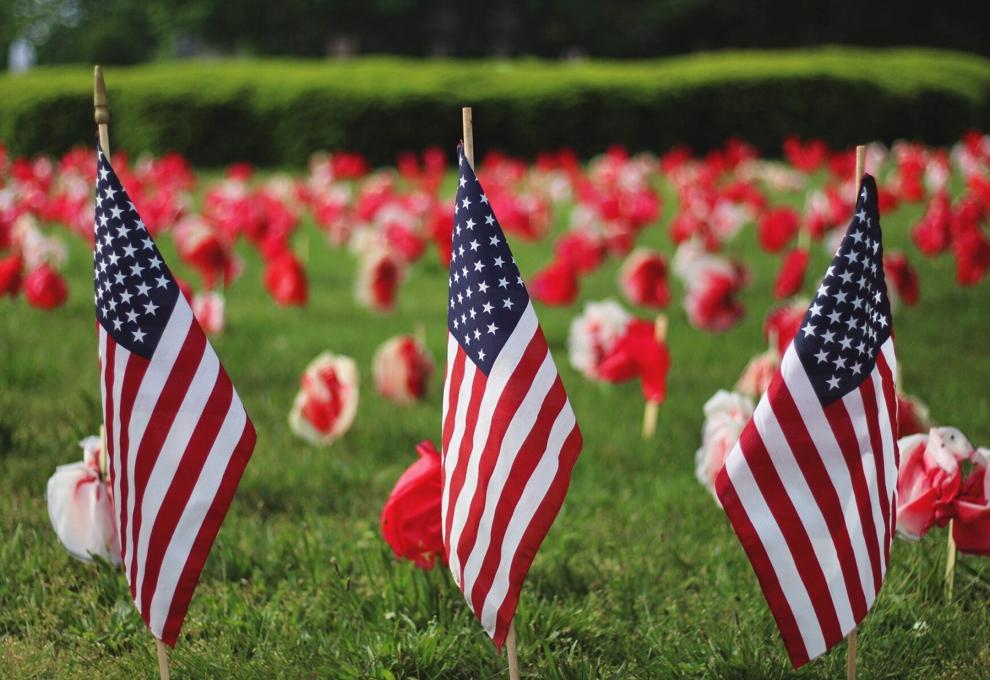 Memorial Day, observed on the last Monday in May, was established as a national holiday in 1971 as a way to pay tribute to American military personnel who died in war. Originally known as Decoration Day, this tradition of observing military sacrifice has its roots in the post-Civil War era. One of the earliest Memorial Day gatherings was organized by a group of formerly enslaved people in South Carolina in 1865. A national moment of remembrance always takes place at 3 p.m. local time; you may wish to incorporate this into your gathering. You could also collect donations for organizations that support families of fallen service members.
Be sure to also keep an eye on local COVID-19 restrictions in order to plan the safest possible event. Communicate with your guests ahead of time to set expectations.
The CDC recommends putting out bottles of hand sanitizer, wiping down surfaces frequently and providing masks for your guests. Minimize contact (and save yourself from having to do dishes) by serving food with single-use utensils, cups and plates.
For kids‌
Keep the kids entertained with a variety of activities like coloring, lawn games and bubbles. Team up for a cornhole tournament with a fun, age-appropriate prize. If you have a patio or you're planning to do some celebrating in your driveway, sidewalk chalk is a great way to let kids unleash their creativity.
To keep kids entertained and safe after dark, consider putting on an all-ages outdoor movie. Provide blankets and individual bowls of popcorn or other treats.
Desserts‌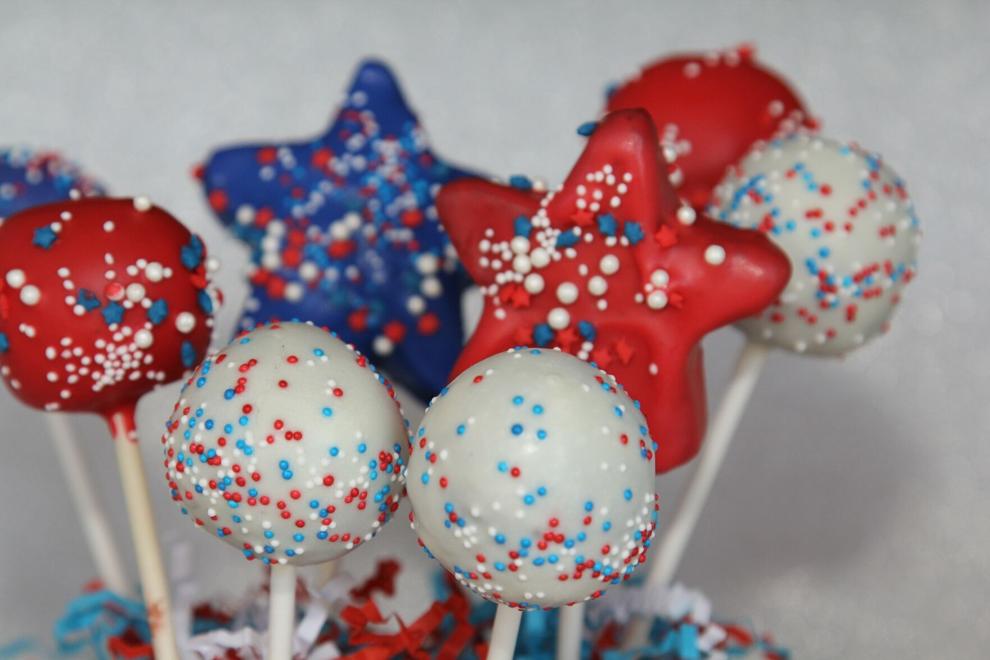 Since Memorial Day weekend traditionally kicks off the summer, serve summery desserts like popsicles or an icebox cake. Make your own popsicles using popsicle molds or simply pick up a variety pack at the grocery store. Classic American desserts with red or blue fillings, like cherry or blueberry pie, are also popular picks. Keep things easy by serving a festive fruit salad made with watermelon, strawberries and blueberries topped with whipped cream.
There's no shame in going store-bought, either. Serve a store-bought pie in a glass plate and impress your guests without having to stress over baking. Many stores and bakeries also offer festive frosted cookies that are a hit with guests of all ages. Remember that the point of this gathering is to spend time with the people you care about, so don't stress over putting together picture-perfect food.
Decorations‌
With an outdoor party, there's no need to go overboard with decorations: an easy way to add charm to your outdoor space is by putting up string lights. Hang them from gutters or fences or wrap them around trees and deck railings. You can use larger string lights with vintage-inspired bulbs or put out classic Christmas lights with white cords. Keep them on throughout your daytime party or set them on a timer to turn on around dusk.
Alternatively, put up American flags of any size or make simple banners out of triangular star-spangled paper and string. If you have them, put out Americana touches like red wagons, bandanas, wicker baskets or vintage lanterns. Place miniature American flags in bud vases for charming, simple centerpieces.
Convey the patriotic theme by setting out disposable plates, napkins and flatware in red and blue. Cover tables with vinyl tablecloths that are both festive and easy to wipe clean.
Provide seating to help guests space themselves out in the form of red, white and blue picnic blankets, outdoor cushions or camping chairs. If your celebration extends after dark, use battery-operated candles for safe flameless illumination and distribute glow sticks to kids.
Lawn games‌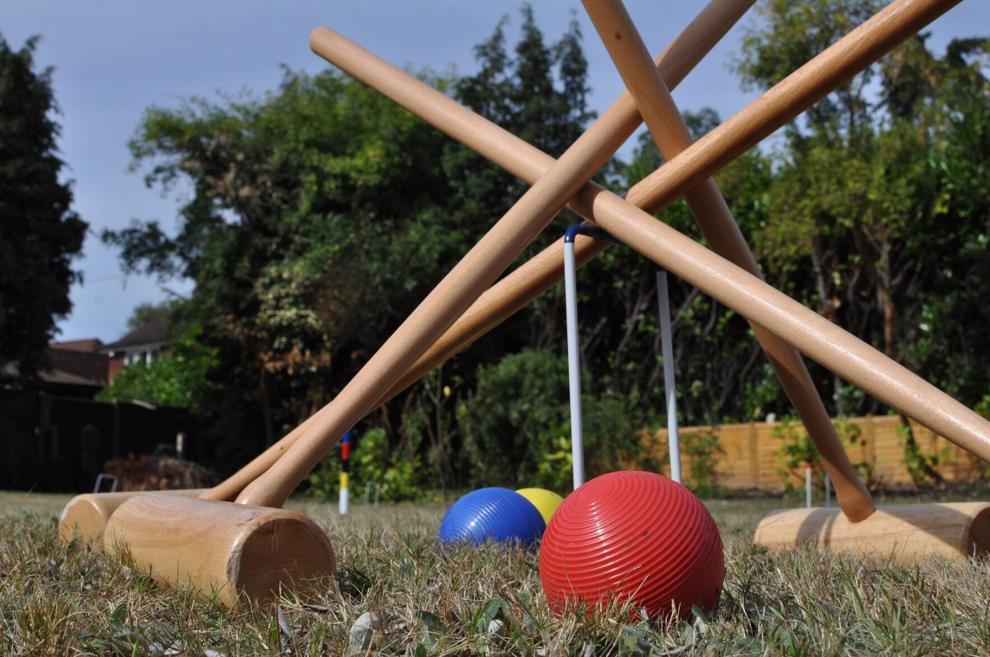 No matter how big your yard is, there's a lawn game that fits your space. Cornhole, croquet, bocce ball and ring toss are easy and fun games that can be played with social distancing. If you have a lot of space to work with, set up a net for badminton or volleyball. Whether your guests are competitive or more laid-back, everyone can have fun with a tournament, and getting matched up against different competitors in a bracket is a great way for guests to mingle. Set up games ahead of time as part of your decorating so you're free to mingle with your guests when they arrive without having to troubleshoot game assembly or look for missing components.
If your guest list includes a wide range of ages, consider setting up more than one lawn game. Smaller children may enjoy games that are less complex, like ring toss or cornhole, while older kids and adults will be able to appreciate trickier or more competitive games like badminton or bocce ball. Have hand sanitizer and a first aid kit easily accessible, and be sure to apply sunscreen frequently to protect both kids and grown-ups while they're enjoying the sunshine.
Meal ideas‌
Whether you want to keep things simple or you're ready to host a feast, a cookout on the grill is a time-tested way to feed a crowd. Plan a barbecue and include sides like mac & cheese, cornbread or potato salad. For a simple, crowd-pleasing meal, grill up a bunch of hot dogs and veggie dogs and let guests choose from tasty, inventive toppings like roasted red peppers, goat cheese or coleslaw. Give burgers the same DIY treatment by making mini burgers and serving them at a slider bar, with petite buns and toppings like bacon and pickled jalapenos. Kebabs are another easy option for tasty, portable party food. Prepare skewers of meat, veggies and fruit ahead of time to make the day of the party go more smoothly.
Regardless of your Memorial Day menu, save yourself day-of-party stress by doing as much of the food prep ahead of time as possible. Just like with desserts, don't feel pressured to make everything by hand, either. If you're not up for cooking for a crowd, plan a meal around the grocery store's deli counter, or support a favorite local restaurant by ordering handheld food like sandwiches, tacos or BBQ to serve your guests. At the end of the day, what they will remember more than Instagram-worthy food is getting to spend a fun day with their loved ones.
Beverages‌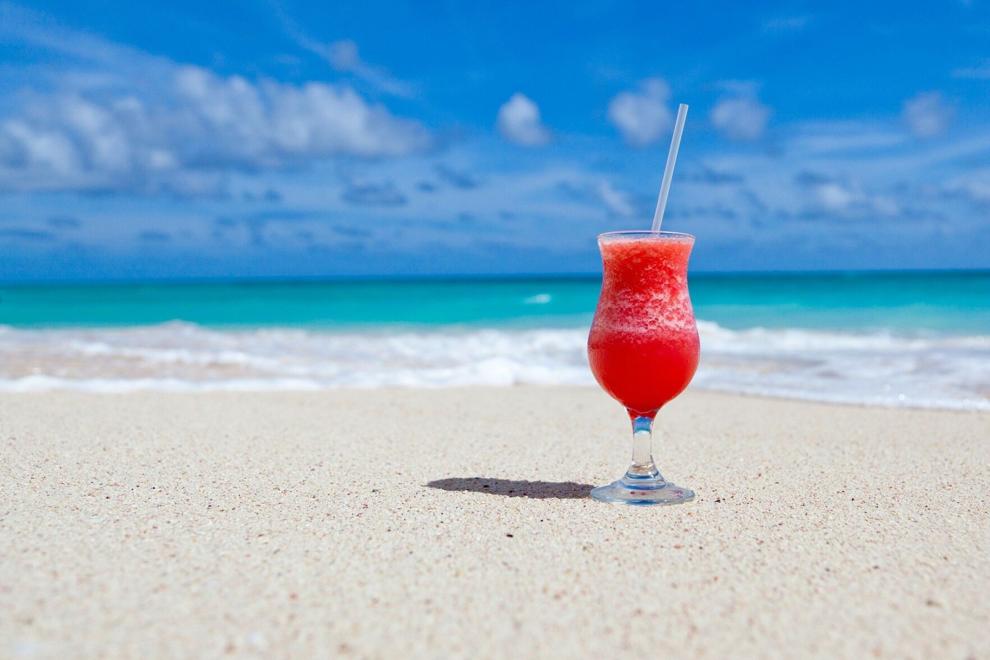 For beverages, incorporate festive colors by serving red and blue drinks like vodka cranberry cocktails, strawberry margaritas or the famous Blue Lagoon. Cocktails and mocktails alike can be served in glasses rimmed with red, white or blue sugar. Provide nonalcoholic options like lemonade or iced tea garnished with strawberries and blueberries. If you're serving beverages in bottles or cans, place them in the fridge the night before so your drinks are chilled by the time guests arrive.
No matter what your Memorial Day weekend forecast looks like, don't forget the ice. Pick up a bag of ice the day of the party (or make room in your freezer to store it ahead of time) and keep your drink bucket or cooler topped off with fresh ice throughout the party. To add a special touch to the drinks themselves, consider freezing herbs, berries or thin slices of citrus in ice cube trays to enhance a variety of drinks.
BestReviews spends thousands of hours researching, analyzing and testing products to recommend the best picks for most consumers.
Research into coronavirus and other news from science Subscribe to The Conversation's new science newsletter.

Bethany Teachman receives funding from the National Institute of Mental Health and grants from the University of Virginia. She is the Director of the MindTrails site.