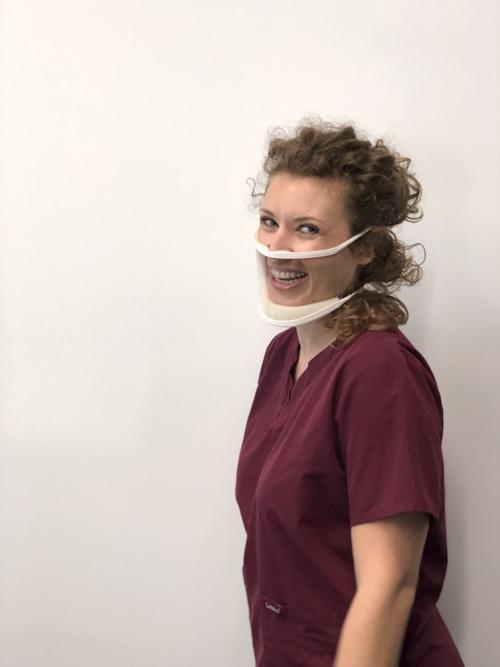 CHICAGO — Now that protective face coverings have become part of everyday life, the choices are endless. The face mask market is booming with styles that range from strictly utilitarian to designer, including masks that seamlessly integrate into your wardrobe and face coverings that addresses more than just COVID-19 protection.
Chicago's Pride Masks has expanded its selection of masks to include a limited edition artist series of neck-gaiters that can be worn around the neck when not covering your nose and mouth. The gaiters also solve the problem of where to put your mask while eating.
To address hydrating in the summer heat, Haley Manley an epidemiologist at Baylor College of Medicine in Houston, along with two friends, started Shut Your Mouth, a company that produces masks that zip open and come with reusable silicone straws. "We've seen masks with a hole, but this way you don't have to touch the mask, you just touch the zipper, Manley said. She also stressed that "you shouldn't open it just to talk; it's a way to stay hydrated without talking off your mask."
Baltimore company ClearMask started producing transparent masks with full-face visibility for use in health care settings and is now making them available to the public. The clear masks make lip-reading, or simply seeing facial expressions, possible. "I think what we all rely on is visual communication, and a lot of that is in the face," said Clear Mask CEO and co-founder Aaron Hsu. "Once you put that barrier up, you recognize how much of a difference it makes. COVID has made that very apparent for a lot of people."
Here are a few face coverings with form and function:
THE LOOKALIKE MASK
If you want to show the world what you actually look like, San Francisco designer Danielle Baskin's company Maskalike prints realistic (but slightly unsettling) images of your face onto cloth masks. Baskin said that she is aiming for an end of July launch date as the company figures out the logistics to meet the high demand for the masks. You can join the wait list at maskalike.com.
THE CLEAR MASK
ClearMask allows you to wear a mask without obstructing your face, making it easy to see your expression. Twenty-four one-time-use masks, $67, buy.theclearmask.com.
THE GAITER
Pride Masks Camo + Color Gaiter protects you when used as a face covering and can be worn down as a neck scarf. The design also solves the problem of where to put your mask while eating. $20, pridemasks.myshopify.com.
THE COORDINATED LOOK
Rashima Sonson started her eponymous company making bow ties, but has pivoted to making bold face coverings and matching head wraps. Reversible, African wax print cotton mask and headwrap set, $45, sonson.com.
THE ZIPPER
Need to sip? Grab your straw and open the zipper on one of Shut Your Mouth's colorful masks. $34.99, with a portion of proceeds going to The Charity Water Foundation, shopshutyourmouth.com.
©2020 Chicago Tribune
Visit the Chicago Tribune at www.chicagotribune.com
Distributed by Tribune Content Agency, LLC.
Concerned about COVID-19?
Sign up now to get the most recent coronavirus headlines and other important local and national news sent to your email inbox daily.