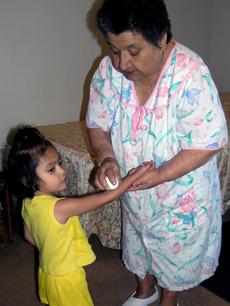 An old woman shuffles into her bedroom , beckoning a little girl and her mother to follow. Inside, the 3-year-old stands before an altar as the woman — a curandera or traditional Latino healer — passes an egg over her body.
This woman will cure you, the girl's mother tells her daughter. You will be able to sleep tonight. In Latino culture, curanderas wield strong powers of culture and tradition.
Roughly 100,000 Latinos now live in Nebraska.
It's a population often bewildered by the United States health care system. For poor people in countries like Mexico and Guatemala, things like health insurance and regular physicals are nonexistent.
What they know, the belief that many hold onto from their heritage, is that curanderas can cure everyday ills.
Carolina Olivas, 84, of Lincoln began using traditional Latino healing practices more than 30 years ago.
While she does not call herself a curandera, Olivas performs several curandera treatments, such as for susto, which means fright. This  sickness is most common in children, who may seem depressed or have trouble sleeping at night and awaken frightened and crying.
Olivas learned her healing craft from her husband and mother.
"Like you have to learn to cook, you have to learn to cure," her mother once told her.
Olivas provides her services for free.
"I just do what I have to do. I don't charge," said the modest woman. "People give me what they can and what they want. If they don't have anything, I will cure them just the same."
Olivas' husband was a sobrador, who used massage in healing therapy. She said she cures mostly children because they don't require the strength often needed for adults. But she's willing to try and help anyone who seeks her care.
Olivas now shares her lifetime of knowledge with one of her granddaughters.
"(She) has the hands for it," she said.
Olivas also has shared her knowledge with the University of Nebraska at Omaha's College of Nursing, captivating nurses and faculty with her suggested treatments for various illnesses.
Recently, she treated 3-year-old Jocelyn Muñoz of Lincoln.
The girl was crying all night long and wouldn't sleep, said her mother, Lidia Perez. She wouldn't sleep during the day either, and her eyes looked tired.
Olivas knew the girl suffered from susto.
The treatment, or curacion,   would require three visits, Olivas told the mother.
During the first visit, Olivas passed an egg dipped in holy water across the girl's body. She then cracked the egg into a glass of water, which revealed the girl had too much air, Olivas said.
She then took a piece of palm leaf and made a cross, placed it in the water and instructed the mother to place it at the head of the girl's bed. The mother also was told to sprinkle holy water in the four corners of her house.
Mother and daughter were told to return the following day carrying red flowers, which Olivas would pass over the girl in the same manner.
For the third visit, Olivas would follow the same steps with a white rock dipped in holy water. Afterward, the mother was told, she should melt the rock, revealing what had frightened her daughter.
Contacted days later, the girl was sleeping well.
Traditional healing is probably as old as human illness.
As in most cases, the traditional sometimes clashes with the modern.
When it comes to traditional Latino medicine, even experts disagree on how well the two complement each other.
University of Nebraska-Lincoln Professor of Latin American History James Garza said curanderas may be able to cure everyday ailments, but a "good curandera" will immediately send patients to a hospital for serious issues.
Jean Krejci of the Lincoln Lancaster County Health Department said curanderas know the difference between their role and that of modern medicine's. Krejci wrote her doctoral dissertation on "Traditional Illness, Curing and Morality: A 20-year Community Study in Mexico."
Krejci told the story of a mother, a healer, whose daughter became a doctor. If the daughter encountered a patient she could not help, she would send them to her mother, she said. If the mother could not help one of her patients, she would send them to the daughter.
"I was really impressed," she said.
Initially, Latinos resisted modern medicine.
Violent conflict eventually broke out between old and new. In the 1880s, there were incidents in which Mexican and other Latin American governments attacked curanderas, labeling them witches who used evil magic.
"What used to happen was that people would go to a curandera for almost everything," Krejci said. "They would be taking something, but maybe they really needed antibiotics. They got worse and worse and as a last resort they would go to the hospital. Oftentimes, they would see hospitals as a place to go die. It's because perhaps they waited too long."
Today, Garza said, those who are poor and less educated tend to visit a curandera before a doctor. They do so, he said, because seeing a curandera may involve an exchange of food or maybe nothing.
Krejci, however, believes the tendency of Latinos to visit curanderas lies in how closely they hold to tradition. "We often think that when people become urban they make more money, and that is why it looks like the wealthy don't do it," she said.
"There are wealthy people that will go to the village or send a driver for a curandera to come in to heal them," she said. "It's like, when all else seems to fail they seek the comfort and wisdom of their culture where people know how to really heal."
Garza and Krejci also differ on the role of Catholicism, the dominant religion throughout Latin America.
"Curanderas are a subculture within popular Catholicism," Garza said. "There are the official Catholic teachings, and then there is popular Catholicism. Popular Catholicism is a group of beliefs that a lot of Catholics believe which are not officially sanctioned by the church. They reflect Mexico's Indian and African heritage," Garza said.
He noted that curanderismo – the practice of curanderas — "involves concoctions, prayers and lighting candles," features closely aligned with the church.
Krejci said curanderas only borrowed Catholic rituals.
"Because Catholicism is part of the healer's culture," she said, "there are some aspects utilized in the healing."
As Olivas rubbed elements across the girl's body, she invoked "the name of the Father, the Son, and the Holy Spirit," much as a Catholic priest might do while performing Mass. Anything that touched the girl's body was first dipped in holy water. The cross formed from a piece of palm also has links to Christianity. Additionally, Olivas always performs cures in front of her altar with the Virgin Mary.
Curanderas are generally women, and, typically, it's a wife or mother who seeks out a curandera. In Latino culture, women take the lead in most matters of health.
Curanderas never advertise. Finding one is all about knowing the right person.
When her husband complained of constant back pain, even after seeing a doctor, Lori Urdiales located a curandero (the masculine form) through "a friend of a friend of a friend."
Fred Urdiales, a 50-year-old Lincoln man, admitted being a bit skeptical. His mother had taken him to a curandera when he was little, he said, but he didn't know what to expect as an adult.
"I took my shirt off and he told me I had a lot of cold in my back," Urdiales said. He massaged oil into Fred's back, placed a silver dollar on it, and then a lit candle on top of the dollar. Next, he placed a shot glass over the candle to create a vacuum.
"Lori was telling me that you could see the silver dollar bounce every once in a while," Fred said.
"He gave me a prayer and I went back three times," he said. "I felt better, I really did."
It is believed that certain foods and illness are naturally hot or cold. When treating an illness, the proper food should be given to maintain balance in a system. Therefore, curanderas will treat a "hot" illness with a "cold" food to cool the body down. And they will treat a "cold" illness with a "hot" food to warm the body up.
Hot foods: Eggs, chocolate, beans, chili peppers, beef, shrimp. Conditions: Pregnancy, fever, empacho (stomachache).
Cold foods: Lemon, coffee, cheese, potatoes, milk.
Conditions: Colds/flu, susto, diarrhea.
Symptoms: Children become irritable and stubborn. One eye may become smaller than the other, teary and crusty when the child wakes. Fever may also occur.
Treatment: The curandera will bless the child by making the sign of the cross and passing an egg over the body. Then the curandera will either crack the egg in a glass of water or on a plate. By examining the egg the curandera can tell if the child is suffering from mal ojo.
Symptoms: Sharp pain occurs in affected body part, which is most commonly the back and sides of the body below the ribs. It may also occur in the ear, head, throat and eyes.
Treatment: Light a candle and then place a small glass over it to create a vacuum over the pain. Slowly move the glass around until it pops. This means the glass absorbed the air and the person no longer suffers from it.
Symptoms: Children may seem sad and be unable to sleep at night. If they do sleep, they awaken frightened and crying. A child also may have diarrhea, vomiting and in an extreme situation they momentarily will be unable to speak. Adults seem lethargic, sleepy, have pain in their joints, loss of appetite and wish to be alone.
Treatments: Children will have an egg passed over them and then a white rock. The rock is heated and the ashes or melted rock will identify the cause of susto. Adults are swept with branches while a prayer is said. Both treatments are performed for three days.
— Information from Nuestra Cultura Nuestra Salud, a handbook on Latin American beliefs and practices.