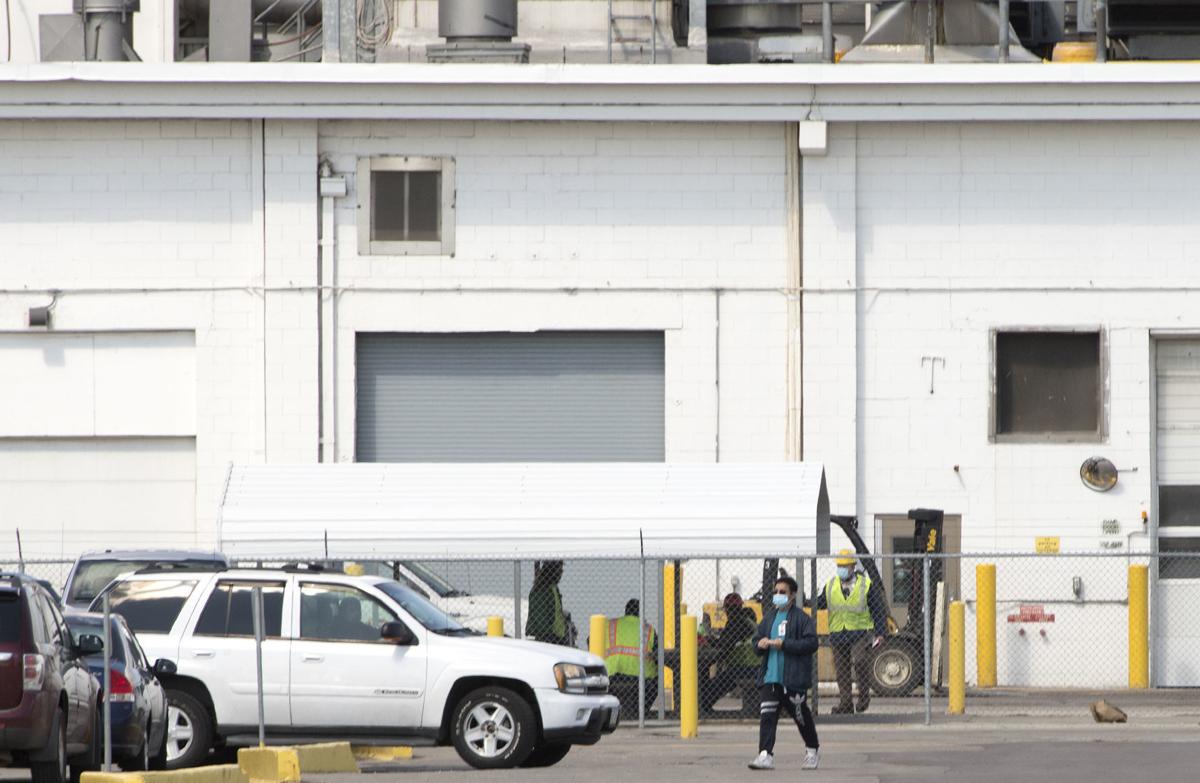 DAKOTA CITY — A total of 669 workers at Tyson Fresh Meats' beef plant in Dakota City have tested positive for COVID-19, a source familiar with the situation said late Thursday.
The disclosure came as Tyson prepared to idle production at its largest beef plant for four days, beginning Friday. The company on Wednesday announced the temporary halt to deep clean the facility, which is easily metro Sioux City's largest employer with over 4,300 workers. 
Tyson said Wednesday it started screening Dakota City workers for COVID-19 this week, with assistance from the Nebraska National Guard.
The Springdale, Arkansas-based company has acknowledged some Dakota City workers testing positive for the virus but has repeatedly refused to disclose a number of cases. State and county health officials also have repeatedly sidestepped questions about whether the plant is linked to a recent spike in novel coronavirus cases in the metro area.
While I was away, I had some time to dig into Nebraska's #coronavirus data. Here's the track of confirmed cases in the state since March 6. I'll update this daily. We'll want to watch for the curve to flatten, meaning fewer new cases. pic.twitter.com/cW3XsyYWzb

— Chris Dunker 🗞 (@ChrisDunkerLJS) April 13, 2020
The 669 workers with the virus represent over 15% of the plant's workforce. The plant is located in Dakota County, and the majority of workers live in the much more populous Woodbury County, home to Sioux City, Iowa.
The source could not provide a breakdown of the number of cases in each county or provide how many other cases have been linked to the workers, such as family members and others with which they came in close contact. 
Siouxland District Health reported 183 additional cases in Woodbury County on Friday, raising the total to 1,034. Dakota County, which is one-fifth the population of Woodbury, had 164 new cases Friday, bringing its total to 942.
Elsewhere, signs Friday that several big meatpacking plants will soon reopen seemed to lend some credence to President Donald Trump's assertion that he had "solved their problems" in keeping grocery stores' coolers stocked during the coronavirus crisis. But the reality isn't likely to be so easy, The Associated Press reported.
Though meatpackers have been shifting operations to make employees less vulnerable to coronavirus infection, they still have a workforce depleted by illness or unwilling to risk entering plants that have been rife with infections. Even plants that keep the production lines moving will have to do so more slowly, renewing concerns about whether Americans can count on seeing as much meat as they're used to.
A Smithfield Foods pork processing plant in South Dakota where more than 850 workers tested positive will partially reopen Monday after shuttering for more than two weeks, a union that represents plant workers said Friday. And Tyson said its Logansport, Indiana, pork processing plant where nearly 900 employees tested positive will also reopen Monday.
As Trump touted his order on Wednesday, he suggested it would solve the breakdown in the food supply chain that threatens the availability of meat in grocery stores while farmers face the prospect of euthanizing hundreds of thousands of healthy pigs.
"We unblocked some of the bottlenecks," the president said.
But the clearing of those "bottlenecks" depends on thousands of people who work physically demanding jobs that must be performed by hand and can take weeks to learn.
"I think it's ridiculous that (Agriculture Secretary) Sonny Perdue can think all of a sudden he can wave a magic wand and all of a sudden these plants are going to operate at capacity," said Mark Lauritsen, who directs the meatpackers division at the United Food and Commercial Workers union.
Because of increased absenteeism over the past few weeks, Tyson said it has been forced to scale back production at Dakota City, which normally produces enough beef in one day to feed 18 million people. 
More than 4,900 workers at meat and poultry processing facilities have been diagnosed with the coronavirus, including 20 who died, according to a report released Friday by the Centers for Disease Control and Prevention. In Nebraska, several of the state's hardest hit counties -- Hall, Dakota, Dawson, Saline and Adams -- are also home to packing plants.
Sioux City Journal reporter Mason Dockter and The Associated Press contributed to this report.
Concerned about COVID-19?
Sign up now to get the most recent coronavirus headlines and other important local and national news sent to your email inbox daily.