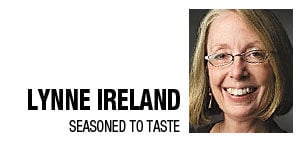 You are what you eat, as the old saying goes. Maybe that's why this past calamitous week so many of us have been scooping up big bites or bowls of comfort foods.
Mouthwatering, soul-salving posts showing macaroni and cheese, Reubens, homemade Runzas, chili and cinnamon rolls, ravioli, chana dal, beef and homemade noodles. And of course, grilled cheese sandwiches with cream of tomato soup (better yet, homemade).
After a consolation call from our Canadian friends, we went back to one of the comfort foods for which they'd given up the recipe decades ago: lemon maple chicken. Simple, succulent, and satisfying. Chicken baked, drenched in sweet-tart sauce with the added surprise of spicy mustard and cinnamon.
That plate that took us back to days of yore settled us a bit. And while we were tempted to work our way further into comfort cooking, trying something new seemed a better path. Something to be gained from trying a new path, even when the going is tough.
So we unpacked the new Instant Pot and wondrous Rancho Gordo dried beans that had been patiently waiting on the shelf. Then began the search for a new recipe (that still promised a little comfort).
Enter Melissa Clarke with another simple, satisfying, soupy-stewy recipe that offers straightforward directions but welcomes additions out of your fridge or pantry. She used canned beans, kale and ground turkey with a lot of lemon juice, but indicates any ground meat, beans and greens or veggies can be used. She notes, "Smashing some of the beans to release their starch will give you a thicker soup. To keep it on the brothy side, add a little more liquid and leave the beans intact. Either way, it's a warming, piquant, one-pot meal that's perfect for winter."
And also pretty apt for when life gives you lemons!
Lemony White Bean Soup with Turkey and Greens
* 3 tablespoons olive oil
* 1 bunch sturdy greens, such as kale, broccoli rabe, mustard greens or collard greens
* 1 tablespoon tomato paste
* ¾ teaspoon ground cumin, plus more to taste
* ⅛ teaspoon red-pepper flakes, plus more to taste
* 3 garlic cloves, minced
* 1 tablespoon finely grated fresh ginger
* 1 teaspoon kosher salt, plus more to taste
* 2 (15-ounce) cans white beans, drained and rinsed
* 1 cup chopped fresh, soft herbs, such as parsley, mint, dill, basil, tarragon, chives or a combination
* Fresh lemon juice, to taste
Directions: Heat a large pot over medium-high heat for a minute or so to warm it up. Add oil and heat until it thins out, about 30 seconds. Add onion and carrot, sauté until very soft and brown at the edges, 7 to 10 minutes.
Meanwhile, rinse greens and pull leaves off stems. Tear or chop into bite-size pieces; set aside.
When onion is golden, add tomato paste, cumin and red-pepper flakes and sauté until paste darkens, about 1 minute. Add turkey, garlic, ginger, sal, and sauté, breaking up the meat until turkey is browned in spots, 4 to 7 minutes.
Add stock and beans and bring to a simmer. Let simmer until the soup is thick and flavorful, adding more salt if needed, 15 to 25 minutes. If you like a thicker broth, you can smash some of the beans with the back of the spoon to release their starch. Or leave the beans whole for a more brothy soup.
Add the greens to the pot and simmer until they are very soft (5 to 10 minutes for most greens, but tough collard greens might take 15 minutes; add a little water if the broth gets too reduced).
Stir herbs and lemon juice into the pot, taste and add more salt, cumin and lemon until the broth is lively and bright-tasting. Serve topped with a drizzle of olive oil and more red-pepper flakes, if desired.
Lynne Ireland lives to eat and welcomes comments and questions from others who do (or don't). Contact her at citydesk@journalstar.com