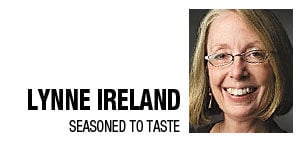 Hooray for hang time! Finally, mercifully, both the weather and full vaccinations are aligning to help us find a way to cautiously gather.
Slow and steady goes this race, so outside and only some who've been "stabbed" are still our rules. But we're thrilled to have outdoor cocktail hour, with in-the-flesh people instead of Zoom squares.
Even more exciting, we have new tasty tidbits to share, thanks to a different kind of hang time. Throughout this endurance trial, the folks participating in the Eating Through the Pandemic Facebook group, started right here in Lincoln, have been sharing photos, encouragement, and recipes. Hanging with these creative cooks and enthusiastic eaters is like having your own test kitchen. New ingredients, new flavors, new processes — we've become exposed to them all by hangin' with this crew. More than ever, we get by with a little help from our friends.
So when prolific contributor Patrick touted a tapas treat, with photos and recipe to boot, we had to give it a try. From Christopher Kimball's "Cookish," this swift, Spanish-inspired spice-crusted tenderloin is an "appetizer" that's a cut above. Traditionally grilled on skewers, here the meat is simply cubed, rolled in spices, thrown into a skillet and browned on all sides. A drizzle of lemon and honey sparks the saute for serving. Simple. Superb.
You can round out this offering with other nutritious noshes set out for self-serve. Or as some of the ETTP group does, you can take the time to turn veggies and olives and hummus and cheese slices and salami and pickles and more into a beautifully composed charcuterie board. If buffet style still seems a little scary, place bits of each of these foods into jelly jars for serving each guest an individual "jarcuterie." That is, if you want to go to that much work.
Ease was part of the Kimball/Milk Street intention, so back when hang time was still a dream, we tried some variations. Cut the pork tenderloin across just into rounds, not cubes, before crusting with spice. Brown on the top and bottom, briefly, in a cast iron or oven-proof skillet. Slide that skillet into a pre-heated 350 oven for 10 minutes or so, depending on how pink you like your pork. Serve on a bed of garlicky sauted or braised greens—kale, mustard, collards or a combo, with the honey lemon sprinkling. Crusty bread on the side and tasty tapas have transformed into a surprisingly satisfying supper. One you could serve on the porch or patio at your next hang time. Hooray!
Spice-crusted tenderloin bites
1¼ pound pork tenderloin, trimmed of silver skin and cut into 1 to 1½ inch chunks
1½ teaspoons ground coriander
1½ teaspoons ground cumin
1½ teaspoons smoked paprika
Kosher salt and ground black pepper
In a small bowl, mix the honey and lemon juice. In a medium bowl, toss the pork with the coriander, cumin, paprika and ¾ teaspoon each salt and pepper. In a 12-inch skillet, heat the oil until barely smoking. Add the pork and cook undisturbed until well-browned on the bottom. Flip the pieces and cook, occasionally turning, until browned on all sides. Off heat, drizzle with honey-lemon mixture.
Source: Christopher Kimball, Cookish
Lynne Ireland lives to eat and welcomes comments and questions from other who do (or don't). Contact her at citydesk@journalstar.com