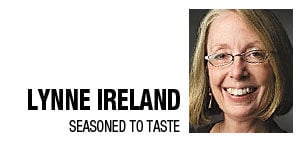 Happy are we who in summer get to reunite with far flung family in a beautiful place.
Happier still are we who discover that kinship aside, we really LIKE these people we rarely get to see.
Happiest of all are we who experience firsthand what great cooks these people we like who happen to be related are!
So if it weren't enough to be in the gorgeous Gallatin Valley, we relished new and amazing dishes, mostly home-made. Best of all, through the wonders of technology, recipes were instantly shared. Lovely parting gifts, indeed!
Perhaps the most remarkable of these offerings was an innovative take on caprese salad, that added peaches to the fruits of the tomato vine that typically make up this salad. Since Colorado peaches at last have appeared and tomatoes abound after a late start, we'll be eating Michelle Clark's Burrata Caprese with Peaches repeatedly.
Our family member Malia, who whipped up this lovely platter of pleasure, notes that if burrata is not easily accessible, or if you want a slightly less creamy effect, fresh mozzarella works well here. But burrata, "mozzarella shot through with cream" makes the salad almost decadent.
The crunch of pine nuts, the brightness of fresh basil, the juicy tomatoes and sweet peaches all contrast with the creamy white cheese to create a remarkable, surprising combination of tastes and textures. Kinda like a family!
Burrata Caprese With Peaches
1/3 cup packed fresh basil leaves, coarsely chopped
You have free articles remaining.
1 1/2 teaspoons fresh lemon juice
1/2 teaspoon fine sea salt
1/4 cup extra-virgin olive oil, plus more as needed
1 whole burrata cheese (usually about 6 ounces)
2 large or 4 small ripe peaches, pitted and cut into wedges
1 pound ripe tomatoes, cut into wedges (or use cherry tomatoes, halved or left whole)
In a small skillet over medium heat, toast the pine nuts, shaking the skillet occasionally, until they are golden, about 3 to 5 minutes. Pour the pine nuts into a small bowl and set them aside.
In a blender, combine basil, lemon juice, sea salt and olive oil. Puree until a chunky dressing forms (you don't want this to be perfectly smooth; the irregular texture is nice with the creamy cheese).
Place the burrata in the center of a large platter, and arrange the peaches and tomatoes around it. Spoon the dressing over the cheese and the fruit. Drizzle with additional olive oil, and top with the toasted pine nuts and a sprinkling of flaky sea salt.