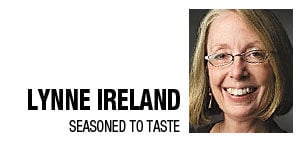 Gifts sometimes seem to be the reason for the season. But as many a tale from many a holiday tradition reminds us, it's the season for giving, not for getting. This year-for-the-records has made it tougher to give the foods we love to people we care for. A monetary donation to the Food Bank of Lincoln or Center for People in Need is one critical way to get food to others. But a more personal gift you can safely share? A recipe.
And not just any recipe. One you know and love. One that works. A life raft in the tsunami of suggestions from blogs, books, online groups, TV networks and YouTube videos.
Just when we were awash, some recipes from friends appeared. Ones they've loved and made repeatedly. Delicious and doable, both.
Our friend Rosalind shared a simple but surprising recipe for Turkish Carrots and Lentils. Frugal ingredients create complex flavors in less than an hour. And both the carrots and the lentils mimic the shape of the "coins" that create a prosperous new year.
Our friend Patrick gave the Eating Through the Pandemic Facebook group, and millions of Milk Street subscribers, a sumptuous but simple way to use leftover rice. So even if the new year doesn't bring us all the coin we hope for, we can find some comfort in a bowl.
Even if you can't directly feed the ones you love this holiday season, remember recipes are a gift!
Turkish Carrots and Lentils
* 1 onion, in thin crescent moon shapes
* 4 garlic cloves, thinly chopped
* 1½ teaspoons coriander seeds, crushed
* ¼-½ teaspoon dried red pepper flakes
* ½ cup green or Puy lentils
* 6 large carrots, sliced
* 2 tablespoons tomato paste
* 2 teaspoons superfine sugar
* 1¼ cups vegetable stock or water
* 2 tablespoons chopped fresh mint, parsley or dill
* Good squeeze of lemon juice
* Extra-virgin olive oil, to serve
Directions: Heat oil in a saucepan and saute the onion until soft and pale gold. Add garlic and spices, cook for 2 minutes. Add everything else except the herbs, lemon juice and extra-virgin olive oil. Bring to a boil and cook until tender and liquid has been absorbed (about 30 minutes). Taste, add herbs and lemon juice, then adjust seasoning. Add a generous slug of extra-virgin olive oil. Serve hot, warm or at room temperature.
Thayir Sadam (South Indian yogurt rice)
* 4 cups cooked white rice
* ½ cups whole-milk plain yogurt
* ¼ cup ghee or neutral oil
* 10 curry leaves (optional)
* 2 teaspoons black, brown or yellow mustard seeds
Directions: In a large saucepan over medium heat, combine rice and milk. Cook, stirring often, until rice has absorbed the milk, about 5 minutes. Stir in yogurt and 1 teaspoon salt, then cook, stirring often, until thick and creamy, about 3 minutes. Remove from heat and set aside.
In a small saucepan over medium-high heat, combine ghee, curry leaves (if using), mustard seeds and cumin seeds. Cook, swirling the pan, until spices are toasted and the mixture is aromatic, 1½ to 2 minutes. Off heat, remove and discard the curry leaves, then swirl in the scallions. Divide rice mixture among individual bowls and spoon ghee mixture over the top.
Tips: Don't use nonfat or low-fat yogurt; the flavor is too lean and the yogurt will separate when cooked. Patrick prefers the rice warm, but it can be eaten at room temperature or even cold. A spoonful of tarka — aromatics bloomed in hot ghee, butter or oil — added just before serving gives the dish a heady fragrance and rich, spicy flavor. Curry leaves in the tarka have an inimitable taste and aroma; if you cannot find them (sold fresh or frozen in most Indian grocery stores), simply leave them out. The rice will still be terrifically tasty. Other common garnishes: pomegranate arils, shredded carrots, diced cucumbers and Indian lime pickle.
Lynne Ireland lives to eat and welcomes comments and questions from others who do (or don't). Contact her at citydesk@journalstar.com