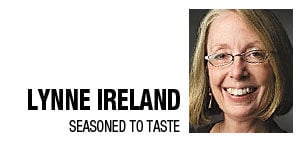 Nothing like becoming a parent, or a grandparent, to make you get refocused on nutrition. Of course, expectant mothers try to eat good baby-building food (and our society is better off when we ensure all pregnant women have access to the nutrients they need). And for the first months that babies are nourished by breast or formula, what to feed them is obvious.
But the arrival of teeth signals the start of a transition to "solid" food. And then caregivers start to pay more attention, and to adapt their own cooking to toddler tastes. And adapt their own eating to try to set a good example for their little imitators.
So notorious breakfast-skippers start eating it again because they have someone else to feed. And sugar slaves stop slurping soda and start religiously reading labels. It soon becomes obvious that the best way to control what your child eats is to make it yourself. Great, think the overworked and underslept parents. Something more to try to squeeze in.
Enter the magic muffin tin (or mini). This baking pan not normally associated with healthy eating can in fact be an at-the-ready tool you already have to help with the morning rush hour.
Our friends Rebecca and Patrick use muffin tins for mini crustless quiches. Steam or sauté vegetables of choice. Mix in beaten eggs or whatever else you usually put into stovetop scrambled eggs. Poor into prepared muffin tins and bake at about 350 degrees until eggs are set or until browned to you and your little one's liking.
Cool, remove from tins, then pop into airtight freezer container and freeze. Busy morning breakfast is a minute in the microwave (or less) away. You can break up the eggy stuff for younger eaters; older toddler may love to eat it out of hand.
If you're more inclined to start the day with cereal, you can make similar "muffin magic" with oatmeal. Most real "muffin" recipes are laden with way too much fat and sugar for any of us. But adapting a baked oatmeal recipe that uses banana and pumpkin for their natural sweetness, and milk and a egg for some protein can give you another option to grab out of the freezer for your wee one. Or a couple for yourself!
There's also a version of the same mix that you can bake in a casserole dish for the days when you can actually sit down at the table and enjoy a leisurely breakfast.
Best of all, a recent study at the Nutrition Obesity Research Center at St. Luke's hospital in New York found that the fiber in oatmeal helped study participants feel fuller longer than a breakfast of corn flakes. So these breakfast bites may keep your toddler fueled through a morning of constant motion. And the study of adults found oatmeal may help those of us watching what we eat consume less at lunch. (See more in the Annals of Nutrition and Metabolism or dailyburn.com)
Your magic muffin tin, your oatmeal, and these recipes make it easier to feed your family well, and set a delicious example for the young'uns!
Pumpkin Oatmeal Bites
1/2 teaspoon pumpkin pie spice
You have free articles remaining.
1/2 teaspoon baking powder
1/4 cup raisins (optional)
Preheat oven to 375. Beat eggs and add all other ingredients in a large bowl. Mix together. Grease a mini muffin tin well and pour batter in to the brim. Bake for about 15 minutes, or until cooked through.
Allow to cool COMPLETELY before removing or your oatmeal might stick. Use a knife to cut along the edges and twist to remove. 12 mini-bites
See fun photos of how to arrange these for Halloween at katheats/com/pumpkin-baked-oatmeal-bites
Baked Pumpkin Oatmeal
1/4 teaspoon nutmeg, ginger or pumpkin pie spice
1/4 cup raisins (optional)
1 tablespoon brown sugar (optional)
Preheat oven to 375. Combine the dry ingredients except brown sugar. Combine the wet ingredients, including raisins if using. Pour the wet ingredients into the dry. Mix well. Sprinkle top with brown sugar if using. Bake for 30 minutes, until center is set.
Allow to cool slightly and cut into portions. Four servings of save some for tomorrow!
Lynne Ireland lives to eat and welcomes comments and questions from others who do (or don't). Contact her at citydesk@journalstar.com.