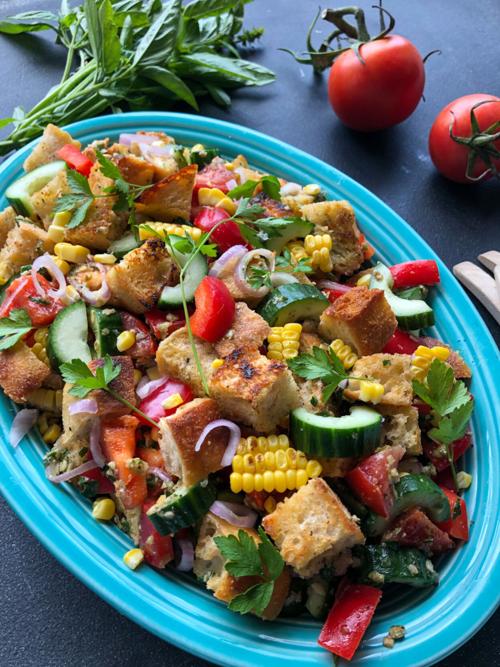 No need to feel discouraged that summer is coming to an end when you can gather the last of its bounty and turn it into panzanella. A Mediterranean favorite, panzanella is both healthy and hearty, with bold color, flavor and texture.
Rustic bread, tomatoes and basil are the main components. I've given this recipe a "Nebraska twist" by adding corn and produce from a nearby farm stand – as close to just-picked as possible. You can also source your fresh ingredients from one of Lincoln's many farmers' markets. For the bread, I've stuck to what I know. Le Quartier in Meridian Park makes a killer sour dough, so that is what I used.
Panzanella is simple, fresh and filling. Prepping it is low-stress. Eating it is exciting. The veggies and herbs play off of each other. The chunks of bread (never upstaged by the veggies) soak in the vinaigrette, transforming into little flavor bombs. Delicious.
End of Summer Panzanella
Ingredients:
Small sour dough loaf, cut into 1-inch cubes
1 tsp. Za'atar (Mediterranean seasoning blend, optional)
2 ears of corn, cooked in boiling water or grilled, kernels cut off
1 lb. on-the-vine tomatoes, chopped
1 English cucumber, seeded and sliced
2 medium red bell peppers, seeded and chopped
½ cup chopped fresh basil
¼ cup chopped fresh parsley
¼ cup chopped fresh cilantro
Zest and juice of 1 large lemon
2 finely minced garlic cloves
1. Heat the oil over medium heat in a large skillet pan, and add the bread, salt and Za'atar. Cook until browned, about 10 minutes, adding more oil if necessary. Remove and set aside.
2. In a large bowl, tip in the tomatoes, bell pepper, corn, cucumber, shallots and herbs. Toss to combine, then add the bread and toss once more.
3. Make the vinaigrette by whisking all of the ingredients together. Pour over the panzanella and mix well.
4. Serve immediately or set aside for 20-30 minutes before serving to allow flavors to deepen.
Heidi Moyer is the creator of the blog theKITCHETTE. She abandoned a career in non-profit executive management to purse her true loves, cooking and food writing. You can follow her on Facebook, Instagram, Pinterest, or at theKITCHETTE.com. She lives in Lincoln with her husband and two children.
Satisfy your cravings
With our weekly newsletter packed with the latest in everything food.