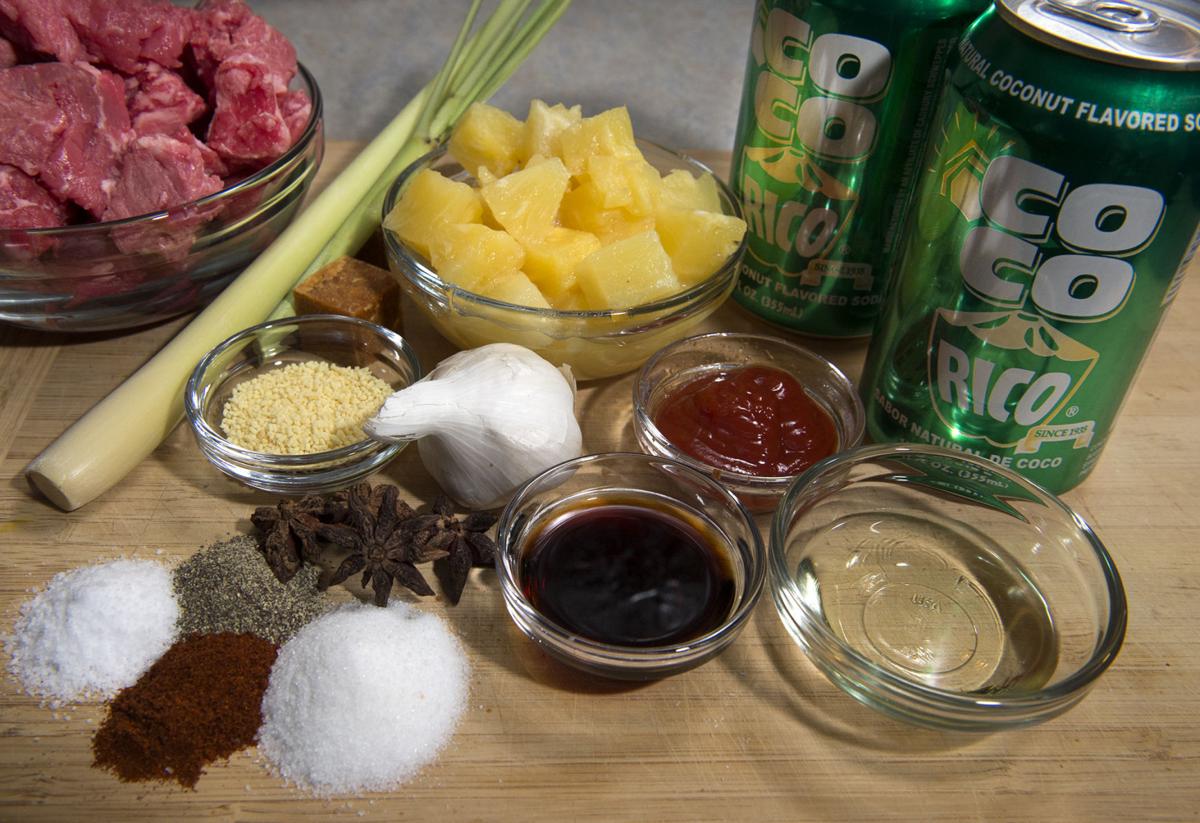 Visit the Hong Kong Market during one of the rare times it's slow -- Mondays and Tuesdays are the best bets -- and Van Tran will take the time to lead you through the aisles, pointing out anything and everything you need to make a meal with his shop's offerings.
In the meat freezer at the back of the shop at 1228 N. 27th St., there are beef soup bones to be used to bring flavor to traditional broths overnight.
Or there are containers of beef broth stock powder and a coconut-flavored soda from Puerto Rico.
"The quick way," he said, pointing to a tier of green soda cans stacked at the end of the produce lane, "is that right there."
Visit any of the Asian markets in Lincoln that cater to the city's Vietnamese residents and you will find Coco Rico. It's a carbonated beverage bottled in San Juan, Puerto Rico, and manufactured by an affiliate of the UK-based Cadbury Schweppes Bottling Group. In Spanish and English at the top of can, it heralds itself as a "sabor natural de coco" -- natural coconut-flavored soda.
Though it doesn't say anything in Vietnamese on the can, Tran said the beverage became a replacement cooking ingredient for many who moved to the U.S. from Vietnam, especially in meals that can be made, Tran said, "the really super-fast way." There was a different type of coconut soda back home, one that he's never found in the U.S.
He and his wife, Tuy, are refugees from Vietnam who moved to Lincoln in 2004 and lived in Baton Rouge, Louisiana, prior to coming here and opening Hong Kong Market.
"When we got here, we used Coco Rico," Van Tran said. "I don't know the first person who used it."
But it's become a kitchen staple for many. Tuy Tran said Coco Rico's often used in braised pork dishes and in preparing chicken. It's also a key ingredient in a few sweet-and-sour fish sauce varieties. In the week leading up to the Lunar New Year, Van Tran said the store sold nearly a pallet of the 69-cent sodas.
(This isn't a Lincoln-specific ingredient by any means. Christine Ha wrote about Coco Rico in 2011 for the Houston Press, saying that the tenderizing coconut soda was particularly useful for newly-arrived Vietnamese families who "often took in the less desirable, even downright discarded meats: whole catfish, heads and all; beef oxtail; and pork belly way before it was cool to eat.")
The acidic beverage -- with nine fewer grams of sugar in it (32) than Coca-Cola -- does what any sugary carbonated beverage does to meat -- it tenderizes it while adding some of the flavor from the contents of the can to the cuisine.
"It makes the meat soft and the coconut flavor -- it enhances things," said Duy Linh Bui, programs coordinator with Lincoln's Asian Community and Cultural Center. "I don't know why, but coconut juice makes (the meat) a better caramel color."
Bui's husband makes an incredible sweet-salty beef stew with a Coco Rico base. That recipe was two pages long, so try this one from a California-based cook, Mai Pham, who shares recipes on Instagram (@maifoodhaven) and YouTube (youtube.com/c/maifoodhaven). 
Braised pork spare ribs with Coco Rico

From youtube.com/maifoodheaven

2 pounds pork spare ribs

4 tablespoons fish sauce

2 tablespoons sugar

2 teaspoons ground pepper

1 tablespoon vegetable oil

1 tablespoon minced garlic

1 small shallot, thinly sliced

2 tablespoons sweet soy sauce

2 cans Coco Rico soda

1 yellow onion, cut into wedges

Boil baby ribs for 4 minutes, and then rinse them beneath cold water. Cut between the rib bones to make individual pieces. In a non-stick skillet under high heat, add 1 tablespoon of vegetable oil, the thinly sliced shallot, and fry until slightly brown. Add minced garlic and fry until slightly brown.

Add spare ribs to skillet and stir fry until golden brown, then add the fish sauce, sugar and 1 teaspoon of pepper. Stir for 2 minutes. Add sweet soy sauce and stir again. Then add two cans of Coco Rico. (Three cups of warm water can also work.) Bring to a boil and then reduce heat to medium low. Let meat simmer for 45 minutes. Skim off excess oil. Add another teaspoon of pepper and the yellow onion. Cook for 2 minutes, turn off heat and serve.
Satisfy your cravings
With our weekly newsletter packed with the latest in everything food.