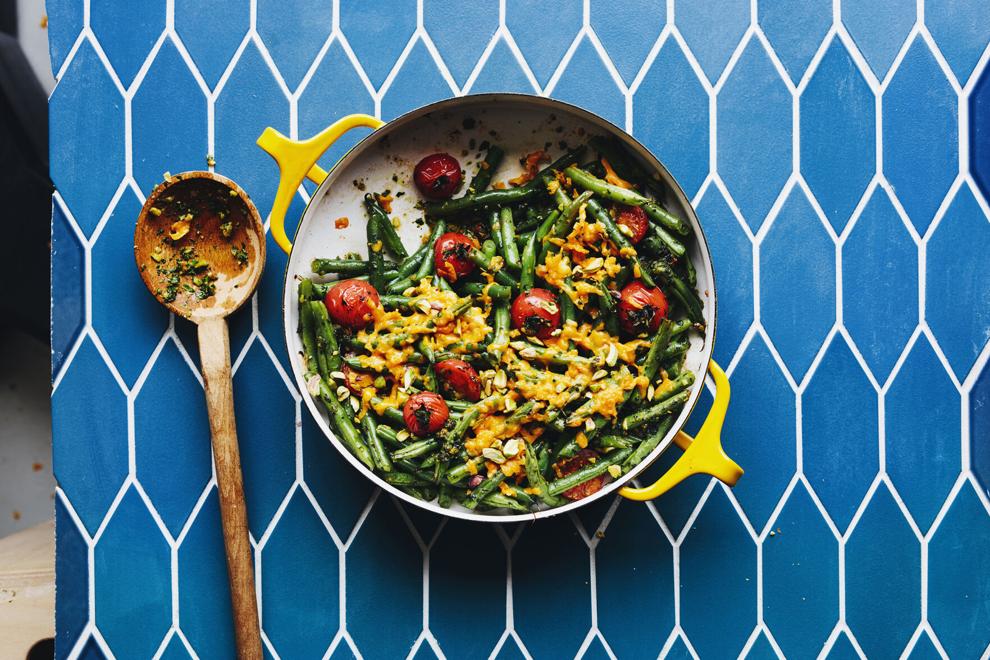 There's no gloppy canned soup in this healthy green bean casserole recipe. Simply give cilantro, parsley or chives (or a mix of all three) a whirl in the food processor to make the pesto-like sauce that ties the casserole together.
Tomato & Green Bean Casserole with Spicy Herb Pesto
2 pounds green beans, trimmed and cut into 2-inch pieces
1/2 cup chopped fresh herbs, such as cilantro, parsley chives
1/2 cup salted roasted shelled pistachios, divided
1 to 3 tablespoons chopped jalapeño pepper
1 tablespoon lime juice
1 small clove garlic
3/4 teaspoon ground cumin
1/2 teaspoon salt
1/4 cup extra-virgin olive oil
1 cup cherry tomatoes
1/2 cup shredded sharp cheddar cheese
1. Bring a large pot of water to a boil. Add green beans and cook until crisp-tender, 4 to 6 minutes. Drain and rinse with cold water.
2. Position a rack in upper third of oven; preheat broiler to high.
3. Combine herbs, 1/4 cup pistachios, jalapeño to taste, lime juice, garlic, cumin and salt in a food processor. Pulse until finely chopped, scraping the sides once or twice. With the motor running, add oil and process until well combined.
4. Pat the green beans dry and transfer to a 9-by-13-inch broiler-safe pan (or similar size 3-quart baking dish). Add the sauce and tomatoes and toss to combine. Sprinkle with cheese.
5. Broil the casserole until the cheese is melted and beginning to brown, 4 to 6 minutes. Chop the remaining 1/4 cup pistachios and sprinkle over the top.
Recipe nutrition per serving: 176 Calories, Total Fat: 13 g, Saturated Fat: 3 g, Cholesterol: 7 mg, Carbohydrates: 11 g, Fiber: 4 g, Total Sugars: 5 g, Added Sugars: 0 g, Protein: 6 g, Sodium: 234 mg, Potassium: 385 mg, Folate: 50 mcg, Calcium: 107 mg
Carbohydrate Servings: 1/2
EatingWell is a magazine and website devoted to healthy eating as a way of life. Online at www.eatingwell.com.